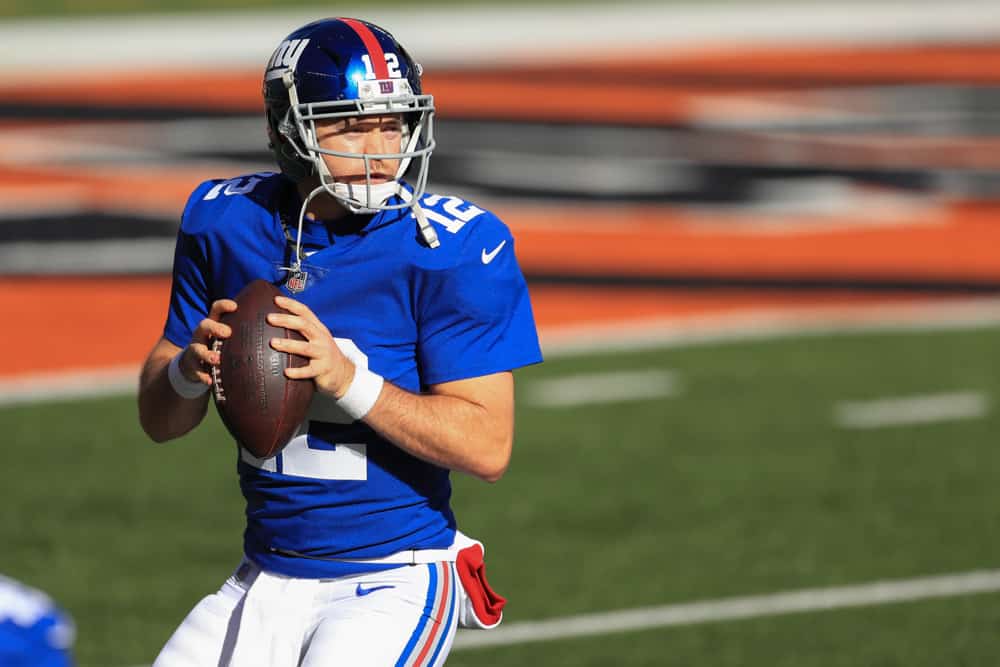 The NFL likely expected something different when they flexed the Week 15 matchup between the Cleveland Browns and New York Giants.
They probably wanted to see two young and possibly franchise quarterbacks battling under the lights.
Sadly, it doesn't sound like Giants quarterback Daniel Jones will be able to suit up for that matchup.
It appears Jones' status is in doubt after he suffered an ankle injury during the second half of the loss against the Arizona Cardinals.
From NFL Now: #Giants QB Daniel Jones' status is in doubt for Sunday now that he's added a sprained ankle to go along with his hamstring injury. It could be Colt McCoy against the #Browns #revengegame pic.twitter.com/lNjt5Qg2ky

— Ian Rapoport (@RapSheet) December 16, 2020
The Giants are expected to turn to veteran Colt McCoy, assuming Jones is unable to play on Sunday.
Yes, the same McCoy that the Browns took in the third round of the 2010 NFL Draft.
Revenge Game For McCoy?
The 34-year-old veteran is somehow still in the league despite an 8-21 record as a starting quarterback.
To be fair, using a quarterback's record might not tell the whole story, but McCoy has always been a viable option in the NFL.
McCoy has 30 touchdowns with 28 interceptions through 43 games (29 starts) during his 10 years in the NFL.
The veteran quarterback spent his first three years of his pro career in Cleveland.
He went 6-15 with 21 touchdowns and 20 interceptions in 24 games (21 starts) during his time with the Browns.
However, it appears that McCoy is preparing for a revenge game versus his former team.
Daniel Jones is practicing but does not look comfortable moving around. Colt McCoy took the first rep with the offense pic.twitter.com/wHGp8TbnQK

— Dan Duggan (@DDuggan21) December 16, 2020
McCoy was able to pull off a win against the Seattle Seahawks a few weeks ago.
He completed 13 of 22 passing attempts for 105 yards with one touchdown and one interception in that game.
This is a big matchup for both teams who are battling to earn a playoff spot.
Obviously, McCoy is a downgrade from Jones, but the Browns cannot take them lightly.
He was already able to work a miracle once this season, so Cleveland can't let it happen again.
We'll see if McCoy has improved at all since his days in Cleveland.