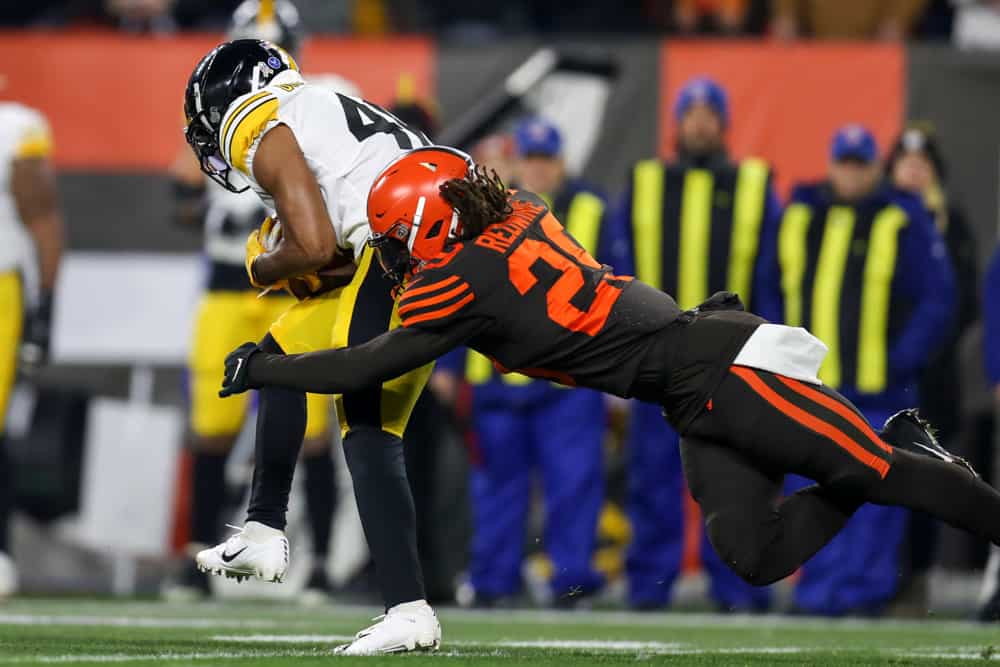 The Cleveland Browns head into their most important game of the 2020 season.
A must-win Week 17 matchup against the Pittsburgh Steelers.
Losing this game would make it tough for the Browns to make it into the postseason this year.
On Tuesday, the Steelers announced that second-year quarterback Mason Rudolph will be making the start on Sunday.
Steelers' QB Mason Rudolph will start in Week 17 game against Cleveland.

— Adam Schefter (@AdamSchefter) December 29, 2020
This is good news for Cleveland since Rudolph lacks experience at the professional level.
However, there are still a few players Browns fans should be concerned about heading into Sunday.
1. WR Diontae Johnson
The second-year wide receiver Diontae Johnson has made quite a name for himself this year.
Coming into Week 17, Johnson has 85 receptions, 828 yards, and seven touchdowns through 14 games.
The 24-year-old has been targeted 140 times, so he's clearly a focal point of the Steelers offensive gameplan.
Johnson isn't the No. 1 receiver in Pittsburgh, but that doesn't mean he is not able to perform like a star.
Diontae Johnson diving TD catch 🔥

(via @NFL)pic.twitter.com/P0tBWU7jKd

— NFL on ESPN (@ESPNNFL) December 27, 2020
The Browns secondary has been banged up and is flat out hard to watch this season.
They've allowed 19 touchdowns to wide receivers, which is the fifth-highest in the NFL.
Johnson has seen 10 or more targets in seven of his last eight games.
Expect him to be heavily involved during Sunday's matchup against the horrendous Browns secondary.
Luckily, the Browns do have elite defensive back Denzel Ward on their roster.
Denzel Ward locked him up 🔒 @denzelward @Browns

📺 #CLEvsNYJ on CBS pic.twitter.com/fQGgEfC6lD

— The Checkdown (@thecheckdown) December 27, 2020
Sadly, Ward will likely be spending most of his time guarding wide receiver JuJu Smith-Schuster.
That means, Johnson could be in for a big game against Greedy Williams or Terrance Mitchell on Sunday.
Honestly, best of luck to anyone attempting to slow down Johnson this week.
2. DB Minkah Fitzpatrick
It's crazy to think that the Miami Dolphins received such a minimal return for safety Minkah Fitzpatrick.
The 24-year-old has been a top tier player in the secondary since joining the NFL in 2018.
Cleveland has already had plenty of issues with Fitzpatrick this season.
In Week 6, Fitzpatrick intercepted quarterback Baker Mayfield and ran it back to the end zone for a touchdown.
Happy Holidays from Blitzburgh Videos:

Here is the Minkah Fitzpatrick pick-6 against the Browns in Week 6. #Steelers #HereWeGo pic.twitter.com/o4mYKltKhc

— BlitzburghUSAVideos (@sdextrasmedia) December 29, 2020
The Browns are obviously going to be forced to pay more attention to Fitzpatrick this time around.
This season, Fitzpatrick has 74 tackles, 10 passes defended, and four interceptions through 15 games.
The young defensive back has proven to be arguably the best defender on this elite Steelers defense.
Mayfield has looked better during the second half, but one mistake can cost you a game in the NFL.
Much like Myles Garrett, Fitzpatrick has the kind of ability to take over a game with his play.
Minkah Fitzpatrick TFL on Finley. Fitzpatrick enters Week 16 leading the Steelers in total tackles with 66. #Steelers pic.twitter.com/4ofEZYvs2F

— Steelers Depot 🎄 (@Steelersdepot) December 26, 2020
Currently, the forecast is predicting snow for Sunday's contest versus Pittsburgh.
Possibly, Cleveland sticks to a heavy run game, assuming there's a snowstorm on Sunday.
Fitzpatrick won't be able to make as big of an impact if the Browns pound the ball on the ground.
However, in the cold and wet snow one bad throw could result in a pick-6.
Cleveland has been playing well on offense this season because they've been limiting the turnovers.
They will need to continue doing that if they want to come away with the win in Week 17.