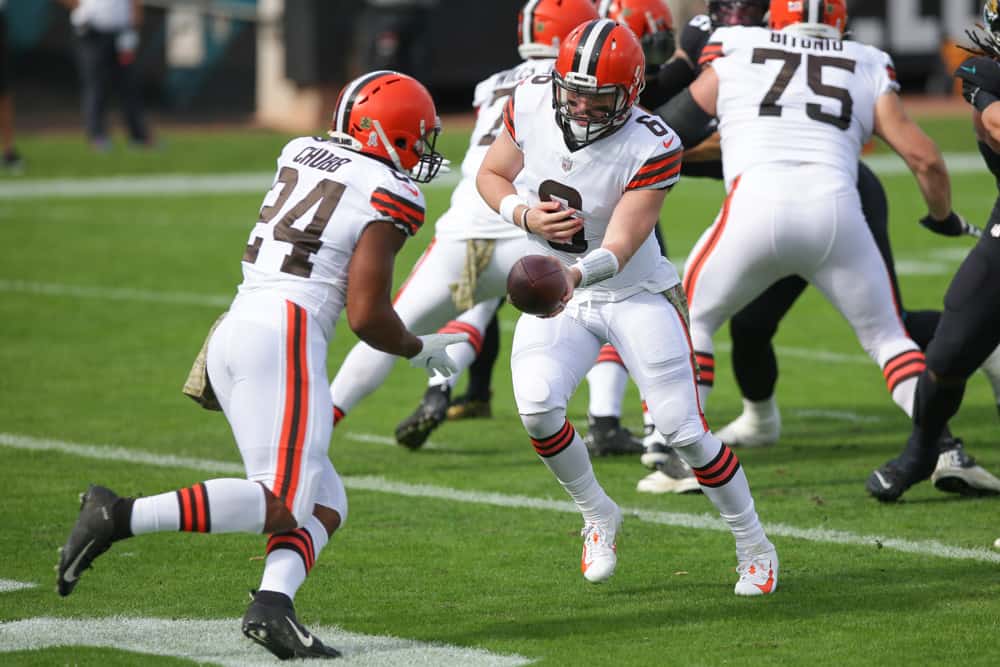 Baker Mayfield said he "failed the team" in last week's postgame conference.
At that moment every Cleveland Browns fan was left to wonder about what could have been.
Covid wiped out Mayfield's receiving corps and injuries left him with three-fifths of his offensive line.
Even the New York Jets could exploit those weaknesses, and they did.
Baker Mayfield took only one question during his postgame Zoom call. Completely owning the loss — "I failed this team" — this is what else he had to say: #Browns pic.twitter.com/PxSjbLglID

— Jake Trotter (@Jake_Trotter) December 27, 2020
The Jets defense harrassed Mayfield and bottled up the Browns vaunted rushers all day.
It felt like another 0-16 season was upon the Cleveland fans.
But lo and behold, when the dust settled, Mayfield and his teammates still had 10 wins and realistic playoff hopes.
And this is Week 17!
Have many of us raised our expectations too high, too fast for the Cleveland Browns?
Shouldn't we be happy to have a winning NFL football team again?
Or will the Browns season be a failure if they don't make the playoffs?
Let It Go- Browns Season Is Already a Success.
September seems like it was a very long time ago.
But try to remember what we were all saying back then.
Cleveland was bringing on its fourth head coach since Mayfield was drafted.
It seemed unreasonable to expect too much without a preseason to work with.
As disappointed as Cleveland fans may be, 99 percent would have signed up for a Game 16-win-and-you're-in scenario before the season.#Browns

— Tom Withers (@twithersAP) December 27, 2020
But we were optimistic in Kevin Stefanski, thanks to all the right words that came from his mouth.
So optimistic that most of us predicted an 8-9 win season, true progress for the Browns.
Sure, some of us thought 10 wins was a real possibility.
But a search of "Browns preseason predictions" found the first 10 prognosticators at 8-9 wins.
And the playoffs were anything but certain, with most hoping 8-9 wins was enough for the 7th spot.
So 10-6, and even potentially 11-5 smells like success, playoffs or not.
Another Disappointment- Browns Let Fans Down 
What if the Browns started the season slowly, maybe with a 4-4 record at the halfway mark?
In that case, 10-5 would feel much different and leave little doubt Stefanski was making progress.
But the Browns were 4-1, then 5-2, and then 9-3 and 10-4.
And 10-4 means they should finish 12-4, 9-3 naturally leads to hopes of 13-3.
Maybe that is why beating preseason projections by Week 14 seems somewhat unfulfilling.
#Browns QB Baker Mayfield on possibly facing some of Steelers' backups: "We have to prepare just as we would any normal game b/c this is win or go home. However they want to handle it, that's their choice. We're not in control of that."

— Keith Britton (@KeithBritton86) December 30, 2020
Humans are programmed to expect more and wonder, "What if?"
What if the roster wasn't decimated against the Jets? What if we played better in the monsoon versus Oakland?
What if we had one more possession in the second Ravens game?
It is easy to imagine what might have been and dream of a first-place, 13-2 Browns team.
If the Browns didn't tease us and show they could win early, we'd feel better about missing the playoffs this week.
To let it slide away with losses to the Jets and a Steelers backup offense constitutes a failure.
Sure It Would Hurt, But Give It Time 
There will be a big difference if the Browns lose to the Steelers versus if they win and still miss the postseason.
Either scenario will leave fans disappointed for a while, especially as we watch Buffalo take out the Ravens and Steelers.
But soon will come the offseason, when hope springs eternal.
🏈 I BELIEVE in our Cleveland #Browns
🏈 I BELIEVE in Coach @KevinStefanski2
🏈 I BELIEVE in @bakermayfield
🏈 I BELIEVE in @NickChubb21 and @Kareemhunt7
🏈 I BELIEVE in @God_Son80
🏈 I BELIEVE in Miles Garrett
🏈 I BELIEVE we will beat the Steelers!
👉RT if YOU BELIEVE too! pic.twitter.com/veiPRRYNBF

— Gridiron Browns (@Gridiron_Browns) December 29, 2020
And we will realize just how different this year is when we see Stefanski and Andrew Berry take the next steps.
"The next steps" are something we don't see often in Cleveland, pushed aside for "starting over" way too often.
Pre-draft conjecture will note the Browns already have an offensive line and the right mix of skill players.
They will talk about Mayfield's progress, with little discussion of whether he is the starting quarterback.
Even the defense has some cogs in place, with Garrett, Ward, and several interesting youngsters.
By next September, the debate will be whether 2021 is the year Cleveland leaps past Pittsburgh and Baltimore.
And conjecture will include far less "ifs" than any season in recent memory.
It is hard to consider that a failure… once the disappointment wears off.