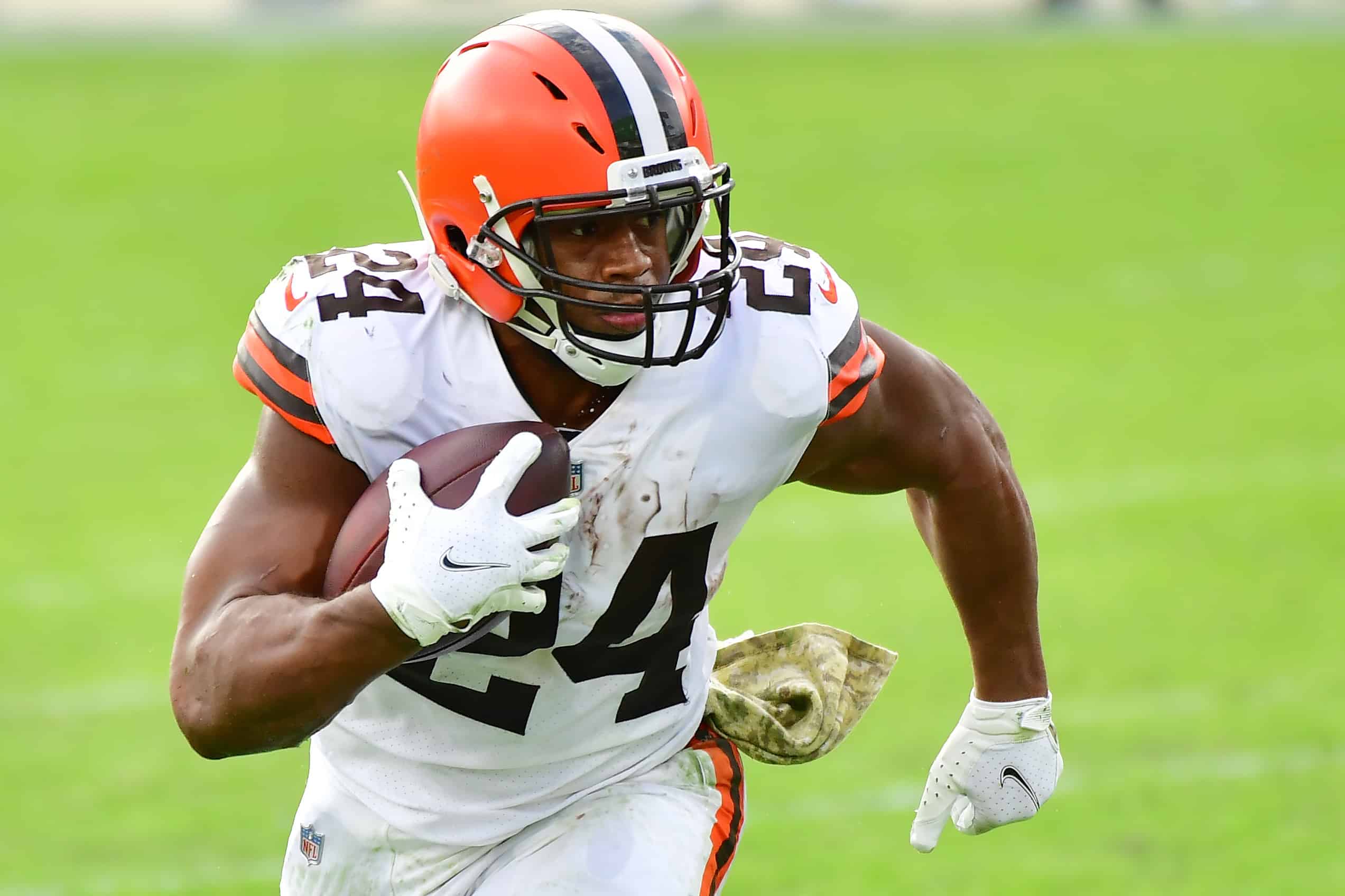 Nick Chubb once again brought it in 2021 for the Cleveland Browns.
Despite missing 3 games, he carried the ball 228 times in 14 games.
He accumulated 1,259 yards and scored 8 rushing touchdowns.
Chubb finished second behind Indianapolis Colts running back Jonathan Taylor in rushing yards.
A rushing title for @jayt23 in his second season. 🏆 pic.twitter.com/FzMSkVqOOf

— NFL (@NFL) January 12, 2022
The rushing title has always eluded Chubb.
He is more about the team effort so it is unlikely he spends a lot of time thinking about the missed rushing titles.
When asked about capturing a rushing title, Chubb said:
"If it happens, it happens. I'm just going to keep doing what I do."
Here are 3 of the best runs out of the 228 times Chubb carried the ball in 2021.
1. Browns Vs. Texans Week 2
Chubb's touchdown run late in the Texans game put the game on ice.
This game was a tough one for the Browns who started slow and struggled.
Both Texans quarterback Tyrod Taylor and Baker Mayfield suffered injuries in this game.
This was all about letting Chubb and the offensive line do their thing to control the line of scrimmage and put points on the scoreboard late in the game.
We did not see enough of this strategy late in games throughout the season so it is a marvel to watch Chubb in action.
Nick Chubb and the #Browns extend their lead to 10 points in the final quarter.

The touchdown takes Cleveland's win probability over 95%.#HOUvsCLE pic.twitter.com/nOsqQvCqt3

— EdjSports (@edjsports) September 19, 2021
2. Browns Vs. Bengals, Week 9
The Browns own the Bengals, and that Week 9 beatdown of Joe Burrow and company was the best game of the season.
There were so many highlights that led to the Browns putting up 41 points on the scoreboard.
Of course, Chubb had to be a part of this effort.
He had a 70-yard touchdown run that was nothing short of spectacular.
NICK CHUBB. 70 YARDS. GONE. #Browns

📺: #CLEvsCIN on CBS
📱: NFL app pic.twitter.com/O6OqTQfXvI

— NFL (@NFL) November 7, 2021
3. Browns Vs. Steelers, Week 17 
Ever since Tennessee Titans running back Derrick Henry originated the stiff arm, fans love to see NFL running backs do it.
Chubb waited until Week 17 to deliver his best stiff arm of the season to a Pittsburgh Steelers defender.
What makes the stiff-arm so impressive is that Chubb delivers it while running at full stride and protecting the ball with his other arm.
The athletic ability and strength required to do this are amazing.
This is the most BRUTAL stiff arm I've ever seen! #nickchubb #DerrickHenry #Browns #Steelers #NFL pic.twitter.com/nIcUO6d7RV

— Superior Sports Highlights (@SSHighlights) January 4, 2022
Conclusion
Chubb's stats in 2021 were great especially considering he missed games.
The difference from 2020 was how hard he had to work at times to establish the running game.
There are so many reasons for that including an injured offensive line, an injured Kareem Hunt, and Mayfield's injury which hampered the Browns' passing game.
Though the runs highlighted above are when Chubb makes it look easy, there are many more where he struggles to gain 2, 3, or 4 yards per play.
He persevered and ended up averaging 5.5 yards per carry this season.
Given all of the issues the Browns offense dealt with, that may be his most impressive achievement in 2021.