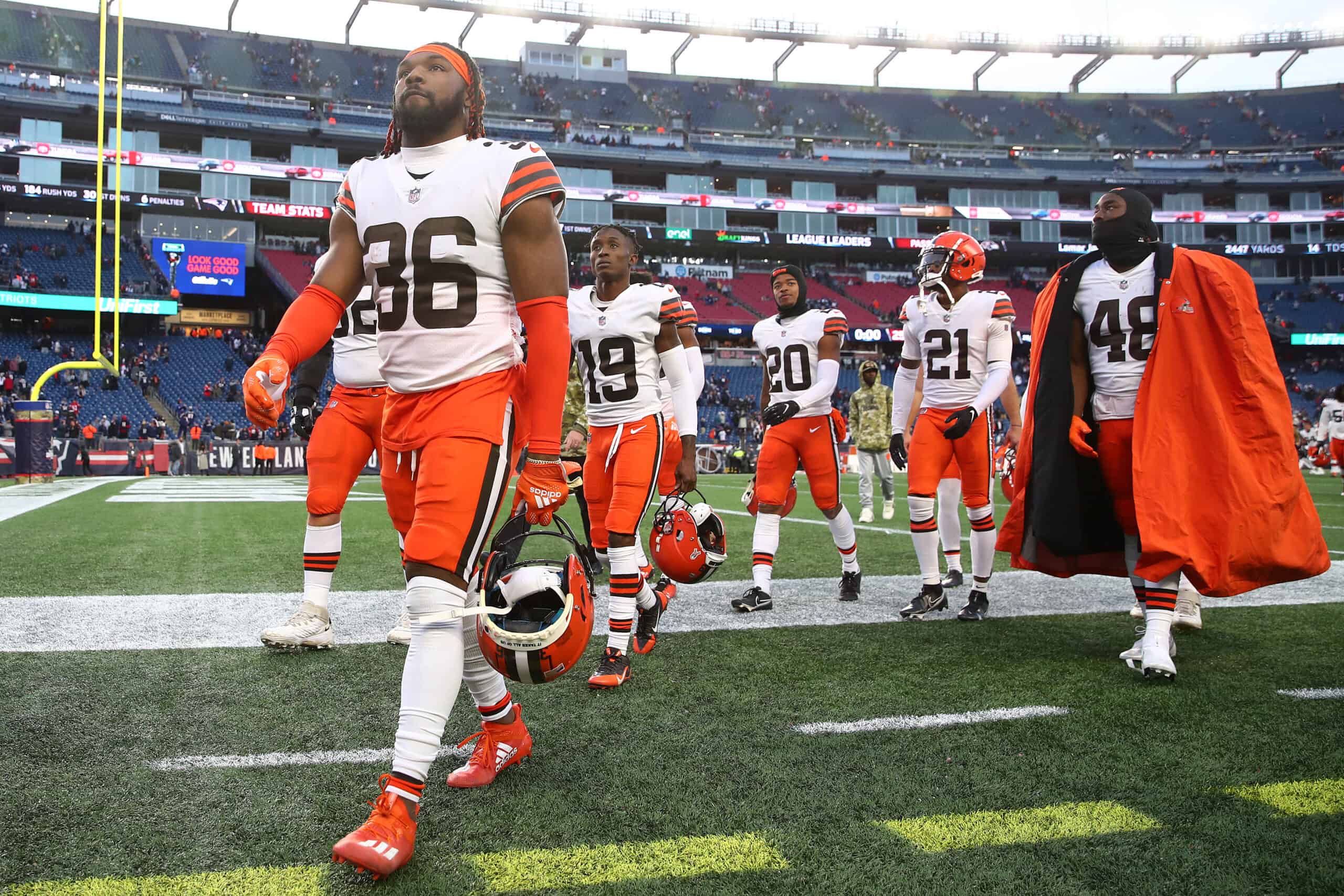 Andrew Berry and Kevin Stefanski are doing their best to answer questions about the Cleveland Browns.
Both went on record as saying they expect Baker Mayfield to return as the starter in 2022.
And… well, that was actually the only question anyone cared about, to be honest.
#Browns Andrew Berry: "We fully expect Baker to be our starter and bounce back."

— Camryn Justice (@camijustice) January 11, 2022
Stefanski strode into the topic of team cohesiveness and camaraderie raised by several players.
He acknowledged the team could do a better job next year in trying to get everyone on the same page.
But neither the head coach nor the GM offered many clues about personnel beyond the Mayfield comments.
Between Greg Newsome II and Jeremiah Owusu-Koramoah, Andrew Berry struck gold this year, which makes me confident that some key issues with the #Browns can be addressed effectively this offseason.

— Camryn Justice (@camijustice) January 4, 2022
There was no clue about their intentions with free agents like David Njoku, Jadeveon Clowney, or Chris Hubbard.
Discussions about Jarvis Landry's salary cap hit and D'Ernest Johnson's restricted status will wait for another day.
So, just in case they need help, here are the 3 biggest positions of need heading into the 2022 season.
1. Wide Receiver  
Donovan Peoples-Jones was drafted in the 6th round for his strength at the point of attack.
He can jump, reach, and fight, but he was not going to be the speediest guy on the field.
Anthony Schwartz was drafted earlier than most expected, purely for his speed.
But the track star's hands, route running, and adjustments were always going to need some work.
DONOVAN PEOPLES-JONES! Wow.

Browns up 21-7. pic.twitter.com/tLocHIwdUy

— NFL on CBS 🏈 (@NFLonCBS) November 7, 2021
Jarvis Landry is a reliable slot receiver and Rashard Higgins can work a zone as well as anybody.
None of these players were supposed to be WR-1 material in 2021, and probably not 2022, either.
And before anyone says it, Odell Beckham's days as a reliable WR-1 are probably over, too.
Cleveland needs a fast guy with hands who can blow past a defender for a quick score… just like last offseason.
2. Offensive Tackle 
Jedrick Wills struggled all season long, well after his ankle stopped appearing on the injury list.
It is very possible the early-season injury bothered him all year.
But there were too many plays that ended with Wills watching his defender chase Baker Mayfield.
Swing tackle Chris Hubbard's season-ending injury was a major blow to the Browns' offensive line.
Some appreciation for Blake Hance.

His 2021 (so far) in review:

– Signs with Browns 1 day before Week 17 vs. PIT
– Plays LG and LT snaps in both playoff games
– Plays G and C in preseason
– 4 games (2 starts) at LT
– 6 games (4 starts) at RT
– 18 snaps Sunday as a blocking TE

— Andrew Gribble (@Andrew_Gribble) December 13, 2021
And when Jack Conklin went down, the lack of tackle depth was on display for the entire NFL.
Hubbard is a free agent this season and Conklin's injuries are the type that can nag a player for a while.
That Blake Hance, a guard by trade, was Cleveland's best option at tackle points to an obvious position need.
James Hudson made strides late, but Andrew Berry will bolster the tackle position through the draft and free agency.
3. Edge Rusher 
Remember when the Browns signed Takk McKinley and Jadeveon Clowney for the 2021 season?
Well, that season is over and Cleveland again goes into the offseason with Myles Garrett and 3 backups.
That's not to say Joe Jackson didn't have some moments during a solid overall season.
But teams double-teamed Myles Garrett on practically every play with Clowney and McKinley on the field.
Jadeveon Clowney (@clownejd) beats the over set by the blocker with a well-timed counter swipe for the sack! #passrush #browns pic.twitter.com/wfFNHg7fqM

— DLineVids (@dlinevids1) January 4, 2022
Jackson, Porter Gustin, and Curtis Weaver are not likely to draw any attention away from their Pro Bowl teammate.
Clowney stated he would like to return to the Browns, but admits money will determine if that happens.
And with a handful of large extensions due on top of a slew of open roster spots, that's no sure thing.
Signing someone of Clowney's stature or potential will be difficult, but necessary for 2022.