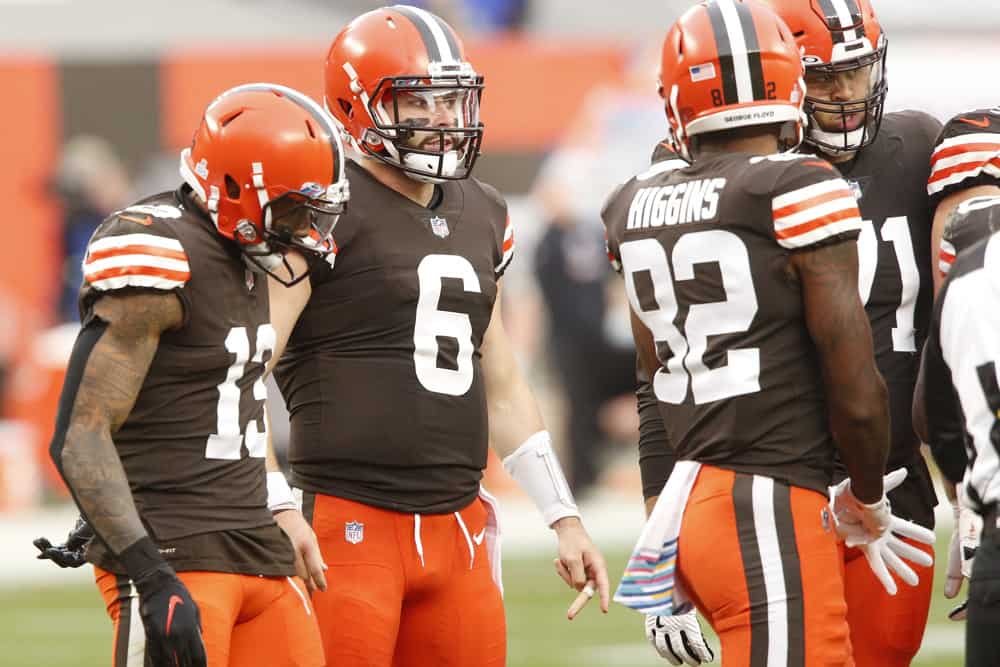 There are certain events for sports fans that can be either enjoyable or nightmarish depending on the end-result.
Contract negotiations fall under that category, providing entertainment each and every offseason.
This winter and spring will be no exception for the Cleveland Browns who have a number of guys on the roster to worry about.
Deciding who to extend or not is always a tall task for each front office across the NFL.
Andrew Berry and company will have their hands full this offseason as they key in on the important decisions.

Baker Mayfield
As someone in their mid-20's, the task of finding a franchise-quarterback is one the Browns swung and missed at every single time in my lifetime.
That is until Baker Mayfield checked into Berea for the very first time.
The start of his career hasn't come without its hurdles, but he's done well to clear those.
Dealing with multiple head coaches and offensive systems is exhausting for any NFL quarterback, let alone one just getting his feet off the ground.
Knowing that he won't have to go through that level of change again for quite some time (if ever, ideally) is reassuring for both fans and the franchise.
Kevin Stefanski spent time Monday talking with QB Baker Mayfield. "I can tell you, he's very excited not to learn a new offense…" #Browns pic.twitter.com/psS5ttraTr

— Jake Trotter (@Jake_Trotter) January 18, 2021
Back in December, I wrote about whether Mayfield would be worth an extension that grants him an annual salary of $25 million.
The conclusion was that yes, he would be worth that amount of money.
The same is certainly true now.
#Browns GM Andrew Berry not talking publicly about a potential contract extension with QB Baker Mayfield, though does offer, "We are very, very pleased with him."

— Jake Trotter (@Jake_Trotter) January 20, 2021
Spotrac projects Mayfield to earn upwards to $35 million a season, putting him in the top-three for highest paid players in the NFL.
He certainly is not the third best player in the league, and the two names in front of him are Patrick Mahomes and Deshaun Watson.
Would $35 million be pricey?
Sure.
Is that worth spending on a guy who can keep your quarterback play at a high level for years to come?
Absolutely.

Nick Chubb
Keeping an offensive theme, Nick Chubb will be at the top of the Browns list of concerns this offseason.
He is eligible for a contract extension, and it seems pretty clear at this point that Berry will give him one.
#Browns GM Andrew Berry on potential extensions for RB Nick Chubb and CB Denzel Ward: "I'd like to keep as many of our good players as long as possible."

— Keith Britton (@KeithBritton86) January 20, 2021
To the surprise of no one, Chubb's focus wasn't on extension following the loss to Kansas City.
Quite frankly, it seems unlikely that he'll ever get caught up in that stuff.
Nick Chubb says he hasn't talked to the Browns about a potential contract extension yet: "I'm just thinking about yesterday and not really thinking about that stuff. It will pay off for me eventually. We'll see."

— Ben Axelrod (@BenAxelrod) January 18, 2021
Statistically, he's been stride for stride with Derrick Henry who many regard as the best tailback in the league.
Some place Chubb in that top spot, further justifying what could be a hefty price tag presented to the wallet of Andrew Berry.
With Hunt's two-year, $12 million extension is still waiting on the ink to dry, that could make it tough to rush into one for Chubb.
His contract will keep him here through next season, at which point the Browns could use the franchise tag to keep him in Cleveland an additional season.
If Berry does choose to extend him this year, expect the annual salary to fall in the $12-$13 million range.

Olivier Vernon
We'll go to the defensive side of the football for this one in the form of Olivier Vernon.
Talk about someone with an interesting career arc in Cleveland.
After being brought in from the Giants, Vernon was thought to be a good pass-rushing partner alongside Myles Garrett.
He struggled mightily in 2019 (as did a lot of guys) and recorded just 3.5 sacks.
He figured things out this year and logged nine sacks.
The top-4 graded #Browns on defense in the 2020 regular season:

Myles Garrett – 87.7
Olivier Vernon – 74.2
Ronnie Harrison – 74.0
Denzel Ward – 72.9 pic.twitter.com/qSMKidFrdC

— PFF CLE Browns (@PFF_Browns) January 15, 2021
Unfortunately, he suffered a torn Achilles in the regular season finale against Pittsburgh and faces a long recovery.
That will certainly impact his value on the free agency market this offseason.
There's always a need for pass rushers across the NFL, so there are guaranteed to be GM's interested in Vernon.
With the Browns having other concerns, they may want to find a new partner for Myles with a cheaper and younger option.