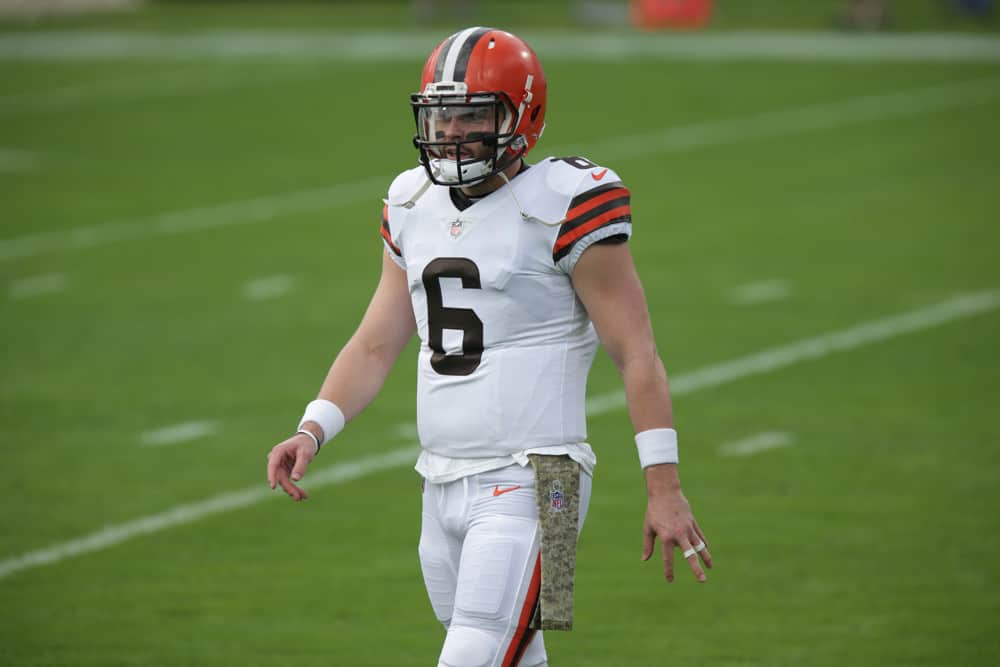 Talking about the playoffs in December and not the upcoming draft has been a good feeling for Cleveland Browns fans.
The conversation about the Browns at this point in the year is typically, well, depressing.
Things have changed though.
One of the more drastic changes has been the conversation surrounding Baker Mayfield.
Not often are quarterbacks in Cleveland looked at in terms of long-term value.
For Mayfield, the number one overall pick in the 2018 NFL Draft, questions about his contract situation loom large.
He isn't Patrick Mahomes or even Deshaun Watson at this point, yet is well above the likes of Josh Allen and even Sam Darnold.
Only Deshaun Watson has a longer streak of passing attempts without an interception than #Browns Baker Mayfield (123) pic.twitter.com/jGKBz9A47f

— Sam Penix (@Sam_Penix) November 30, 2020
This makes it tough to place a true value on Mayfield as the narrative around him seemingly changes week to week.
Let's take a look at how the contract situation for Mayfield could unfold in the coming months.
Baker Mayfield's Current Contract
Baker is in year number three of a four-year, all-guaranteed rookie contract he signed after the draft in 2018.
That's just north of $8 million per season.
However, the deal was back-loaded a bit, so his salary has increased each season since his rookie year.
The rookie deal does include a fifth-year option for the team on Mayfield.
Again, it's tough to get a feel for how Andrew Berry feels about that right now.
The value for fifth-year options for first-round picks is uniform across the league by position.
To put it simply, the value of Baker's option is set by the average of the salaries of the ten highest-paid quarterbacks in the league.
The option would be north of $25 million with every penny guaranteed for the 2022 season.
No one will be too vocal about it, obviously, as the team is in the thick of a playoff push.
It needs thought, however, as the clock is ticking on Mayfield's rookie deal.
Mayfield's salary for this season makes up just under 4% of the Browns total salary.
Additionally, Cleveland has been sitting on $30 million of cap space since this season began.
I would expect that percentage to increase and cap space to decrease moving forward.
Picking Up the Option
Figuring out whether Baker gets the fifth-year option or not is the first piece of the puzzle for Andrew Berry.
Technically, they can save about $170,000 in salary if they cut him before next season, but that's not happening.
If Cleveland does not extend that option to Mayfield, it could dampen the relationship between player and organization.
There are variables here of course, with the play of Mayfield determining whether he "deserves" the option or not.
For the Browns, it could simply just be the right football move.
For Mayfield, it will certainly be disheartening.
That isn't to say Mayfield can't spin that in his favor though.
Let's say Baker lights it up in 2021 and ends the season as a top-ten quarterback.
We can even go with top-15.
Right now, there are 18 quarterbacks who make $25 million or more per season.
A great season in 2021 would give Mayfield some bargaining chips and set him up for a big paycheck.
There are times where it feels like that big contract is coming for the former Oklahoma Sooner.
The QBs who started/finished 4 games in the month of November without throwing an interception:
* Deshaun Watson
* Baker Mayfield

— Jake Trotter (@Jake_Trotter) December 1, 2020
There are others where Mayfield is largely underwhelming in the pocket.
Baker Mayfield misses a WIDE open receiver.

(via @Alex_Kozora) pic.twitter.com/rZUzOBrYaL

— Pick Six Podcast (@picksixpod) November 29, 2020
This year hasn't been outstanding for Mayfield by any stretch, but he hasn't been bad either.
Berry may have specific statistical criteria he wants his QB to hit before making long-term decisions.
If Baker can just continue to develop and work well with Kevin Stefanski, he'll find himself in good shape.
Potential New Deal
So, what would an entirely new deal for Mayfield look like?
This is Carson Wentz's fifth season. He's playing on his $18.6M option and is under contract through 2024 at over $30M each of the next four seasons. Just something to think about re: #Browns Baker Mayfield fifth-year option discussion

— Sam Penix (@Sam_Penix) November 22, 2020
One comparable contract is that of 49ers quarterback Jimmy Garoppolo.
San Francisco's success last season was with their defense and rushing attack.
Garoppolo was a compliment to those two things, but not the focal point of anything.
The same could be said of Mayfield with the Browns.
Turning and handing the ball off to Nick Chubb and Kareem Hunt is where this offense hangs its hat. The defense needs work, but that's another issue.
Jimmy G's deal, signed in 2018, was a five-year, $137.5 million contract.
This works out to $27.5 per year on average.
However, his deal was back-loaded to lighten the cap hit early on into the deal.
Why is this good?
The 49ers were just a couple snaps away Super Bowl victory, the goal for any NFL franchise.
Their front office has been able to lock down Garoppolo long-term while allowing for short-term cap space flexibility elsewhere.
Teams need to capitalize on those championship "windows" that are often talked about.
Andrew Berry may decide to do the same if he elects to strike a new deal with Mayfield.
Back-loading a longer contract would allow Berry to still be active with roster additions early into things without blowing over the salary cap.
Mayfield gets his money down the line, Berry can improve the team, and everyone wins.
It will be a circus act for Berry, no question. Mayfield is far from the only big name on the roster that needs paid soon.
While having a franchise quarterback is invaluable, Baker needs to continue to show he fits that description (or not) before long-term decisions are made.