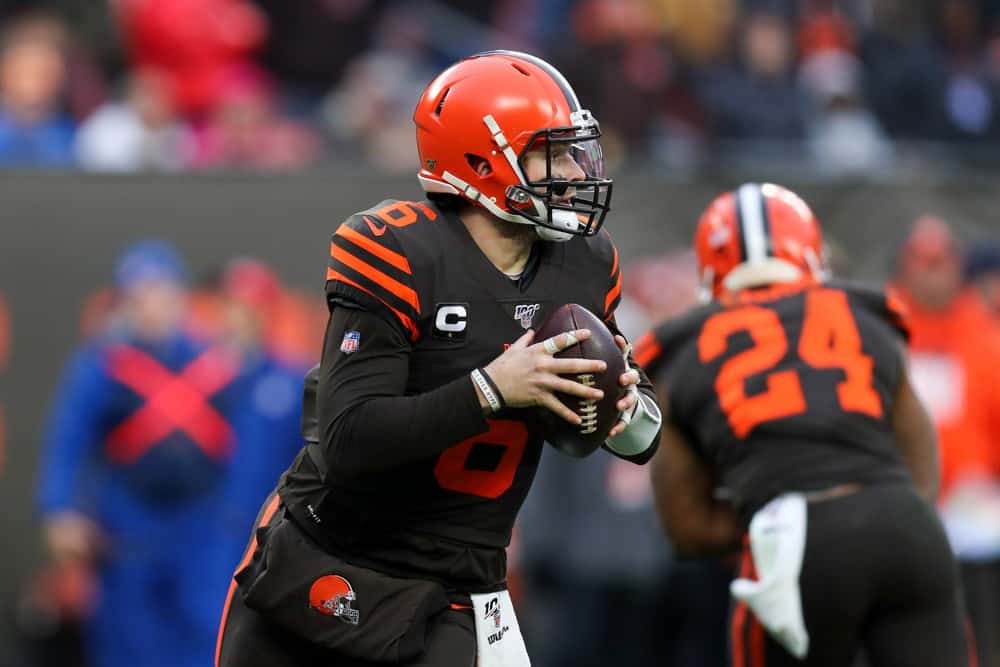 The Cleveland Browns are over .500 for the first time since 2014.
After a sluggish start in week 1, the Browns have picked up back to back wins.
Their week 4 matchup comes against a Dallas Cowboys team that is desperate for a win.
There were many speculations about the Browns this year that Baker Mayfield may get benched if things "go left".
Mayfield, now entering his third year is still struggling to find his groove and make his imprint in the NFL.
The Cleveland Browns seemed to have found their identity with their running game.
In what is expected to be yet another battle for the Dallas Cowboys, here we make three bold predictions about Sunday's game.

1. Odell Beckham Jr. will have a big game
A lot has been surrounding wideout, Odell Beckham Jr., entering the 2020 NFL regular season.
Many sources around the league felt that Beckham was not a good fit in Cleveland and even with a new offensive-minded coach in Kevin Stefanski, they still believed he would not thrive.
As a result, he was always swirling around in trade rumors.
Source: Cleveland Browns have no plans to trade Odell Beckham Jr. And they were and are adamant about it.https://t.co/hf3rL3G1CU

— Adam Schefter (@AdamSchefter) September 20, 2020

It must be difficult for Odell to deal with all of this after already being traded once before by the New York Giants.
Odell Beckham is also awaiting to have that big game he was so used to having in New York.
Beckham has not had a 100 yard receiving game in his last 13 games; he will look to snap that streak against the Cowboys.
Against a Dallas secondary that has really struggled and coming off a game where they let Tyler Lockett receive 9 targets for 100 yards and 3 touchdowns, I see Beckham successfully breaking that 13 game skid.
Beckham is similar to Lockett in finding the soft spots in the zone and with the luxury of Nick Chubb at running back, the Browns should be able to set up the play action game resulting in big plays down the field.
2. Ezekiel Elliot will be held under 100 yards
Last week against the Seattle Seahawks, Zeke Elliot rushed 14 times for 34 yards.
He was completely taken out of the game mentally as he dropped multiple passes out of the back field late in the game.
The Cleveland Browns are currently allowing 94.0 yards per game on the ground.
The Cowboys have an explosive offense with both Amari Cooper and CeeDee Lamb lining up on the outside.
The focal point for the Browns will be to contain Zeke and I think they will be successful in doing so as they have only allowed 3 rushing touchdowns on the year.
In each of their first three games, the Dallas Cowboys have found themselves falling behind and try completing a comeback before it's too late.
If it was not for the miracle against the Atlanta Falcons, the Cowboys would be 0-3.
Unlike the Cleveland Browns, the Cowboys are going through an identity crisis and need to figure it out before it's too late.
3. The Browns front four will once again be ferocious
In their week 3 victory over the Washington Football Team, the Cleveland Browns defense absolutely dominated.
The Browns racked in 4 sacks and 3 quarterback hits on Sunday.
They also forced 4 fumbles, two of which came from second year quarterback, Dwyane Haskins Jr.
The pressure caused Haskins to throw 3 interceptions.
So much so, that the Browns twitter decided to have some fun during the game, tweeting the following:
QB: Throws the football

Our defense: pic.twitter.com/QPgolJgOFM

— Cleveland Browns (@Browns) September 27, 2020
The Browns will be going up against a Cowboys offensive line that is not what most think it is.
While LT Tyron Smith should be good to go for this week's game, I still see the Browns front four wrecking havoc and causing Dak into some questionable throws.
As seen in the Seattle game, when the pressure got to Dak, he made some poor decisions with the football.
One of the passes should have been intercepted, but instead was deflected into the air and caught by Cowboys wideout, Michael Gallup.
The other was actually intercepted in the end zone by DB Ryan Neal ensuring the victory for the Seattle Seahawks.
After a 4 sack performance, I see the Cleveland Browns racking up 5 more sacks, with Myles Garrett recording 3.