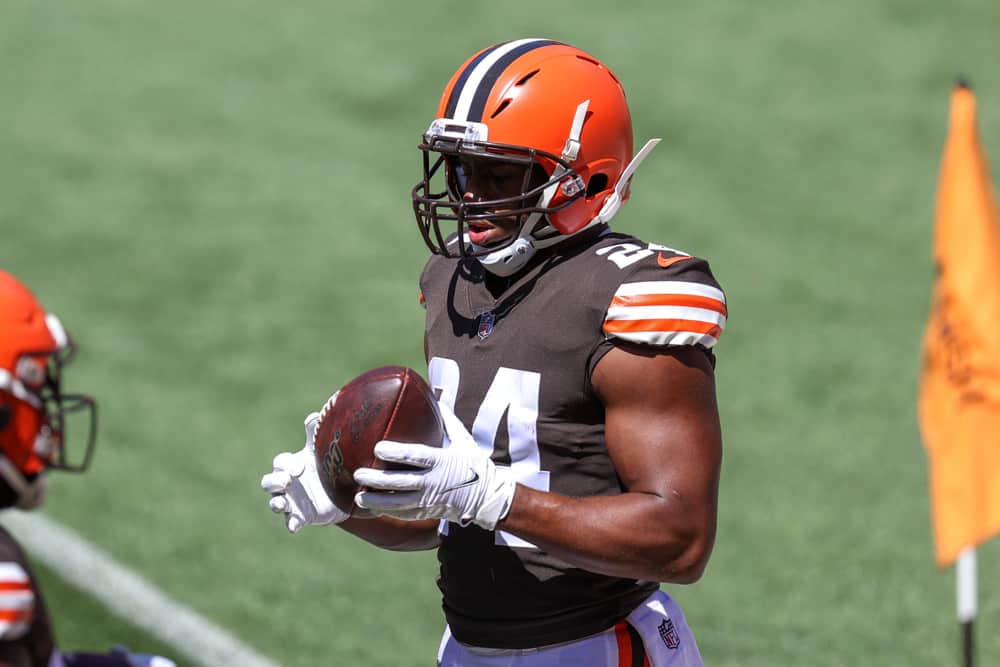 The comparisons were drawn almost immediately once the Cleveland Browns signed Kareem Hunt.
But, could it come to fruition?
Could Nick Chubb, along with Hunt, present a rushing duo that threatens the league as Earnest Byner and Kevin Mack once did in the last half of the 80's?
Mack and Byner. Chubb and Hunt.

— Ken Carman (@KenCarman) September 18, 2020
Dynamic rushing duos aren't necessarily uncommon.
They have been in Cleveland since the 80's, however.
Browns fans are certainly justified in pointing out the similarities between the four backs and knowing how crucial Chubb and Hunt are to the success of this team.

1,000-yard Club
Achieving a 1,000-yard rushing season has become a fairly standard milestone in terms of fans agreeing on something that is "great".
It's far from easy to accomplish, especially in today's era where many offense elect for a pass-heavy approach.
Plus, many teams decide to go with a running back by committee approach where they work three or four guys into the backfield consistently.
It still wasn't easy to do back in the 80's though either.
Yet, Byner and Mack managed to do in the same season with the Browns in 1985.
They rushed for 1,002 and 1,104 yards respectively and punished opposing defenses all year.
Byner would eclipse 1,000 yards rushing twice more before hanging up the cleats, albeit in a Washington uniform.
Mack would never break the century mark again.
Still, from 1985 to 1988, Byner and Mack served as one of the best running back duos across the NFL.
Chubb and Hunt each have a 1,000-yard rushing campaign under their belts.
Hunt logged his rookie season in 2017 with the Chiefs.
He led the entire league in that department with 1,327 yards.
Chubb broke through last year, running for 1,494 total yards on the ground.
They are yet to do it in the same season, but the potential is certainly there.
This season, Chubb and Hunt are on pace to do just that.
If the two Browns backs can maintain their current pace through the rest of the season, Chubb will finish with over 1500 yards while Hunt will finish right around the 1100-yard mark.
That leaves a little room for error for Chubb, but Hunt likely can't afford a bad day if they hope to each hit 1,000 yards.

Are Chubb and Hunt Better?
The problem with the aforementioned question is the generational divide between Browns fans.
There's a part of the fan base that has vivid memories of Byner and Mack running all over defenses.
There's another part that literally wasn't even alive for that (including myself).
Sure, you can look at numbers all day long.
However, the "eye-test" is an unavoidable method in which sports fans evaluate players.
Athletes that we see do special things will always rank higher than those we don't if the two are statistically comparable.
Some throw numbers out the window altogether and go off that alone.
Because of that generational divide, there will always be a split opinion on this topic.
That's not a bad thing though.
Fans are allowed to feel the way they do about their favorite athletes.
Whether you think the former or current rushing duo is better in Cleveland, take Byner and Mack for the base of what they were.
That was a great, dominant rushing duo in northeast Ohio that kept the Browns offense churning.
What is the current pair of Chubb and Hunt?
Exactly that.
Nick Chubb and Kareem Hunt through 3 games.

Chubb: 51 carries, 292 yards, 4 TDs
Hunt: 39 carries, 204 yards, 3 TDs (2 rec.)

— Andrew Gribble (@Andrew_Gribble) September 27, 2020