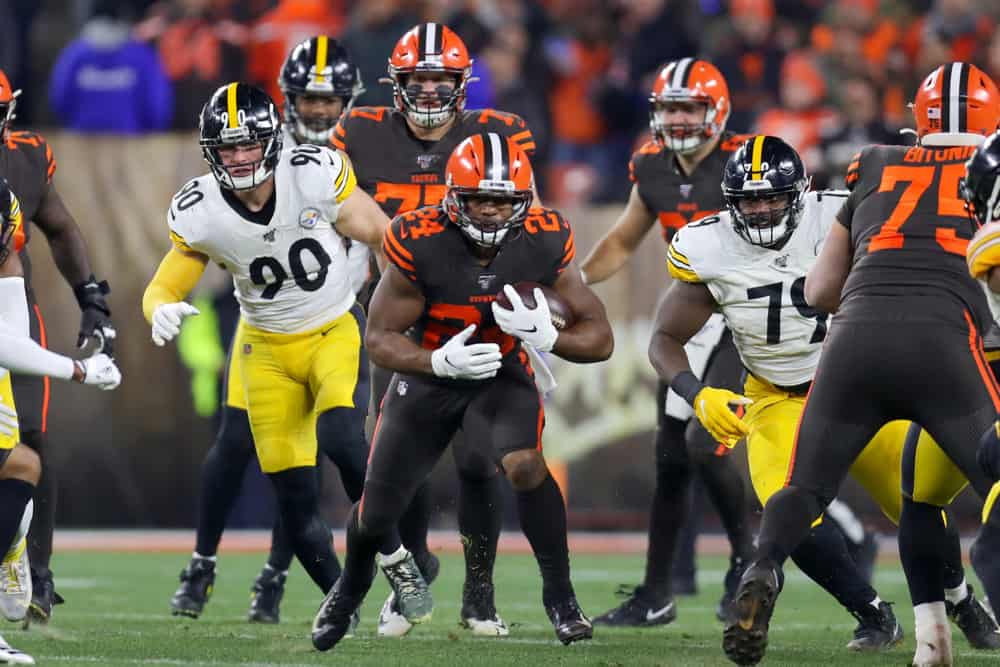 Spooky things are bound to happen as the Cleveland Browns host the Pittsburgh Steelers on Halloween.
Our neighbors from the Keystone State are still haunted by 2 straight losses at the end of last season.
And a third straight could be enough to mummify their big mouths once and for all.
The last time the @Browns and Steelers met, Cleveland earned the franchise's first postseason victory in more than a quarter-century.

Steelers vs. Browns | Sun. 1 pm ET | CBS pic.twitter.com/N4cXmDs6Xu

— NFL on CBS 🏈 (@NFLonCBS) October 29, 2021
But Baker Mayfield might need to borrow an arm from Dr. Frankenstein to finish the season.
And not even Dracula can count the number of names on the Browns' injury list.
Can Myles Garrett and Jadeveon Clowney spook Ben Roethlisberger into some ghastly turnovers?
The Browns offensive line last year in the playoff game against the Steelers

0 sacks allowed

We NEED a similar performance this weekend pic.twitter.com/j7XF2ueill

— The Cleveland Pulse (@PulseCleveland) October 29, 2021
Will the Browns' offensive line play as strong as gargoyles and as quick as goblins?
And how many times will Nick Chubb ghost the Steelers defenders only to reappear just beyond their grasp?
Here are 3 eerily bold predictions for the Browns game versus the Steelers.
1. Chubb, Johnson Top 250 Total Yards
The name of the game this week is to protect Baker Mayfield from unnecessary hits.
And nothing protects the quarterback better than running the ball like there is no tomorrow.
Cleveland ran at will against the Broncos' then-4th-ranked rushing defense last weekend.
And D'Ernest Johnson converted several third downs on the ground.
Pound the Rock! #TDThursdays pic.twitter.com/md2444F45z

— Cleveland Browns (@Browns) October 28, 2021
With all five opening day starters on the offensive line again, there is no excuse not to do the same against the Steelers.
Pittsburgh can stack the box and dare Baker to throw.
But Stefanski doesn't have to take the bait as the Browns running game is too strong.
Screen passes and outlets to Chubb and Johnson assure the running backs account for more than half the Browns offense.
2. Jarvis Landry Throws the Longest Pass 
Baker Mayfield showed enough mobility and zip on the ball for Cleveland to put him back on the field.
But what he didn't show was enough of an arm to go deep.
Mayfield was limited to short and medium pass routes in practice.
And while he might have another hail mary in his arm Sunday, hitting receivers in stride downfield might be tough.
Which #Halloween hero is Jarvis? pic.twitter.com/qjDcEROlBL

— Cleveland Browns (@Browns) October 29, 2021
Pittsburgh undoubtedly saw the same practice clips we all saw.
And Stefanski will be anxious to make them respect the long threat enough to keep the safeties honest.
Mayfield will probably try to throw something deep during the game.
But watch Landry take a backward pass or pitch at some point and deliver to OBJ or Rashard Higgins for a big play.
3. Defense Has Their Biggest Game of 2021
Do you know who is tired of hearing about how the Browns defense is not playing up to snuff?
The Browns defense, especially their pass rushers and safeties.
To be fair, Cleveland's defensive statistics don't jump off the page at you.
But they still rank as the NFL's second-best defense by yardage allowed.
Which #Halloween hero is Myles? pic.twitter.com/RiXAjKS1qc

— Cleveland Browns (@Browns) October 29, 2021
Time of possession and number of plays help as much as big plays-allowed hurt.
And points scored, as well as third-down conversions, are more important than yardage.
But something about the sight of Ben Roethlisberger in the backfield makes dawgs salivate.
And it's about time for Cleveland's defense to assert themselves with multiple sacks and multiple turnovers.
Bonus Prediction: Dawgs Outnumbered 
Halloween brings out the creativity of the most awesome fans across The Land.
We fully expect an array of zombie dawgs, vicious dawgs, and goblin dawgs in the stands.
But there could be a bigger contingent of something even scarier this year: blind officials.
Brown on orange for the #Browns Halloween game against the Steelers. pic.twitter.com/vowq39eHDR

— Camryn Justice (@camijustice) October 29, 2021
Hundreds of Browns fans should dress in black and white stripes with walking sticks and dark glasses.
And while we can hope such a sight sends a message to the refs on the field…
They probably won't see it.
Happy Halloween Browns Nation!