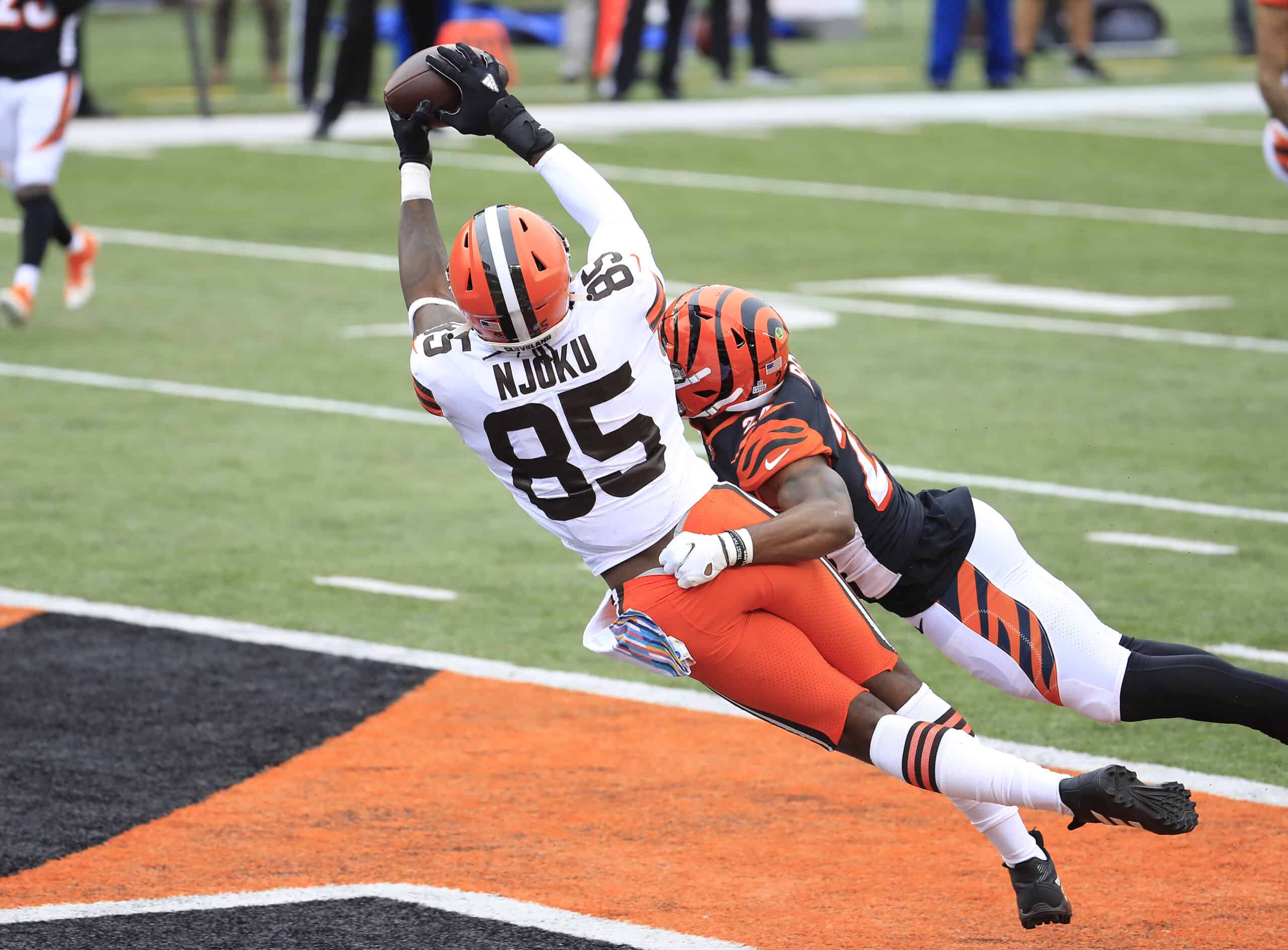 Virtually everyone agrees that the Cleveland Browns have a lot of offensive weapons going into the 2021 season.
The great news is that all are returning from last year so the continuity in coaching and players that has been desperately lacking in recent years is now intact.
Figuring out the scoring leaders is no easy task.
Last year, the ball was spread around pretty evenly, and OBJ was injured so those were factors in the final results.
The other unknown is how the 17th regular season game will impact offenses (and teams in general).
Here is a preseason prediction of who the 2021 Browns scoring leaders will be.
Two of the three are no brainers, but the third required serious thought.
1. Nick Chubb
Why do you run the ball down 19-3 in a playoff game? Because you have Nick Chubb, that's why. pic.twitter.com/jEEzqGxa6b

— Doug Farrar (@NFL_DougFarrar) July 7, 2021
Chubb was the Browns scoring leader in 2020 with 12 rushing touchdowns so it is not a stretch to predict he will be the scoring leader in 2021.
He is the workhorse of this offense, and for it to be successful, he needs to be in the end zone often.
This number could be higher in 2021 because hopefully, Chubb is healthy the entire season.
Recall that he was injured and missed four games last season.
Chubb is not programmed like most players so he will not be thinking about running for a contract extension, but the Browns front office will be watching closely knowing they need to pay him soon.
2. Kareem Hunt
The best RB duo in the NFL 💪 pic.twitter.com/1LIlC6cn5b

— PFF (@PFF) July 10, 2021
Hunt finished second behind Chubb in scoring in 2020.
Is it any wonder Chubb and Hunt are called the best running back duo in the NFL?
Hunt had 11 total touchdowns divided evenly; six were rushing, and five were receiving.
His numbers could be higher also this year as there has been talk that there will be more designed plays with Hunt and Chubb on the field together this season.
3. Jarvis Landry
The third highest scorer is tougher to predict.
Last season, Rashard Higgins, OBJ, Austin Hooper, and Landry all finished tied for third with four touchdowns each.
This is a testament to how well the ball was spread around last season.
However, Jarvis Landry is the choice for third-highest because he has quietly been working hard on his training and conditioning.
Recently we heard that he cut weight to be in more of his 2015 form.
Jarvis Landry said this off season he cut his playing weight from 213 to 197lbs.

"When I was bigger I did feel stronger…. but at the same time I ain't been 197 since year two… when I was really shaking guys."

2015 was the best year Jarvis had as a Dolphin. pic.twitter.com/45dFJckbrR

— Nick Karns (@karnsies817) July 7, 2021
All of that spells more trips to the end zone for Landry this year.
Conclusion
Barring injuries, I am pretty confident in the top two scorers.
Another offensive weapon who could come in third is tight end David Njoku.
Baker Mayfield hits David Njoku on 2nd and 20 to convert before the 2 minute warning. #Browns pic.twitter.com/5836Fhnvfw

— Justin Groc (@jgroc) January 17, 2021
He appears to be in a better place than one year ago.
Njoku is committed to the Browns, and it is not far fetched that one of Coach Stefanski's tight ends could be the third-highest scorer.
It really does not matter who the top scorers end up being when February 2022 rolls around, and we revisit this list.
It is more important for the Browns to live up to expectations, focus on winning their division, and making a deep run into the playoffs.