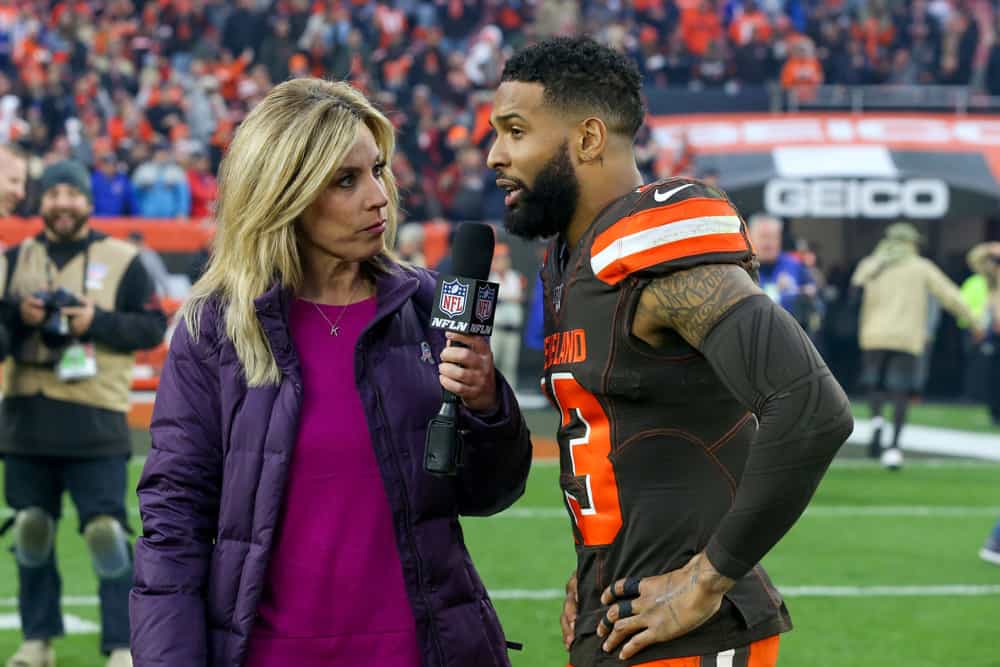 Like all NFL teams, the Cleveland Browns endure a lot of media scrutiny.
Some media members are more harsh than others on their opinions of the Browns regardless of whether the team is winning or losing.
We are ranking the three biggest media critics of the Cleveland Browns; ardent fans will likely guess every person who makes this list.
Here they are:
3. Stephen A. Smith – ESPN
ESPN's Stephen A. Smith is generally not a fan of the Browns.
Dating back to the days leading up to the 2018 NFL Draft, he did not believe in Baker Mayfield.
That has not changed much over the years.
Last season, his harsh words came back to haunt him following the Browns' win over the Tennessee Titans, and Emily Mayfield held him accountable.
This aged well…. 👀🤭 https://t.co/LU1PQi7gFa

— Emily (Wilkinson) Mayfield (@emilywmayfield6) December 6, 2020
Another one of Stephen A's rants that did not age well was his win and loss prediction for 2020.
Stephen A. is reportedly a Pittsburgh Steelers fan which could explain some of his feelings about the Browns.
2. Michael Silver – NFL Network
NFL Network's Michael Silver seems to get on the Browns news beat when it is time to disparage or pile on.
This is especially true since his close friend Hue Jackson was fired as the Browns head coach after going 3-36-1 during his two and a half season tenure.
Following Jackson's firing, Silver hurled insults at Baker Mayfield that were inappropriate.
During this incident, NFL Network colleagues Rich Eisen and Michael Irvin tried to bring the conversation back to a more professional vantage point with Eisen in particular poking at Silver's friendship with Jackson.
1. Colin Cowherd – FS1
No one even comes close to disparaging the Browns with greater regularity than Fox Sports 1's Cowherd on his daily show The Herd with Colin Cowherd.
To be fair, the majority of Cowherd's disdain for the Browns is directed at Baker Mayfield.
Like Silver, he has often unleashed personal attacks that have absolutely nothing to do with the game of football.
A perfect example last season was Cowherd's rant on Mayfield wearing his hat backwards.
Baker Mayfield wore his hat backwards. Bad news for the Browns' QB:

"That just says playoff loss, doesn't it?" — @ColinCowherd pic.twitter.com/0OglfxmkF4

— Herd w/Colin Cowherd (@TheHerd) January 8, 2021
This is another clip that did not age well, and Mayfield himself, without uttering a word, left Cowherd know it.
#Browns Baker Mayfield with a phenomenal troll job on Colin Cowherd, turning his hat backward after his playoff WIN. pic.twitter.com/jKHwvfc3xW

— Camryn Justice (@camijustice) January 11, 2021
Cowherd's rants about the Browns border on the bizarre.
Consider his recent one comparing the 2021 Browns to the Coachella music festival.
The Cleveland Browns are @coachella:

"It sounds great and there are a lot of big names… The Browns have a little bit of that feel to them." — @ColinCowherd pic.twitter.com/i2SEoEsSzI

— Herd w/Colin Cowherd (@TheHerd) June 29, 2021
Browns Need To Eliminate The Noise In 2021
Whether it is opinions from these three guys or rave reviews from one of the Browns' biggest fans, Jim Rome, the team needs to eliminate this noise beginning on July 27.
Listen to teammates and coaches and focus on the task at hand; that is to win a championship in 2021.
It is a waste of time for Browns players to tune into these guys for their "opinions".
#Browns QB Baker Mayfield spoke on The Match broadcast about the teams chemistry and expectations this season: pic.twitter.com/8aRqb5iVWC

— Baillie Burmaster (@bayburmTV) July 7, 2021
As Mayfield said last week during his appearance on "The Match" golf tournament, the team has its own standards and needs to work to achieve them without letting outside influences weigh in.
After all, victory and success are the best tools to shut down naysayers.