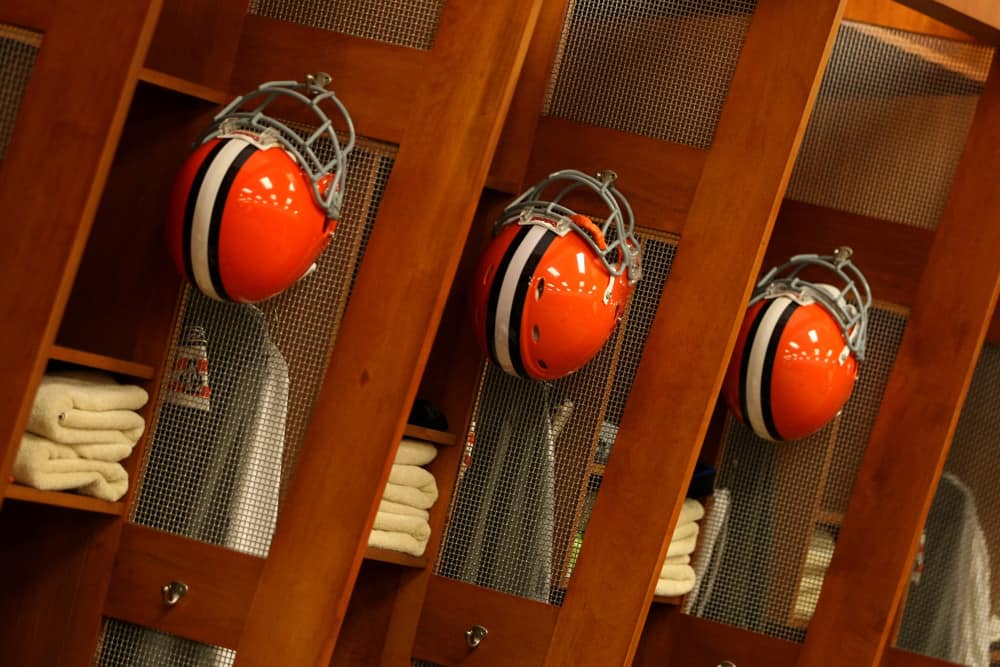 2020 is a pivotal year for the Cleveland Browns.
Following the 2019 debacle, the Browns have their best leadership in years with Head Coach Kevin Stefanski and General Manager Andrew Berry in place.
But the players on the field will need to lead too.
Here are 3 players capable of leading the Browns as captains in 2020:
1. Baker Mayfield
The firey Browns quarterback is known for the attitude he brings onto the field each week.
Baker Mayfield woke up feeling dangerous again.#OUDNA | #BoomerSooner | #Brownspic.twitter.com/GGJ9tUMOgb

— Sooner Gridiron (@soonergridiron) December 16, 2018



But Stefanski had some recent comments that lead some to believe Baker Mayfield is ready to take a mental step forward in 2020:
"He's a really bright football player. I've been very impressed with how smart Baker is. He knows that he has to improve off of last year."
Baker will be 25 years old with 30 games of NFL experience when the 2020 season kicks off in a few months.
He can and should be counted on to take the next step on, and off the field.
We expect his stats to improve.
We expect him to find Odell Beckham Jr. a whole lot more often.
And we can expect him to lead a young offense in his third NFL season.
2. Jack Conklin
Conklin has often been lost in the offensive conversation since the Browns took Jedrick Wills Jr. in last month's NFL Draft.
But he's a 4-year starter in the NFL which means he's reaching veteran status.
The Browns are signing OT Jack Conklin to a 3-year, $42m deal per @AdamSchefter

Conklin: 10th highest graded OT in 2019 pic.twitter.com/TR2930C8zo

— PFF (@PFF) March 16, 2020
And like Baker, he's dealt with the pressure of being a first-round pick.
The 2020 Browns will go as far as their offensive line takes him.
Protecting Baker and opening running lanes for Nick Chubb and Kareem Hunt will have a tremendous effect on the Browns final record.
And with all eyes on Wills at left tackle, look for Jack Conklin to stabilize the right side during games, and mentor Wills every day in between.
3. Karl Joseph
The Browns added Karl Joseph from the Las Vegas Raiders on a one-year deal in April.
OFFICIAL: Welcome to Cleveland, Karl Joseph!

Joseph gives us a hard hitter and experience at safety » https://t.co/2WEpATMXbl pic.twitter.com/a4jN8Ue3IM

— Cleveland Browns (@Browns) April 13, 2020
He recently spoke about Cleveland being a "perfect fit" and expressed joy at the idea of playing for Stefanski.
And it's likely Berry and Stefanski chose to add Joseph to stabilize a young secondary.
The Freddie Kitchens era in Cleveland was regrettable.
Stefanski will aim to put his own mark on the team with his own leaders.
Not the players who "led" in 2019.
So count Joseph and Conklin among the new additions who can slide into leadership roles immediately.
Stabilizing The Browns
In conclusion, a disappointing 2019 has given way to renewed hope in 2020.
Cleveland is Believeland once again.
The Browns have stabilized the Head Coach and Front Office.
They have stabilized the roster with a mix of young playmakers and reliable veterans.
And they will no doubt stabilize the on-field leadership in 2020.