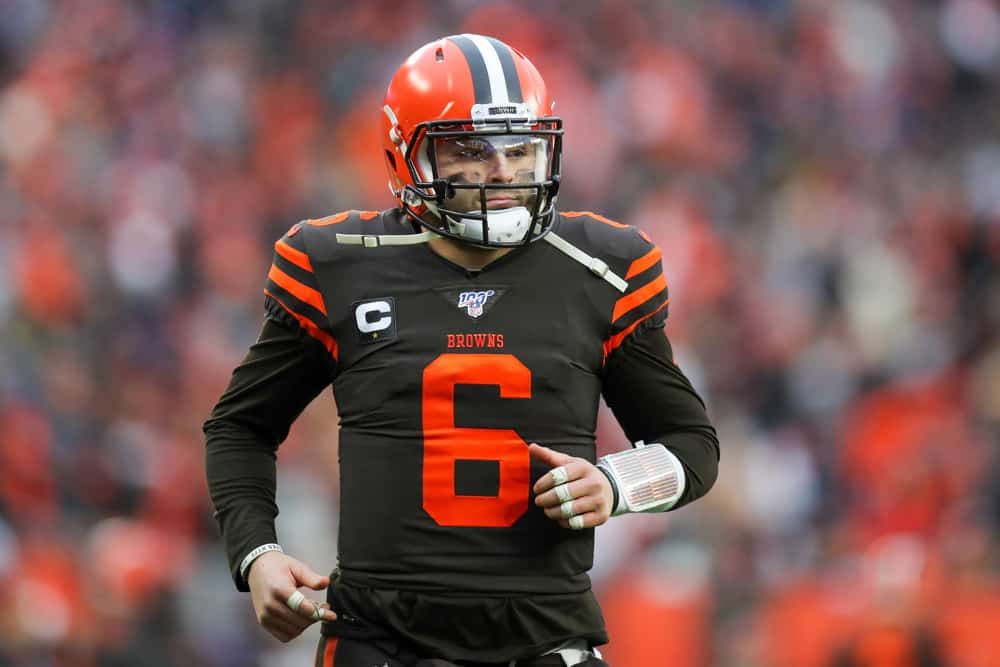 Earlier in May, first-year head coach Kevin Stefanski shared his expectations for third-year quarterback Baker Mayfield.
Then on Wednesday, Stefanski joined SiriusXM NFL Radio's Moving' the Chains with Pat Kirwan and Jim Miller and discussed Mayfield's strong offseason:
"I've been very impressed with how smart Baker is."

New @Browns coach Kevin Stefanski says Baker Mayfield is off to a great start under the new regime.

AUDIO | #Browns | #DawgPound pic.twitter.com/7iAfezraLo

— SiriusXM NFL Radio (@SiriusXMNFL) May 19, 2020
Stefanski has a lot of confidence in Mayfield
Stefanski and his offensive coordinator Alex Van Pelt, who was the quarterbacks coach for the Cincinnati Bengals the last two years, are seeing many positive signs already from their star player:
"He's doing a nice job in the program. So, we started the virtual program on April the 20th. He spent a lot of time virtually with Alex Van Pelt, and we're just teaching him the system."
While ESPN analyst Bobby Carpenter believes that Mayfield could turn into Alex Smith, Stefanski understands how intelligent his quarterback is:
"He's a really bright football player. I've been very impressed with how smart Baker is. He knows that he has to improve off of last year."
Mayfield, who struggled in several areas in 2019, hopes to bring the Browns to the playoffs for the first time since 2002.
Mayfield hopes to make a big jump this season, and the new head coach for the Browns knows that his team will need to improve across the board:
"And that message of improvement is the same for every single one of our players. We want to get guys that are eager to take a step forward and Baker completely understands that, and I think he's a very determined and driven person, just period. That's what he's all about."
With Mayfield determined to show that the sophomore slump is behind him, Stefanski said that Mayfield is ready to be a part of a new system for 2020:
"And now you have an opportunity, as we build a new system, an opportunity to do something where he's going to be out there in front, and that's the nature of playing quarterback."
Tony Gonzalez thinks Mayfield has more pressure on him than any other NFL player.
Even with quarterback being arguably the most scrutinized position in all of sports, Stefanski thinks Mayfield is ready to prove the doubters wrong during the upcoming season:
"You get a lot of the credit and then you get a lot of the blame, and that's just the nature of the beast. I think he understands that completely, and I think he'll be ready to go."
Stefanski's consistent opinion about Mayfield
During the offseason, Stefanski's stance about Mayfield's readiness has remained consistent.
In January, Stefanski spoke fondly of him:
Kevin Stefanski says 'sky is the limit' for Baker Mayfield.

"I think there's plenty of things that we'll do schematically to hopefully make life easier on him, and I'm looking forward to the jump that this kid will take."

➡️ https://t.co/f1uQvggScx#OUDNA | #Browns pic.twitter.com/kvLCsbGuZK

— Sooner Gridiron (@soonergridiron) January 15, 2020
In order for Mayfield to have a strong season, he most likely will need to start strong.
Fortunately for him and Stefanski, the Browns have the second-easiest schedule in 2020.
Mayfield, who has the most offensive weapons of his NFL career this upcoming season, should be able to spread the wealth.
Nick Chubb could have a top-five season at running back, while Jarvis Landry looks to duplicate his impressive 2019 campaign.
If Odell Beckham Jr. and Mayfield also are on the same page in 2020, the Browns could have an exciting season this upcoming year.