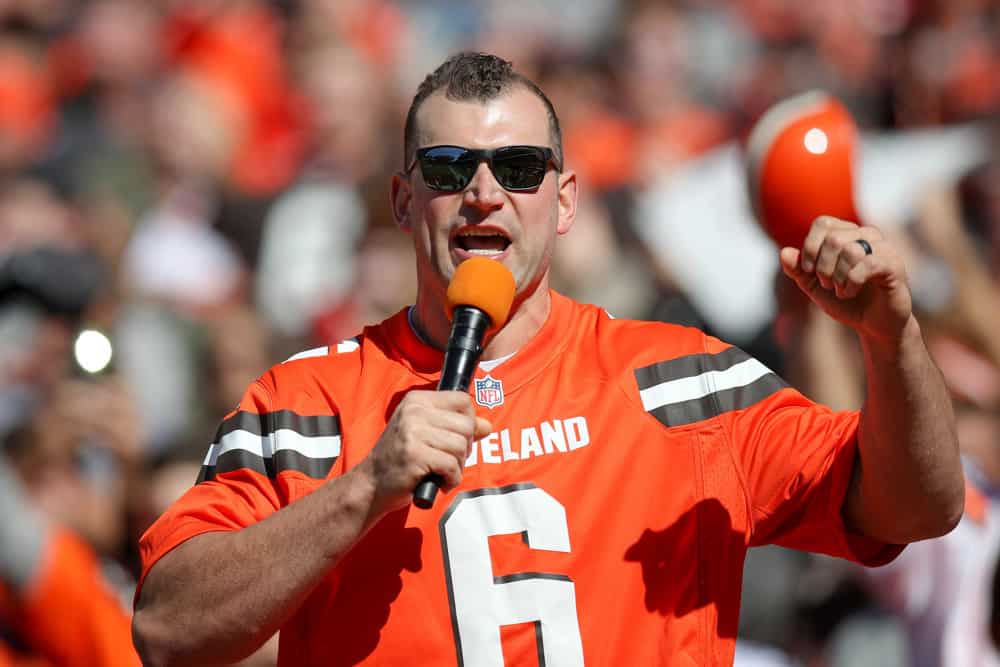 There's a saying that goes "game recognize game".
Safe to say that's what happened between former Cleveland Browns offensive tackle Joe Thomas and "Titan Games" host Dwayne "The Rock" Johnson.
"Titan Games" is a reality competition series that Johnson hosts on NBC.
The goal for each of the four female and four male contestants is to be named a "Titan".
The competition starts with the contestants squaring off in a head-to-head challenge against an opponent of the same sex.
The winners then face the defending "Titan" on the Mount Olympus obstacle course to compete for that status.
Thomas proved himself as a worthy competitor during Monday night's episode.
First Run
Thomas' first Mount Olympus run was certainly a thrilling one.
It was clear that the 10-time Pro Bowl tackle did not have the same sheer power he once did.
In fact, the now 250-pound Thomas once weighed about 325 pounds as a member of the Browns.
However, his current slimmer build actually helped him at different points in the run, such as in the "cage crawl".
His skills lead him to a narrow victory over Denver firefighter Matt Chan.
At one point in the course, Thomas carried a 200-pound log up an incline with such ease that Johnson could only stand there with his jaw to the floor and uttered a simple "wow".
Joe Thomas absolutely crushed the @nbctitangames 💪🏽

Congratulations @joethomas73 pic.twitter.com/XIuSD7H8LC

— Everything Cleveland (@EverythingCLE_) May 26, 2020
Second Run
Thomas then defended his status of "Titan" against a sheriff deputy in the form of Steven Shelby.
This was also another tightly contested race until the very end.
The second-to-last obstacle on Mount Olympus is to drag a 300-pound ball-and-chain from one end of the room to the other.
Thomas handled it with ease as Shelby struggled to drag his object across the floor.
The dominating strength and will of Thomas led him to another victory to cap off the episode.
Still Got It
Thomas may not be or look like the menacing athlete he once was during his playing days after shedding so many pounds.
However, he is still in an elite class that only a few others reside.
"Titan Games" is also just as much a test of an athlete's mental strength and toughness as it is a physical one.
At the end of the show, Johnson interviewed Thomas following his victory over Shelby.
When asked how he was feeling, Thomas simply responded "I'm not gonna lie, I'm a little tired right now. But, it feels pretty good being on top again".
Any success should feel great for Thomas.
He obviously has accomplished plenty in life and has succeeded in many facets.
After a plethora of losing seasons in Cleveland, however, I can't imagine there are too many victories that Thomas takes for granted anymore.
What's Next?
For those who may have missed Thomas' performance and want to see him compete again, no worries.
Thomas will defend his status of "Titan" in future episodes which air every Monday night at 8 PM.
You can re-watch the entire episode from Monday night below!