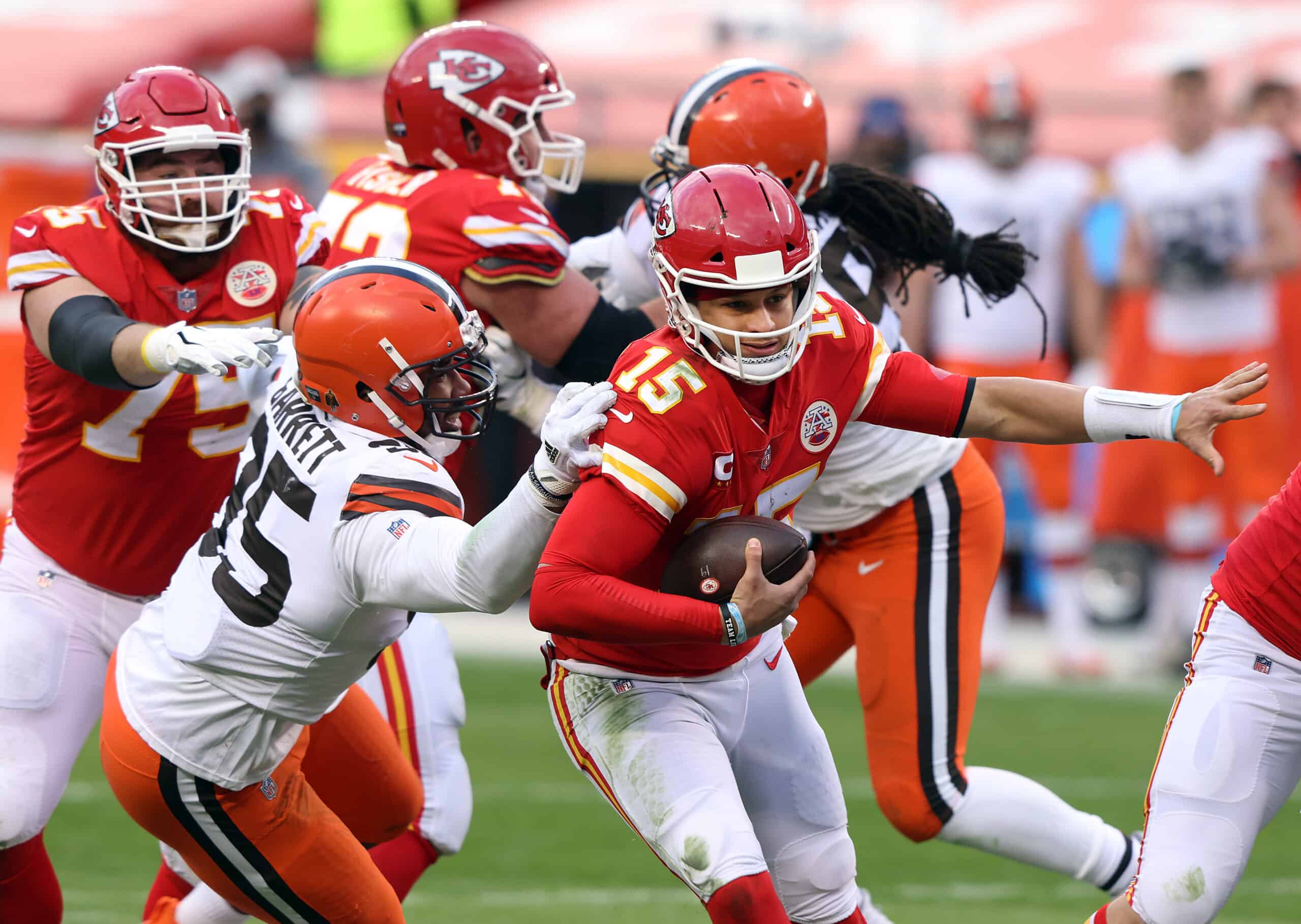 Ever since the 2021 NFL schedule was released in May, the Cleveland Browns had their eyes on the Week 1 game.
It is a rematch of last season's divisional playoff game against the Kansas City Chiefs, once again at Arrowhead Stadium.
The Browns were very competitive in that playoff game but are hungry to avenge the losing result.
Here are three Browns players who could have a big game against the Chiefs.
Spoiler alert: there are no surprises on this list.
1. Nick Chubb, Running Back
We haven't seen Chubb in the preseason games.
He just signed a contract extension and is laser focused on producing big results for the Browns in 2021.
Chubb rushed for 69 yards in the playoff game.
He also dropped two passes on the Browns' second drive.
Chubb was admittedly mad at himself after the playoff loss.
"But it's just those close games when you lose like that hurt way more than when you get blown out and just knowing that one drive could've made a difference in us going home or playing next week, and just for me personally, I hold myself to a high standard of playing at a high level every game and I didn't do that yesterday. Had a couple of errors, so I'm down about that too.''
#Browns RB Nick Chubb on how many times he's re-watched playoff loss to Chiefs: "I watched it a couple times. It's not something I watch every day…maybe once or twice."

— 92.3 The Fan (@923TheFan) September 1, 2021
Given months to stew over the loss and his own personal disappointments and with the best offensive line in football making holes for him, Nick Chubb could potentially have a huge game for the Browns.
2. Donovan Peoples-Jones, Wide Receiver
DPJ will capitalize off a stellar training camp and preseason with an excellent Week 1 performance against the Chiefs.
"Donovan Peoples-Jones is absolutely lighting up training camp. Look at the size, the strides, the way he extends to make tough plays in traffic. The Browns got this guy in the sixth round, and it will be no surprise if Peoples-Jones eventually ends up being a legitimate star."

— Jarad Evans (@PFF_Jarad) August 5, 2021
DPJ starting #BrownsCamp off with a bang! 💥 @dpeoplesjones pic.twitter.com/92GggjoKpP

— Cleveland Browns (@Browns) July 28, 2021
Of course, Jarvis Landry will be on the field and reportedly OBJ will be also; however, the Chiefs' defenders will have their hands full trying to stop big plays from all three of them.
DPJ had 1 target resulting in a 23-yard catch in the playoff game.
His connection with Mayfield has grown, and he spent a lot of the offseason working on his game.
All of this could pay off in spades in Week 1.
3. Myles Garrett – Defensive End
Does anyone believe that Myles Garrett is afraid of this revamped Kansas City Chiefs offensive line?
Garrett will lead a retooled Browns defense into Arrowhead and dominate.
The Chiefs do not know what to expect.
Will they see Jadeveon Clowney, Myles Garrett, and Takk McKinley on the field at the same time?
Garrett, dealing with the aftereffects of COVID-19 in the playoff game, still managed 2 solo tackles, 2 quarterback hits, and 1 sack.
Now that he is back to full health, he will not be stopped.
In one week the #Browns get to start a race for glory. 🌟

They start with a shot at redemption vs the dominant #Chiefs.

Throwback to this play where a 6'4", 270, Myles Garrett, runs down Mecole Hardman. ⚡️ pic.twitter.com/yRtDChlIIh

— The Hottest Take (@Hottest_TakePod) September 5, 2021
Conclusion
This 2021 Browns roster is so loaded that it is difficult to pick out who the weekly stars will be.
It is likely they will vary from week-to-week so the three listed above may be replaced with Baker Mayfield, Kareem Hunt, and Anthony Walker Jr. in Week 2.
That is one of the great things about this team that could really lead it deep into the playoffs.
Watch the Browns open the 2021 season with the Chiefs at 4:25 PM EDT on Sunday, September 12.