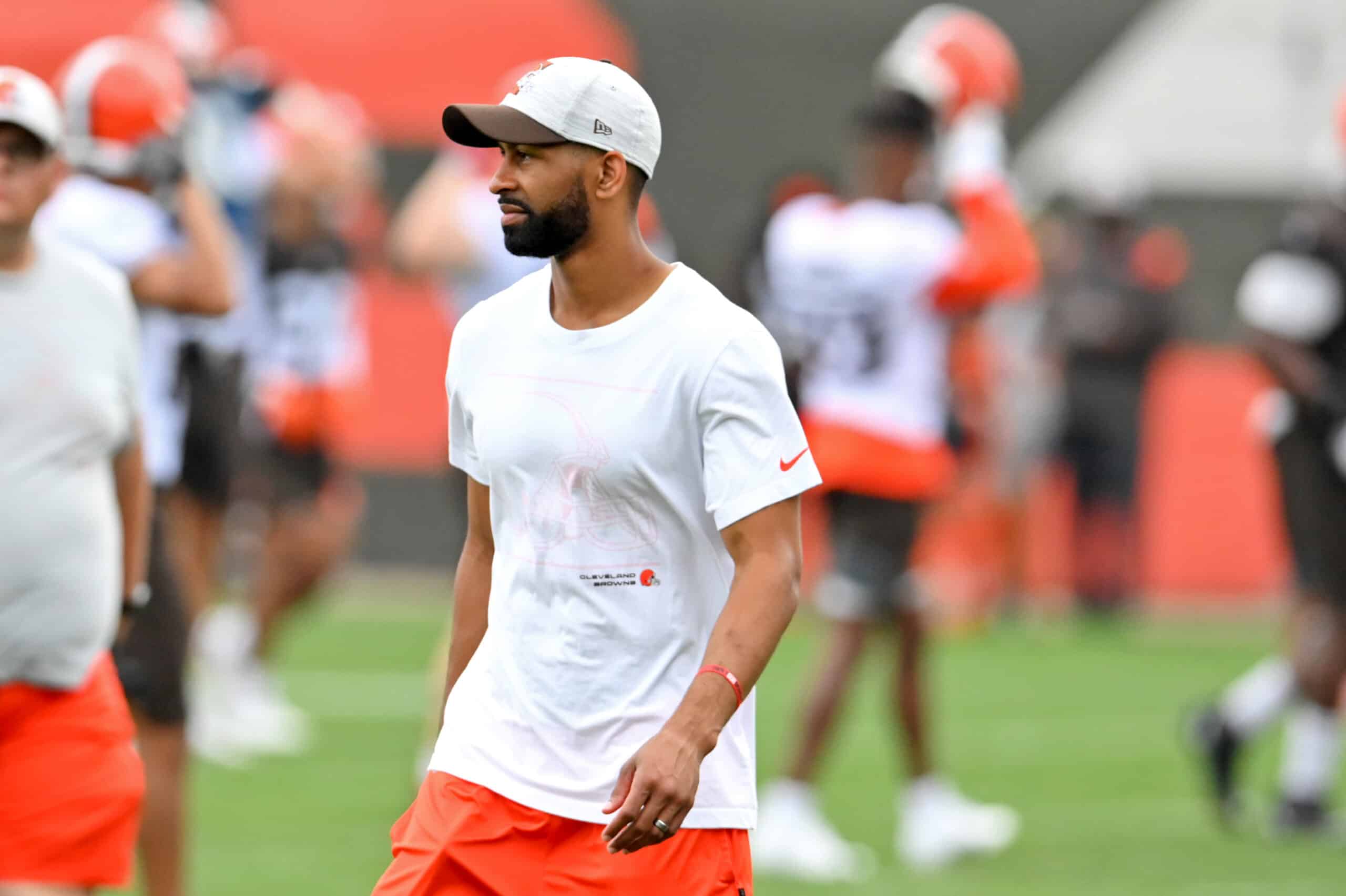 Cleveland Browns GM Andrew Berry took the general manager reins in early 2020.
He has masterfully managed two NFL drafts, free agent signings, and contract extensions.
Berry has done it all without a lot of fanfare and by not breaking the bank also.
For all of the above reasons, he has earned an "A" in his first two offseasons with the Browns.
Here are the reasons why.
1. Smart Draft Picks
Berry shows time and time again that he is not necessarily going for the best player on the board when it is the Browns' turn to pick.
He is selecting the player he believes fits with the Browns, in terms of playing style and personality.
Berry also believes the draft picks are the future stars of the team and does not always expect immediate rewards from their selections.
mary kay cabot, on andrew berry & company:

"The current regime is not only hitting on picks early, when it's a lot easier, but they're finding excellent talent and future starters in Rounds 4-7, where scouts REALLY earn their keep" 🤨

— BrownsFreak51 (@BrownsFreak51) August 30, 2021
Ironically, he has reaped quick rewards from a few of them.
Jedrick Wills, the first-round pick for the Browns in 2020 (10th overall), had an excellent rookie season especially when tasked with switching from right to left tackle in the midst of a pandemic.
Wide receiver Donovan Peoples-Jones made big plays in 2020 and is emerging as the potential WR3 in 2021.
He was a sixth-round selection in 2020 (187th overall).
The 2021 draft class also has stars in the making.
We will likely see a lot of first and second-round picks cornerback Greg Newsome II and linebacker Jeremiah Owusu-Koramoah in 2021.
2. Free Agent Signings
The entire city of Cleveland was happy that Berry persisted in his efforts to sign defensive end Jadeveon Clowney in 2021.
That effort took longer than expected as Berry was attempting to get him in 2020.
Getting Jadeveon Clowney on a one-year contract is such a home run. You just can't pass on the opportunity to pair him with Myles Garrett with no downside.

— Ben Axelrod (@BenAxelrod) April 14, 2021
Also noteworthy are the signings of Los Angeles Rams free safety John Johnson III, Indianapolis Colts linebacker, Anthony Walker Jr., and Los Angeles Rams cornerback Troy Hill.
John Johnson III is the perfect type of player #Browns EVP/GM Andrew Berry loves to target – 2nd NFL contract, 25 years old, highly productive and versatile on the field.

— Daryl Ruiter (@RuiterWrongFAN) March 15, 2021
These players are all expected to make huge contributions to the Browns' success in 2021.
The only potential blip in Berry's excellent offseason performance is the signing of tight end Austin Hooper in 2020.
Though the Browns have not fully reaped the benefits of that signing for what it cost the team, his other 2020 free agent signings were excellent.
Let's recap todays free agent signings under new GM Andrew Berry:

– TE Austin Hooper – 4-year, $44M
– OT Jack Conklin – 3-year, $42M
– QB Case Keenum – 3-year, $18M

Great start. #Browns pic.twitter.com/tQTiyxYNOl

— MoreForYouCleveland (@MoreForYou_CLE) March 16, 2020
3. Contract Extensions
Berry got the job done on two contract extensions for players that need to stay in a Browns uniform for years to come to ensure the team's success.
Those were for defensive end Myles Garrett in the summer of 2020 and for running back Nick Chubb in the summer of 2021.
Cleveland Browns and Myles Garrett have engaged in contract discussions, per sources, setting the stage for a potential mega-extension this summer. The former No. 1 overall pick has two years left on his rookie deal, and Cleveland could get ahead of a pricey pass-rush market.

— Jeremy Fowler (@JFowlerESPN) June 12, 2020
The #Browns and Nick Chubb have reached an agreement on a three-year, $36.6 million contract extension that includes $20 million guaranteed, per multiple sources. pic.twitter.com/eKx7JGslT9

— FOX Sports: NFL (@NFLonFOX) July 31, 2021
Both got done without holdouts or other issues that plague other teams (look at the Steelers' current situation with TJ Watt as an example of what did not happen in Cleveland).
Conclusion
Berry has done a great job (along with Coach Stefanski) of creating a culture which players want to be part of.
Perhaps Berry's biggest challenges are yet to come regardless of whether the Browns win or lose.
Rookie contracts are getting close to their expiration dates, and difficult decisions will need to be made after the 2021 season.
Make no mistake: Berry has done a fantastic job, and the Browns need to reap the fruits of his labor during the 2021 season by winning a lot of games.