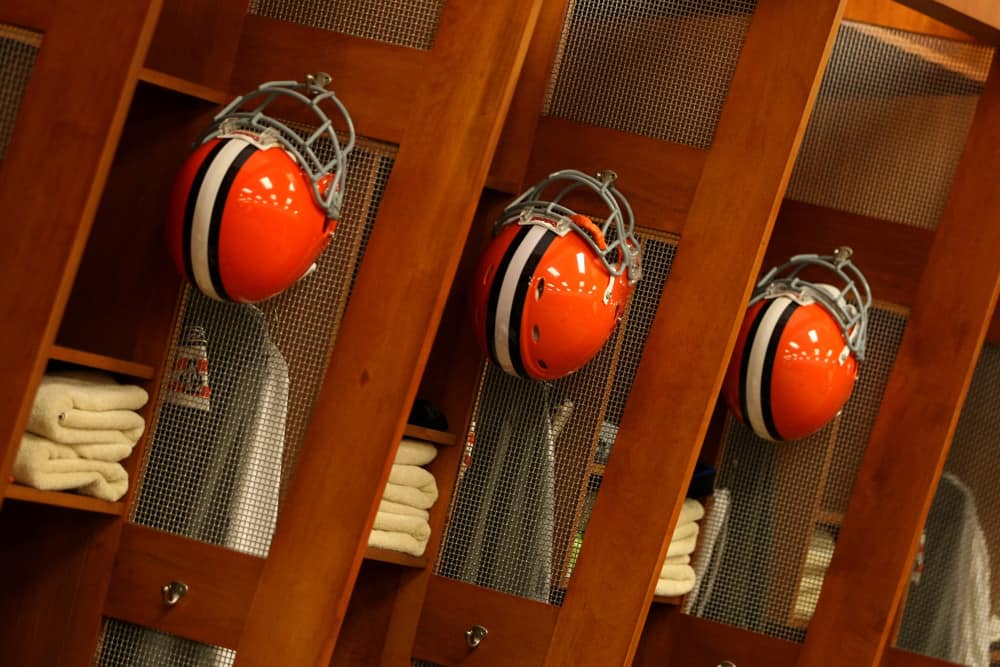 Obviously, the Cleveland Browns 2021 season didn't go as expected.
The organization performed well under expectations and missed the postseason.
That being said, fans should expect there to be significant changes this offseason.
It's always difficult to see players leave, especially ones that have become fan favorites.
However, the front office needs to do what is best for the team and sometimes that is letting go of some big name players.
1. Jarvis Landry
At first glance, it might seem odd that the Browns would get rid of wide receiver Jarvis Landry.
He is a five-time Pro Bowl wideout who has accomplishment quite a lot in Cleveland.
However, Landry did not play up to standards during the 2021 season.
He finished with 52 receptions, 570 receiving yards, and two touchdowns in 12 games.
All of those are career-lows for the 29-year-old receiver.
Although, his lackluster performance isn't the main reason for moving on from Landry this offseason.
It is the fact that Landry has a cap hit of $16.5 million for the 2022 season.
That is quite a lot of money to give to a wideout coming off the worst season of his eight-year professional year.
Possibly, the Browns are able to restructure Landry's contract, but fans shouldn't get hopeful.
This season was a rollercoaster for the Browns and Landry.
It's likely that they decide to part ways so the Browns can save cap space and Landry gets to play elsewhere.
2. Rashard Higgins
He's not the biggest name in the locker room, but fans surely do love wide receiver Rashard Higgins.
Higgins is a former fifth-round selection of the Browns from the 2016 NFL Draft.
He has spent his first six years of his career as a member of the Browns, but that might be coming to an end.
The 27-year-old loves Cleveland and even took a team-friendly deal to remain with the organization.
It's not often that players do that anymore, which is part of the reason he has won over the fans in Cleveland.
He truly does love the city of Cleveland and wants to be a member of the Browns.
However, the Browns need to strongly consider moving on from Higgins this offseason.
In 2021, Higgins finished with 24 receptions, 275 receiving yards, and one touchdown in 15 games.
Yes, the fans love him, but he's not exactly bringing much to the table in Cleveland.
The organization would be better off bringing in a younger option to take over his role.
Someone with more potential who can become more than backup receiver for this offense.
At this point, the Browns know what they're going to get from Higgins.
It's time to move on and get someone who can bring more to this team in the long term.
It's tough to let go of any player, but the Browns need to make some significant changes this offseason.
3. Jadeveon Clowney
Last offseason, the Browns gave former first-round pick pass rusher Jadeveon Clowney a one-year 'prove it' deal.
The three-time Pro Bowl defensive end has shown flashes of strong play throughout his career.
However, injuries continued to hold him back, but that wasn't the case in 2021.
Clowney recorded 37 tackles, nine sacks, and two fumbles forced during 14 games with the Browns this season.
It was a strong rebound season for the 28-year-old, but it's unlikely he stays with Cleveland.
Clowney has been seeking a multiple-year deal for quite some time.
He settled for a one-year prove it deal and clearly showed what he's capable of doing when healthy.
That being said, Clowney is likely going to be seeking a hefty payday this offseason.
The Browns should show interest, but they can't go overboard here.
There's a good chance that Clowney's contract demands are out of the Browns price range.
The Browns are better off filling the void with a cheaper option in free agency or through the draft.