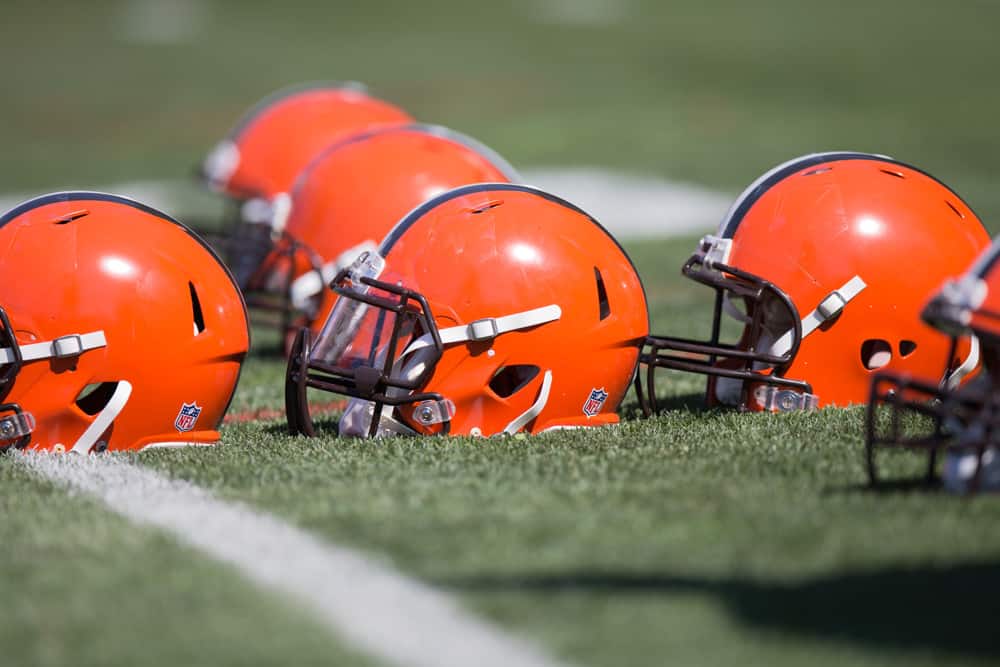 The Cleveland Browns and the NFL awards are two things that just don't seem to come together often.
The Browns have failed to make the playoffs for 17 consecutive seasons.
During that time, the organization had a rough time developing superstar caliber players.
The good news is, the Browns have turned around their roster over the last couple of seasons.
They have one of the best rosters on paper and look to be one of the most dangerous teams on offense heading into 2020.
That being said, there are a few Browns players that could be going home with accolades if everything goes right for them this season.
1. Baker Mayfield (Comeback Player of the Year)
This is a fairly bold prediction, but not something that is impossible.
Everyone knows about Baker Mayfield's record setting rookie campaign in 2018.
Then things went downhill for the 25-year-old quarterback last season.
His passing yards went up in 2019, but sadly so did his interception total.
Mayfield ended last season with the second-most interceptions thrown in the league.
2019 Interception leaders 📉

1. Jameis Winston 30
2. Baker Mayfield 21
3. Philip Rivers 20 pic.twitter.com/fgwiJY8LIg

— PFF Fantasy Football (@PFF_Fantasy) January 23, 2020
However, there is a light at the end of the tunnel for Mayfield.
He'll be in a new zone-blocking scheme that is hopefully going to be a better fit for his play style.
The goal is to obviously cut down on his turnovers and get his passer rating back up like it was during the 2018 campaign.
The Browns are absolutely loaded on offense with Nick Chubb, Kareem Hunt, Odell Beckham, Jarvis Landry, and Austin Hooper.
The front office did a tremendous job of revamping the offensive line over the offseason.
Everything has been put in place for Mayfield to go out there and have a Pro Bowl type of season.
There is no doubting that the talent is there, but it's about making the right adjustments and continuing to improve.
2. Nick Chubb (Offensive Player of the Year)
A Browns running back winning Offensive Player of the Year?
This is not a joke and could really happen in 2020 if Chubb stays healthy.
New head coach Kevin Stefanski is using a run-first scheme, so Chubb should see more work than he did last season.
Chubb finished second to Tennessee Titans running back Derrick Henry for the rushing title in 2019.
There was a good chance that Chubb was going to walk away with the title until Henry turned in a monster performance during the regular season finale.
Last season, Chubb rushed for 1,494 yards on 298 attempts with eight touchdowns during 16 games.
He's averaging 5.1 yards per carry in his first two seasons, but he might be able to do even better with the improved offensive line.
The 24-year-old has quickly become one of the best running backs in the league with only two seasons under his belt.
Chubb has the potential to win the award, but everything else needs to fall in place for him.
3. Myles Garrett (Defensive Player of the Year)
This one is probably the most obvious of the three potential award winners.
Superstar pass rusher Myles Garrett has been a force in this league over the last three seasons.
Which is why the Browns gave him a massive extension this offseason.
Myles Garrett's $125M extension has $100M in guarantees, with $50M fully guaranteed at signing, per @RapSheet 🤑 pic.twitter.com/XUWQihI2Qx

— B/R Gridiron (@brgridiron) July 14, 2020
Last season, Garrett collected 29 tackles, 18 quarterback hits, and 10 sacks through 10 games in Cleveland.
There's a good chance that he would've beat his own career-high in sacks if he didn't get suspended for the final six games of the season.
Regardless of that, Garrett has 104 tackles and 30.5 sacks through his first 37 games in the league.
He is the type of player that is on another level and there's no telling what he's capable of doing on the field.
Garrett got paid this offseason, so he wants to go out and prove that he is worth the money.
It wouldn't be surprising whatsoever to see Garrett walking home with Defensive Player of the Year at the end of the season.