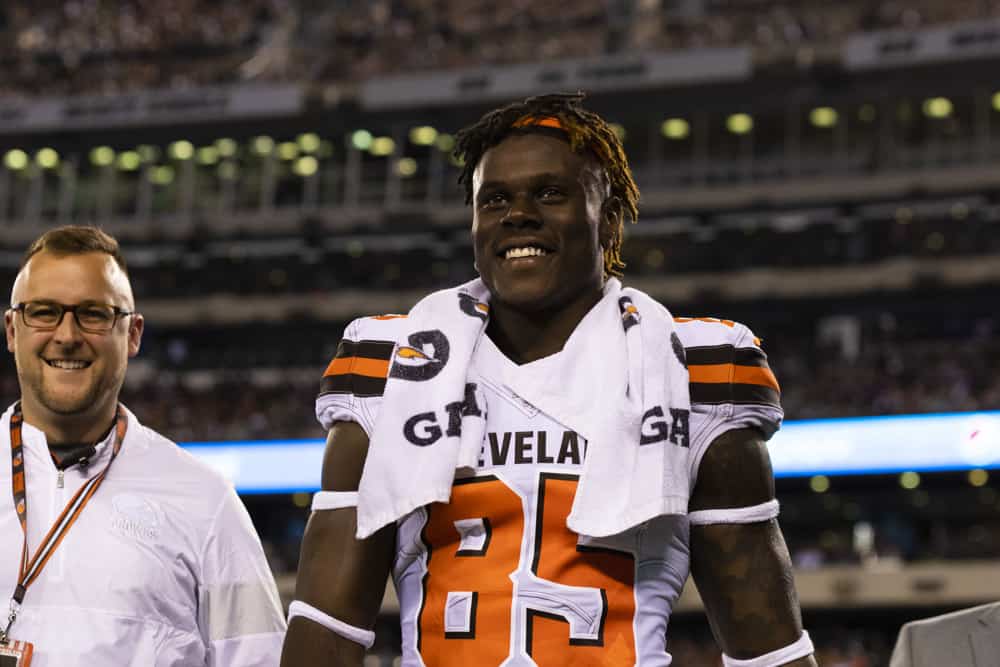 Training camp is right around the corner, and David Njoku remains a member of the Cleveland Browns.
That certainly wasn't his goal. As we heard earlier this month, the tight end was hoping to be training with a new team next week. However, things have been notably quiet since Njoku's desire to be moved leaked on July 3.
Does this mean the likelihood of his being dealt has decreased? Or have the Browns been quietly working on a move behind the scenes?
Perhaps Cleveland has instead been attempting to convince Njoku to back down from his trade request. We know the team would prefer to keep him, but can it successfully convince him to change his mind? Or is the former first-round pick about to rock the boat and force Cleveland's hand?
As you can see, this entire ordeal is littered with questions. Provided training camp starts as scheduled, we're likely on the verge of receiving some much-needed answers.
Here's what we know about Njoku's situation.
Just over two months after the Browns' exercised the tight end's fifth-year option, Adam Schefter announced he wanted out, preferably before camp began.
1/2 Browns' TE David Njoku and his agent Drew Rosenhaus asked today for the team to trade him. The Browns told Njoku they would like to keep him, but Rosenhaus told them he's intent on a trade. They want a trade before training camp.

— Adam Schefter (@AdamSchefter) July 3, 2020
Determining the reason for this request initially seemed a bit obvious.
After all, Cleveland's first big free agency move was signing tight end Austin Hooper to a lucrative contract. A month later, the team drafted Florida Atlantic standout and John Mackey Award winner Harrison Bryant.
Basically, the Browns treated tight end as an offseason position of need.
So, sure, on the surface it appeared Njoku was right to feel miffed.
At the same time, there was reason to believe these moves wouldn't severely impact his role.
New coach Kevin Stefanski loves putting several tight ends on the field at once. As Minnesota's offensive coordinator last season, he utilized multi-tight end sets more than any other team in the league.
Likewise, GM Andrew Berry noted back in April that, despite adding new members to the depth chart, Njoku still had an important role moving forward.
"David has always been and continues to be in our plans, and we are going to continue to add competition all across the roster."
Perhaps Njoku wasn't on board with that last bit, disagreeing with the idea of facing more competition. If that's the case, he's certainly not implying as much publicly.
Lol it's not about competition

— Chief David Njoku (@David_Njoku80) July 19, 2020
Honestly, this is where some training camp clarity on the situation becomes essential. Njoku will be back with the team for the first time since we received word of his trade request, yet we still don't know whether this situation is broken beyond repair.
As noted, the Browns would prefer to keep him, and have likely attempted to sell him on the idea of staying. We should get a better idea on how effective that pitch has been once camp begins.
Njoku will certainly be asked about the ordeal the second he steps in front of a microphone. Will he attempt to avoid commenting on the matter? Or, will he go down the route Duke Johnson — another Drew Rosenhaus client — took last summer, happily explaining why he wants to play elsewhere?
Ideally, camp presents an opportunity for Njoku to shed light on why the trade demand came out in the first place. The more you break down his situation, the more difficult explaining his desire to leave becomes.
Again, the Browns have insisted that added competition doesn't mean Njoku's role will be decreased. If anything, he's being placed in a system where he could thrive, provided he finally (and consistently) meets his potential.
The coach Njoku butted heads with last season — Freddie Kitchens — is long gone. He can't play Johnson's "I want to go where I'm wanted" card, since Cleveland's desire to keep him was included in the report about his trade request.
Likewise, if he has an issue with the city itself, he's certainly doing a bad job of hiding it.
I want to make something very clear. I love the city of Cleveland with all my heart. This game is filled with a lot of complications but don't think for a second that I don't love and appreciate Cleveland and all that it has done for me💯

— Chief David Njoku (@David_Njoku80) July 20, 2020
Obviously more goes on behind the scenes than we know. As you can see, though, much of Njoku's situation remains quite cloudy.
How badly does he want out?
Can he be convinced to stay?
Is this situation salvageable or not?
We don't yet know enough to answer these questions. With camp scheduled to begin in the coming days — provided Njoku is present for it — that will hopefully change.