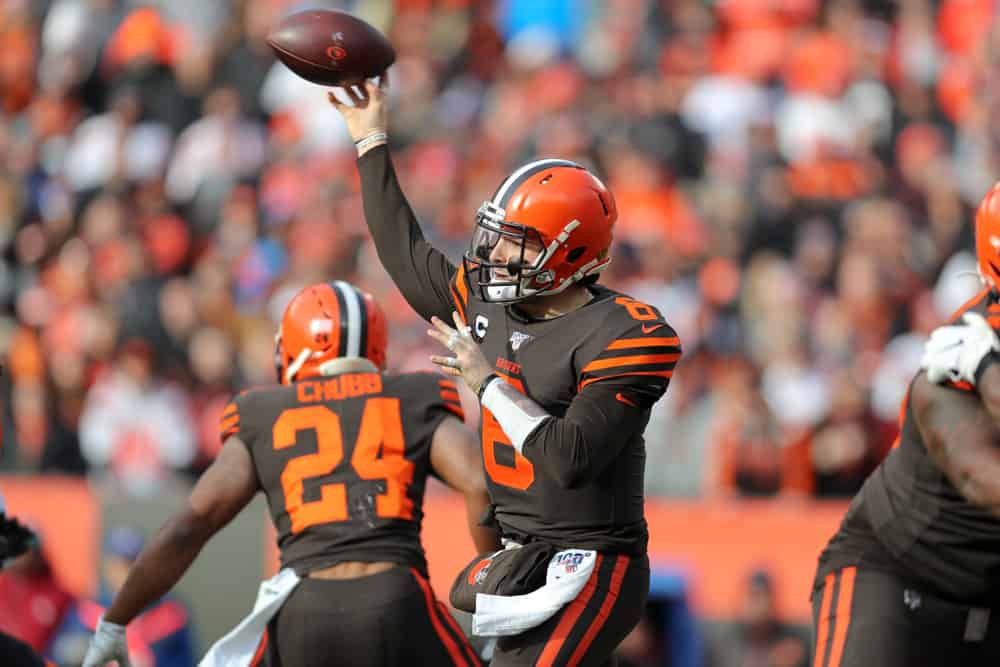 After racking up their seventh win against the NFC East "leading" Philadelphia Eagles, the Cleveland Browns head to Jacksonville to take on the Jaguars.
One thing that can be guaranteed is that the Browns won't be playing in the Cleveland weather.
With that taken into consideration, here are three key matchups for the Browns.
1. Rashard Higgins And The Jacksonville DBs
Rashard Higgins has shown flashes of what he can do on the field so far this season.
This may be the game he really cements himself as Baker Mayfield's go to WR.
Jacksonville ranks 30th in the NFL in total defensive yardage, giving up an average of 411.3 ypg.
That includes 282 yards through the air.
This is the perfect game for Higgins to have a statement game against a porous defense where the only player to have shined in a bad defensive group is Sidney Jones.
Jones leads the Jags with two INTs on the season, making up 25% of the team total.
This doesn't just bode well for Higgins, but the entire WR corp could do some damage against these DBs.
After putting up respectable numbers last week, my bet is on Higgins going to town.
2. Cleveland's Pass Rush vs. The Jags O-Line
Olivier Vernon came to PLAY this past Sunday against the Eagles, racking up three sacks, including this one for a safety.
Olivier Vernon's third sack of the day is a safety!
+2 for the home team. #Browns pic.twitter.com/gOiuk0dnrm

— FOX Sports Cleveland (@FOXSportsCLE) November 22, 2020
While Browns fans have been wondering where this was all season, Vernon did an outstanding job providing the pass rush normally provided by Myles Garrett.
With Garrett already ruled out, Vernon will be expected to pick up where he left off.
It wasn't just Vernon, though-Adrian Clayborne got into the mix with a sack and half as well.
Overall, Joe Woods brought pressure from different angles last Sunday, and it worked out.
That pressure led to two interceptions thrown by Carson Wentz, and perhaps something far more important.
These guys can get pressure on opposing QBs, even with Garrett out.
The Jags don't have what you would call a plethora of talent on the offensive line.
After 10 games, the Jags o-line has given up 30 sacks.
While they did hold elite pass rusher T.J. Watt without a sack, the Steelers still managed to rack up two sacks against the unit.
The Jags may be able to scheme the focus to one player, but they allow pressure to come from other areas.
This is something the Browns did well last week, and it should carry over.
3. Cleveland's Defense vs. Jags Offense
Denzel Ward is out.
Ward sustained a strained calf muscle, and has been ruled out for the Jags game.
Myles Garrett will sit out a second game.
These are the two biggest factors on the Browns defense.
#Browns CB Denzel Ward today:

• 3 tackles
• 4 passes defended
• 1 QB hit resulting in a pick 6
• game sealing INT pic.twitter.com/TFJqrUliBy

— MoreForYouCleveland (@MoreForYou_CLE) November 22, 2020
The Browns will be missing the ability to play good man-to-man defense, rush the passer when called upon, and forcing turnovers.
While Jacksonville's offense isn't potent, losing the best player in your defensive backfield is never a good thing.
Jacksonville is in the middle of yet another rebuild, and head coach Doug Marrone recently came out and said that Mike Glennon will start for the Jags.
Even with that, the Jags have some talent on the offensive side of the ball.
Wide receiver D.J. Chark, Jr. has shown glimpses all season that he has what it takes to be an impact player in the league.
Chark had a HUGE game against the Texans, catching 7 balls on 12 targets for 146 yds and a TD.
Rookie running back James Robinson has racked up 762 yards on the ground, including three 100 yard games.
And as the Las Vegas game has shown Browns fans, they can be pushed off the line and beaten up in the run game.
Final Notes
This has the making of a trap game.
The Browns have some momentum and a chance to improve their playoff spot.
And with their two best defensive players not on the field, it makes it a distinct possibility.
But honestly, I don't see that happening.
The Browns looked recharged after the bye, especially on defense.
This Jags team is about as talent deficient as it gets in the NFL.
Kevin Stefanski's team just LOOKS like they know what they need to do and I expect them to do it.