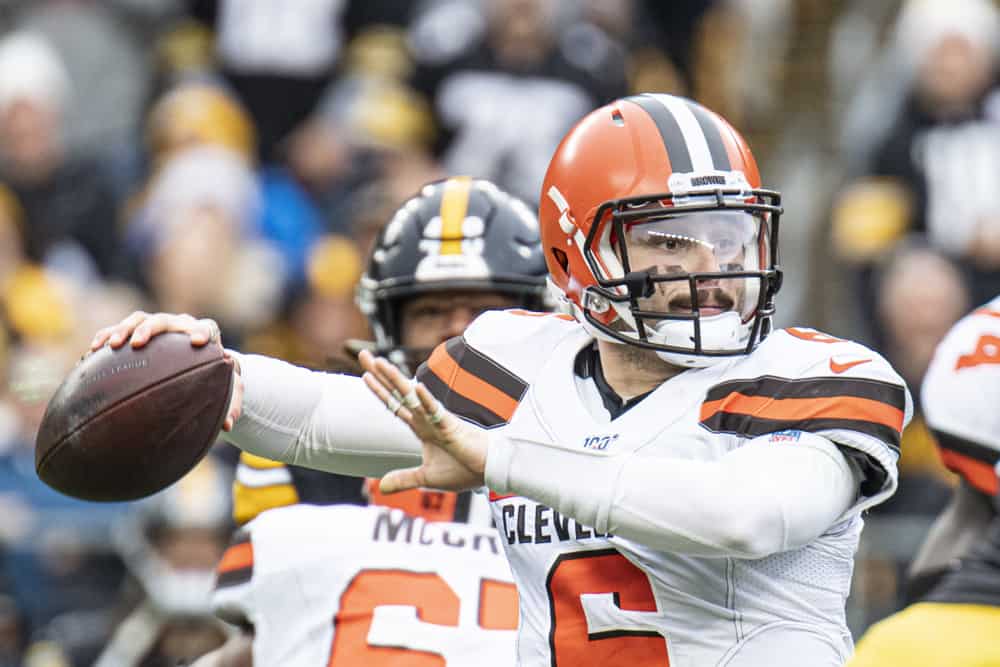 Obviously, the Week 16 matchup against the New York Jets didn't go exactly as planned.
The Cleveland Browns were shorthanded since most of their wide receivers were ineligible to play.
This game had disaster written over it from the beginning.
Sadly, the Browns weren't able to overcome the odds and dropped to 10-5 on the year.
They now head into a must-win contest against the Pittsburgh Steelers in Week 17.
It won't be easy, but the Browns could come away with the victory, assuming a few things go their way.
3. Getting Pressure On Rudolph
The Steelers aren't an easy team to beat, but they do have some weaknesses.
On Tuesday, Pittsburgh announced that second-year quarterback Mason Rudolph will start on Sunday.
It is also worth noting that the forecast is projecting snow for this Week 17 matchup.
Cleveland needs to exploit the harsh conditions and inexperience of Rudolph.
Getting pressure on Rudolph should force him out of the pocket and make bad decisions.
The best way to do that is to unleash Myles Garrett onto the Steelers offensive line.
That's 1️⃣2️⃣ on the season for @MylesLGarrett! pic.twitter.com/PvQjAoRzBG

— Cleveland Browns (@Browns) December 27, 2020
The superstar defensive end is having another fantastic year, which doesn't come as a surprise.
Through 13 games, Garrett has 44 tackles, 12 sacks, and four fumbles forced this season.
The Browns secondary is below average and that is putting it nicely.
They need to bring pressure and get to the quarterback in order to beat the Steelers this week.
2. Revive The Run Game
Obviously, Browns fans don't want to relive the events from last week.
However, it is important to analyze what happened during that game.
The Jets were able to successfully shut down the Browns running game, which forced them to pass.
Cleveland threw it 53 times and lacked any reliable talent on the offensive side.
The Browns need to get the run game going if they want to beat the Steelers.
Getting a total of 39 rushing yards from your running backs is not going to win you many games in the NFL.
Through 11 games, Nick Chubb has 959 yards and 11 touchdowns, so it's time to pound the rock with him.
Quarterback Baker Mayfield can't be asked to throw 53 times in a single game.
The Browns need to get back to doing what they are good at and that is running the ball.
1. Mayfield Magic
Over the last seven games, Mayfield has looked like a completely different quarterback.
He has thrown for 1,853 yards with 10 touchdowns and one interception since Week 10.
What happened last week can't all fall on the shoulders of Mayfield.
He was put into a horrendous situation, but he does deserve some of the blame.
Mayfield made some bad throws and flat out dumb decisions, but can turn it around versus Pittsburgh.
Hopefully, this isn't a sign that Mayfield has cooled down because he has been on fire lately.
Over the past four weeks, Baker Mayfield ranks 2nd in TD passes (10), 3rd in passing yards (1,232), 5th in completion % (70.2) and 3rd amongst all QB in fantasy points (98.9) 🔥 pic.twitter.com/qoRzp7NlCa

— Field Yates (@FieldYates) December 22, 2020
The Steelers are not an easy team to pass the ball against this season.
Mayfield had a total of 119 passing yards during their matchup earlier this year.
The Browns will have a good chance at coming away with the victory, assuming Mayfield can find the holes in the Pittsburgh defense.