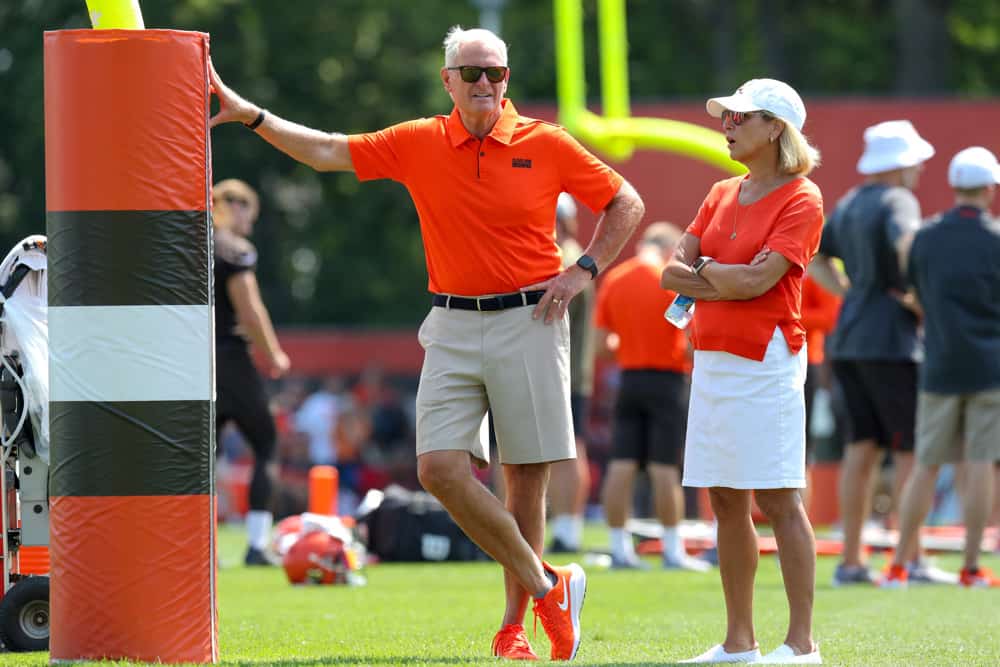 During the 2021 season, the Cleveland Browns will look to make back-to-back playoff appearances for the first time since 1989.
The legal negotiating window with free-agent players begins on March 15 with the official start of free agency set for March 17.
The Browns will need to make a few upgrades to build on their AFC Divisional Round appearance from a season ago.
OverTheCap.com shows the Browns have about $20.22 million in cap space.
Here are three keys to a successful offseason for the Browns:
1. Find an edge rusher to pair opposite Myles Garrett
It's not a secret the Browns will need to find an edge rusher to pair opposite aspiring NBA prospect All-Pro defensive end Myles Garrett.
Myles Garrett on that BIG GUARD FLOW 🤮 (via @MylesLGarrett) pic.twitter.com/ptZU6DrkOk

— Overtime (@overtime) February 24, 2021
Olivier Vernon, 31, is an unrestricted free agent and coming off an Achilles injury.
J.J. Watt turns 32 in March and is the big catch of the 2021 NFL free-agent class.
The #Browns are a perfect fit for Free Agent JJ Watt.

🔸23 mil in cap space (14th in #NFL)
🔸Myles Garrett Tandem ⚡️
🔸Less Double Teams
🔸Huge On & Off Field Role
🔸Great Culture
🔸Franchise QB 😈
🔸Playoff Contenders 🔥

Do you think @JJWatt will sign with the Browns? 🤔 pic.twitter.com/pAWaVQyQbi

— The Hottest Take Sports Podcast (@Hottest_TakePod) February 18, 2021
Oddsmakers consider the Browns as the favorites to sign Watt.
Watt and Garrett would make for a horrifying combination for opposing offenses.
For the next few weeks, Browns fans can dream of Watt and Garrett racing to the quarterback.
While Watt's best days might be behind him, his five sacks through 16 games in the 2020 season are a bit deceiving.
Watt was the most double-teamed edge rusher in the NFL in 2020, according to ESPN.
Last season, the Texans defense allowed the most rushing yards in the NFL (160.25 rushing yards per game).
The key for whichever team lands Watt will be whether he can stay healthy.
Injuries have limited Watt during the last five seasons:
2020: 16 games
2019: Eight games
2018: 16 games
2017: Five games
2016: Three games
The good news for the Browns is if Watt signs with another team, they have several other capable free-agent edge rushers.
It includes Shaq Barrett, Bud Dupree, Von Miller, Jadeveon Clowney and Yannick Ngakoue.
Plus, the Browns could also decide to re-sign Vernon.
2. Other defensive upgrades
The Browns are due to get two defensive players who missed the entire 2020 season because of injury: safety Grant Delpit (Achilles) and cornerback Greedy Williams (shoulder).
However, Terrance Mitchell and Kevin Johnson are both unrestricted free agents.
It means the Browns will need to find someone to line up opposite cornerback Denzel Ward.
The Browns could look to bring in a veteran defensive back in free agency.
Potential targets including Stephon Gilmore, Marshon Lattimore, Harrison Smith, Troy Hill, and Marcus Williams among others.
While the Browns front office is driven by analytics, the team could also look to add a linebacker either in free agency or in the NFL Draft.
3. Explore kicking options
Cody Parkey had a pretty solid 2020 season on paper, making 86.4% of his field goals, but he did not attempt a field goal from 50 yards or longer.
Some people might point to head coach Kevin Stefanski's aggressive nature as to why Parkey didn't attempt such a kick.
The Browns ranked 11th in the NFL with 24 fourth-down attempts in the 2020 regular season.
However, Parkey missed extra points in three consecutive games from Weeks 14-16.
Given Parkey's struggles in previous seasons, the Browns should explore their kicking options to see if they can add a kicker with a stronger leg.
Imagine if the Browns' season comes down to whether Parkey can make a game-winning kick.
Bears fans learned that lesson the hard way in January 2019.
Maybe Parkey can redeem himself in a big moment during the 2021 season.