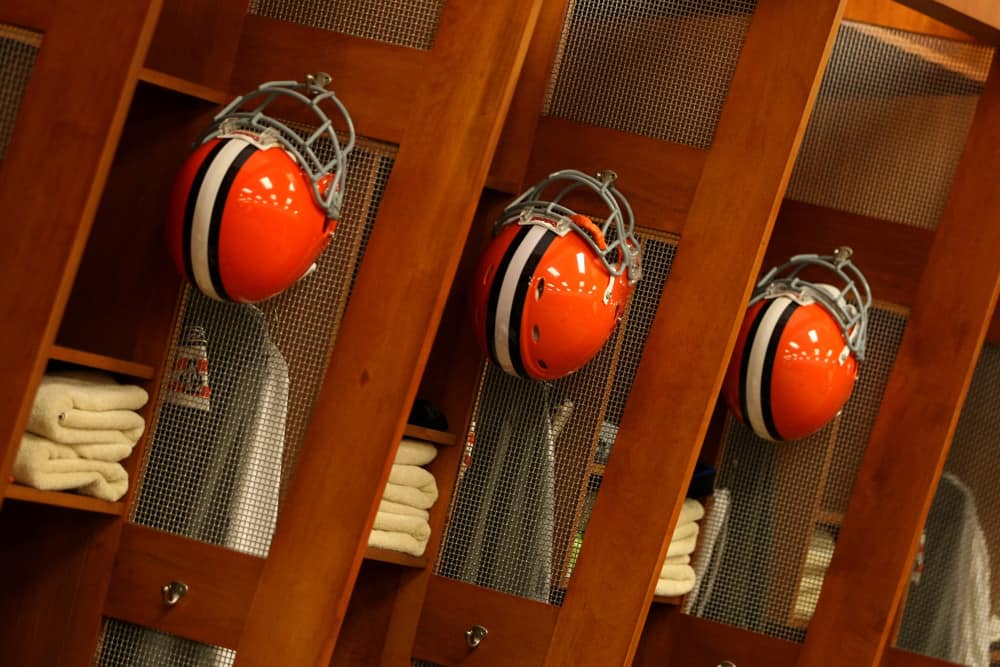 Like all NFL teams, the Cleveland Browns have until March 9 to apply a franchise tag to a player.
Instituted in 1993, the franchise tag can only be used on one player with the express purpose of "buying" time with an unrestricted free agent to either negotiate a longer term deal or figure out a trade scenario.
While the Browns have free agents, none are perceived to be of the caliber to necessitate a franchise tag this year.
Question Time: When could you next realistically see the Browns use the franchise tag?

2021 – no one

2022 – can't see Richardson, possibly Harrison if he balls out, doubt Teller as G tag equals T

2023 – maybe Ward if they don't deal early due to injures 🤔 I'm going Conklin! pic.twitter.com/JyzogMIhtU

— Jack Duffin (@JackDuffin) February 24, 2021
Though the Browns are likely to avoid franchise tagging a player, it is helpful to keep an eye on their AFC North compatriots to see what their plans are.
It looks as though every team in the AFC North except for the Browns could use the franchise tag this offseason.
How Are Other AFC North Teams Planning To Use The Franchise Tag?
It depends which NFL insider you ask.
Jason La Canfora of CBS Sports speculates on these tagging scenarios:
Cincinnati Bengals
The #Bengals plan on keeping Carl Lawson, even if they can't agree to a long-term deal https://t.co/gjuDQWU5co

— AllBengals (@AllBengals) February 23, 2021
The Bengals are expected to use the tag on defensive end Carl Lawson who is a good pass rusher on a mediocre defense.
Jason La Canfora says there is an outside chance that the tag could be used on cornerback William Jackson.
Pittsburgh Steelers
Last season, the Steelers tagged outside linebacker Bud Dupree.
There was talk that Dupree could be tagged for the second consecutive year, but his injury has made that less of a possibility.
The question in Jason La Canfora's mind is whether the Steelers would put the tag on wide receiver JuJu Smith-Schuster.
Pittsburgh has money issues hence the desire to rework Ben Roethlisberger's contract if he returns in 2021.
Tagging Smith-Schuster gives them an opportunity to trade him to a team who both has money and needs a receiver.
Then again, money may be so tight in Pittsburgh that the tag is not used at all.
GM Kevin Colbert said the #Steelers cap situation is so dire, they can't even use the most powerful tool in the CBA to hold onto one of its best players in Bud Dupree: the franchise tag. 🏷

— RSmith313 (@ryansmith1984) February 18, 2021
Baltimore Ravens
The Ravens can officially use the franchise tag Tuesday, which presents critical questions for the team's pass rush.

Can the Ravens afford to keep Matthew Judon or Yannick Ngakoue?

Or will they go in a different direction with their pass rush?https://t.co/pWoz7Bvj3R

— Jamison Hensley (@jamisonhensley) February 23, 2021
In 2020, the Ravens tagged inside linebacker Matt Judon.
Could they tag him again in 2021?
It is a definite possibility.
Ravens Coach John Harbaugh spoke about Judon at the season-ending press conference.
"I want Matt Judon back, yes. Whether that will be possible … Again, it's such an unpredictable year with the salary cap. What is anybody going to get paid? And who has cap money?"
Cost Of Franchise Tagging A Player
The franchise tagged player's 2021 salary is based on his position and what the final salary cap is agreed upon.
As of now, we know it will not be lower than $180 million.
With $180 million as the baseline, here are the costs (in millions) per position.
QB: $24.76
WR: $15.76
RB: $8.54
TE: $9.47
OL: $13.57
DE: $15.85
DT: $13.70
LB: $14.59
CB: $14.85
S: $10.47
These numbers are the average of the top five salaries at each position.
The player either earns this amount or 120 percent of his previous year's salary, whichever is greater.
Can A Player Refuse The Tag?
Yes, players can refuse the franchise tag.
Le'Veon Bell famously did that in Pittsburgh a few years ago and sat out the season.
That is not the norm.
If they accept the tag, the team and player have until July 15 to negotiate a long term deal, or it is shelved until the 2022 offseason.