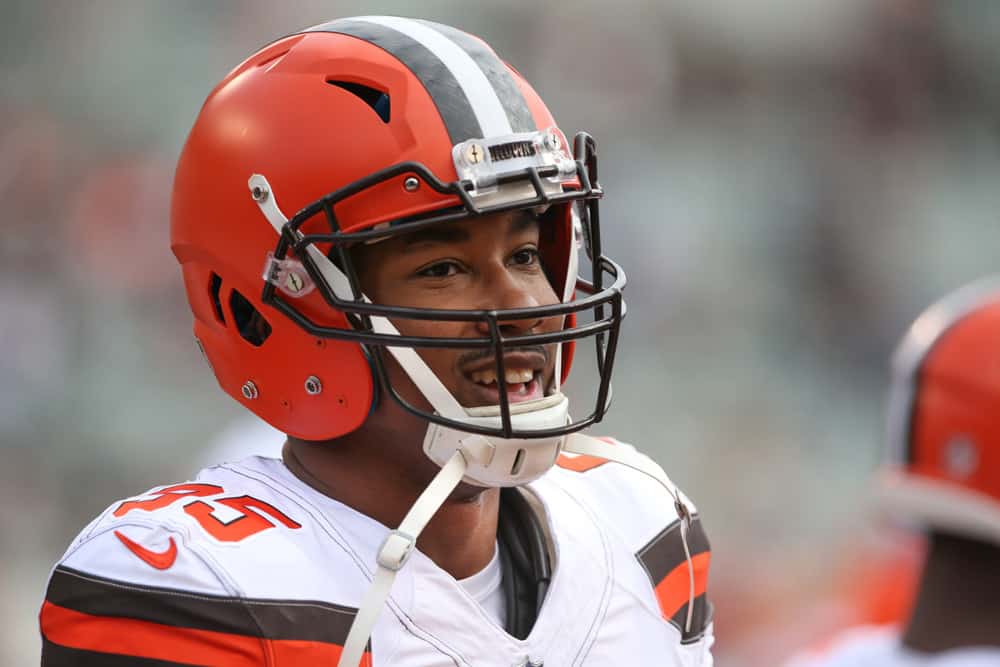 We are near the kickoff of the 2021 NFL season.
Athletes on all 32 NFL teams are living their lifelong dreams of becoming professional football players.
They also have their eyes set on the ultimate prize, a Super Bowl Championship.
Not surprisingly, Cleveland Browns defensive end Myles Garrett is no exception.
He is extremely motivated to bring a Super Bowl title to Cleveland and aspires to be the NFL version of LeBron James who delivered an NBA title to Cleveland with the Cavaliers.
Myles Garrett aims to be the LeBron James of the Browns: 'I have to prove that I'm the playmaker at all levels'https://t.co/Akk26dQFt8 pic.twitter.com/lsHIV5HnL9

— Around The NFL (@AroundTheNFL) September 8, 2021
In a recent interview, Garrett reflected on the similarities of their situations.
"I've got my Kyrie and my Love? Well, hell, I have to prove that I'm LeBron first before anything. I have to prove that I'm the playmaker at all levels. Hell, he's top three in any debate that you have."
Myles Garett Is The Defensive Leader
As with past seasons, Garrett is the defensive leader of the Browns.
In one week the #Browns get to start a race for glory. 🌟

They start with a shot at redemption vs the dominant #Chiefs.

Throwback to this play where a 6'4", 270, Myles Garrett, runs down Mecole Hardman. ⚡️ pic.twitter.com/yRtDChlIIh

— The Hottest Take (@Hottest_TakePod) September 5, 2021
The difference in 2021 is he now has a lot of star-powered help.
Free agents Jadeveon Clowney, Takk McKinley, Anthony Walker Jr., John Johnson III, and Troy Hill will be on the field with him.
Draft picks Greg Newsome II and Jeremiah Owusu-Koramoah will also.
Young players looking to finally make their mark in the NFL, Grant Delpit and Malik McDowell, round out the rebuilt defense.
Garrett also wants to stay healthy and on the field for all 17 games.
Last season, he contracted COVID-19 which caused him to miss time.
Garrett also dealt with aftereffects even when he was cleared to play.
He reflected on that experience and how it potentially cost him a chance at being named the NFL Defensive Player of the Year (DPOY).
"The guys who were in the talks to win DPOY, (TJ) Watt and (Aaron) Donald, great players, but I was right among them before I was hit with COVID. They didn't get it. So they were available. They were on the field, and they took care of themselves…That's on me for not doing that – however I got it – and I've got to make sure I'm available this year for my team, for the individual goals that I have, and for whatever run we'll have in the playoffs."
He certainly is a contender for DPOY honors in 2021.
‼️ PREDICTION WEEK: Defensive Player of the Year Edition ‼️@PSchrags: Nick Bosa@KyleBrandt: Myles Garrett@heykayadams: Jamal Adams@RealMikeRob: Chase Young pic.twitter.com/I3AjsgnCm1

— GMFB (@gmfb) September 8, 2021
Watch Myles Garrett and the 2021 Cleveland Browns begin their quest toward postseason glory on Sunday, September 12 at 4:25 PM when they take on the Kansas City Chiefs at Arrowhead Stadium.