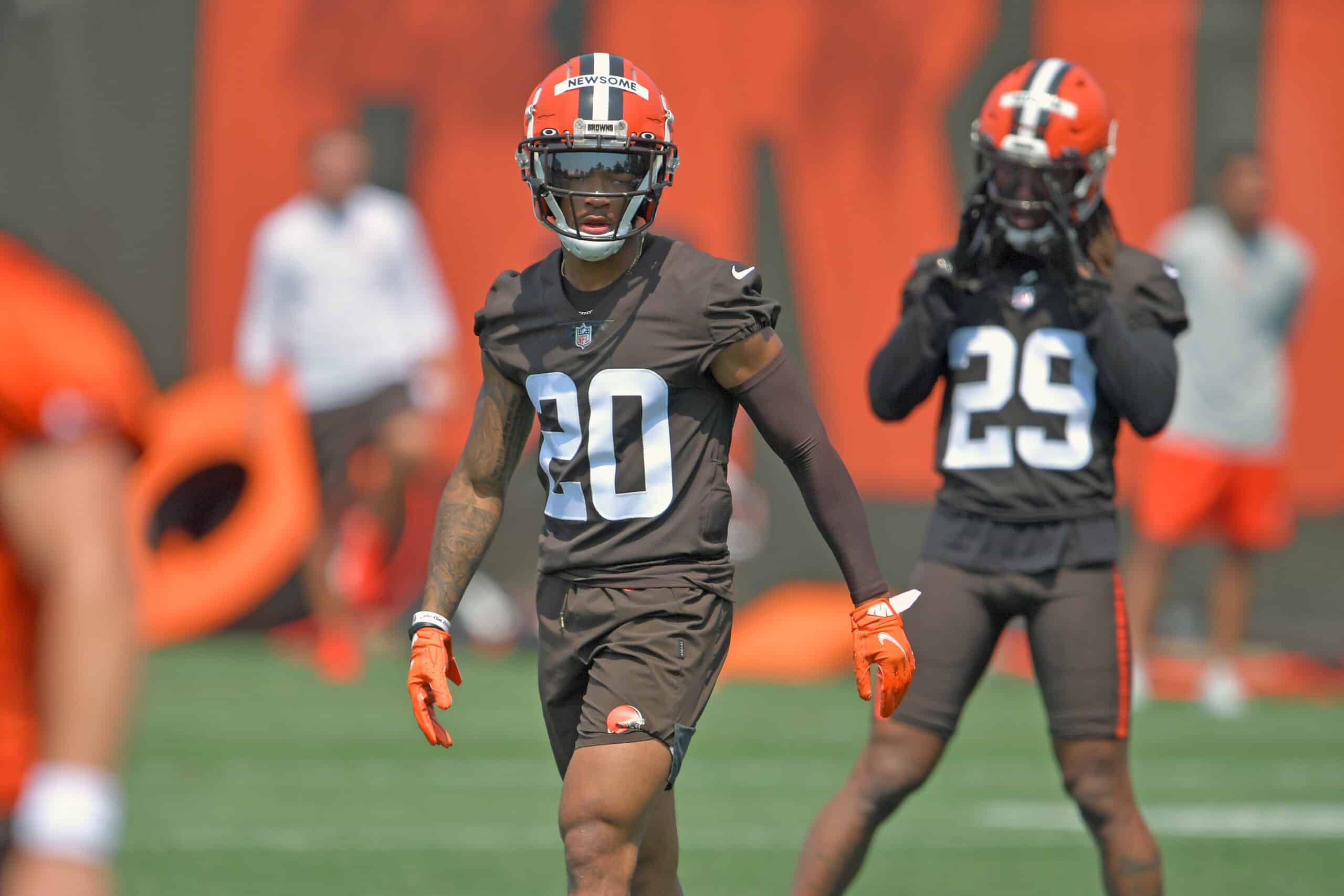 In a move that had been speculated since he was drafted, the Cleveland Browns named rookie Greg Newsome II the starting cornerback.
Newsome edged out Greedy Williams for the starting position, officially documented on the team's depth chart released on Tuesday.
First #Browns depth chart of regular season. No surprises, but a public acknowledgment of what we already knew: Greg Newsome II is the starter opposite cornerback Denzel Ward pic.twitter.com/7BgkWMhWWh

— Nate Ulrich (@ByNateUlrich) September 7, 2021
Williams missed all of 2020 with a nerve injury in his shoulder, and he suffered a groin injury during the Browns' preseason game with the Giants.
Newsome will play opposite the other starting cornerback Denzel Ward in Sunday's Week 1 matchup with the Kansas City Chiefs.
#Browns rookie Greg Newsome has officially won the starting CB2 job over Greedy Williams.

He will start opposite of Denzel Ward this weekend in Kansas City. pic.twitter.com/YcnZooH5JM

— MoreForYouCleveland (@MoreForYou_CLE) September 7, 2021
One key to victory this week is rookie Greg Newsome. Facing the Chiefs is no easy task for anyone let alone a rookie. If the Browns are to come away with a win in Arrowhead they will need Newsome to step up big on Sunday #Browns pic.twitter.com/uvknIQf0qf

— Jacob Roach (@roachizm13) September 7, 2021
Greg Newsome II
Newsome was the 26th overall pick in the draft.
He is coachable, self-disciplined, and attentive to detail.
These qualities endeared him to the Browns coaching staff.
He credits his mother for his positive habits.
"It probably came from my mom always telling me to make sure I'm doing things the right way, treating people with respect and when someone asks me to do something, make sure I do it on time, on point. So I guess that starts with my mom, and it's not really even starting with football, just starting with life in general…When my mom or grandma tells me to go pick something up, do it right away, do it the right way, so ultimately you can go do something else. If I didn't clean my room the right way, I couldn't go outside."
He came in ready to prove himself in training camp.
Coach Stefanski described his early performance at camp in the caliber of second-year player, wide receiver Donovan Peoples-Jones who had the training camp of his life.
Regarding Newsome, Stefanski said:
"Similar to Donovan Peoples-Jones, he can run and he runs all day. He's out there on special teams. There is no shortage to what he is doing right now. We are really throwing a lot at him, and he has been able to handle all of it."
Watch Newsome in his NFL regular-season debut against the AFC Champion Kansas City Chiefs in Arrowhead Stadium on Sunday, September 12 at 4:25 PM EDT.