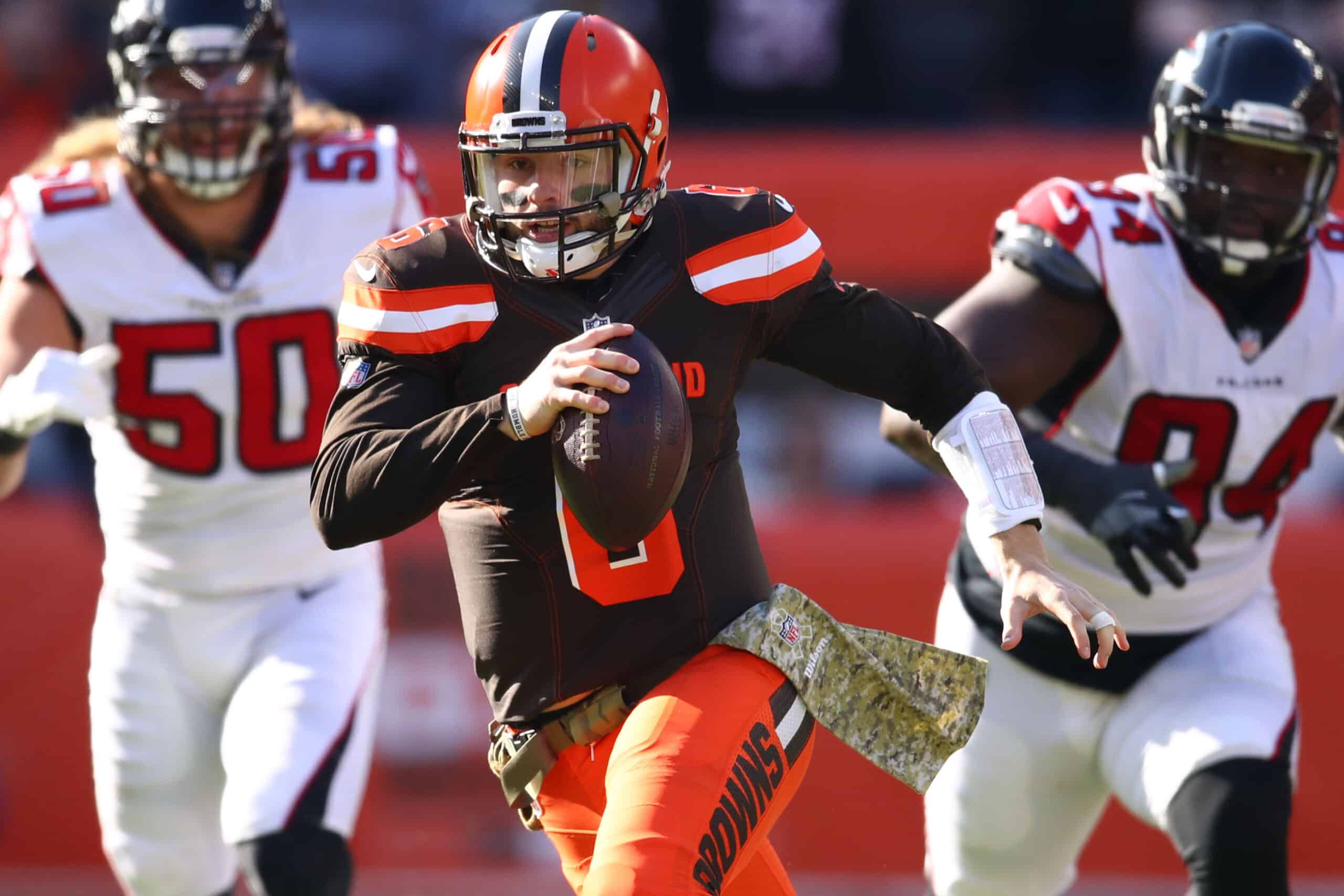 Kevin Stefanski announced that Baker Mayfield will start Sunday night's final preseason game in Atlanta.
Fans have been anxious to see the Cleveland Browns quarterback and other starters in action.
But Stefanski protected his stars from injury by leaving most of the gameplay to backups.
Mayfield and any other starters inserted into the game will draw attention from the Browns faithful.
It's time for the @bakermayfield show!https://t.co/TUvbE6Da8r pic.twitter.com/Cfkace01b8

— Cleveland Browns (@Browns) August 27, 2021
But those players will return to the sideline in short order, leaving more important matters to their teammates.
Many of those teammates are battling for roster spots in Cleveland or elsewhere.
And for some, this could be the last competitive football they ever play.
Here are 3 players to watch in the Browns versus Falcons preseason game.
1. Malik McDowell, IDL
Malik McDowell finally made his NFL debut against the New York Giants last week.
And what a debut it was, with 5 tackles, a sack, and 2 quarterback hits.
With what it has taken for McDowell to get to this point, it mattered little if he went up against a second or third team.
Originally a 2017 draft pick of the Seattle Seahawks, McDowell worked through legal and medical issues for 4 years.
Stefanski with nothing but great things to say about DT Malik McDowell, the former 2017 2nd-round pick who is making a comeback. Played really well in Sunday's 4th quarter.

"He's in a really good place," Stefanski says.

— Andrew Gribble (@Andrew_Gribble) August 25, 2021
He was a long shot, potential feel-good story when he signed with the Browns in May.
But with such a dominant showing after a fine camp, he thrust himself into final roster discussions.
McDowell needs another big game against Atlanta's first or second unit to keep his dream alive.
But the instant fan favorite should secure a practice squad position at the least.
2. Blake Hance, OL 
Blake Hance played a solid center position for much of the Giants game.
Browns' quarterbacks did not feel any pressure coming from the inside when Hance was in the game.
And there were several long runs or short passes where Hance showed up downfield or outside to block.
His performance was so good, he might have earned consideration as the backup center/guard.
With Nick Harris (subbing for JC Tretter) hurt, Blake Hance taking snaps with first team offensive line

— Marla Ridenour (@MRidenourABJ) August 20, 2021
Nick Harris has not been overly impressive so far in the preseason, and discussions about his size are not new.
Hance has proven to be versatile and coachable since he arrived in Cleveland.
And the strength and mobility he showed last week play well in Kevin Stefanski's blocking schemes.
If the Browns put him in ahead of Harris, it could be to prove he can handle the backup center role.
3. Mack Wilson, LB 
Mack Wilson might be a sentimental favorite to win a linebacker position this year.
His strong rookie campaign is largely forgotten after an injury-affected fall-off in 2020.
His offseason social media proclaimed faith he would bounce back, and the birth of his son provided a boost.
Mack Wilson PBU pic.twitter.com/vUzNUNB6SU

— Jake Trotter (@Jake_Trotter) August 10, 2021
But it is still unclear if he beat out the likes of Malcolm Smith, Elijah Lee, or Sione Takitaki.
His best hope is if the Browns carry 6 linebackers, but he still needs a strong performance Sunday night.
His rookie season warrants another opportunity, but it might not come with the Browns.
That means this might be the last time Cleveland fans see Wilson in the orange helmet.
Other Players of Interest
Demetric Felton hopes to win a roster spot as a Swiss army knife type of player.
All summer long, he has shown promise in various roles, but wide receiver is the only position he is consistent.
JoJo Natson is making a strong bid to stick around as the proven return man and speedy receiver.
And the wide receiver room is already overloaded without a running back crashing the party.
#Browns Kevin Stefanski said Demetric Felton "had some good dirty runs" and was good in pass play too.

— Camryn Justice (@camijustice) August 22, 2021
If Felton is to win a spot on the final 53-man roster, he might have to break one in the return game Sunday.
Jordan Franks could cost himself a roster spot with another drop Sunday.
Joe Jackson, Porter Gustin, and Cameron Malveaux are battling for one or two edge rusher positions.
And Jordan Elliott is fending off Sheldon Day and Andrew Billings for the 2nd starting defensive lineman spot.