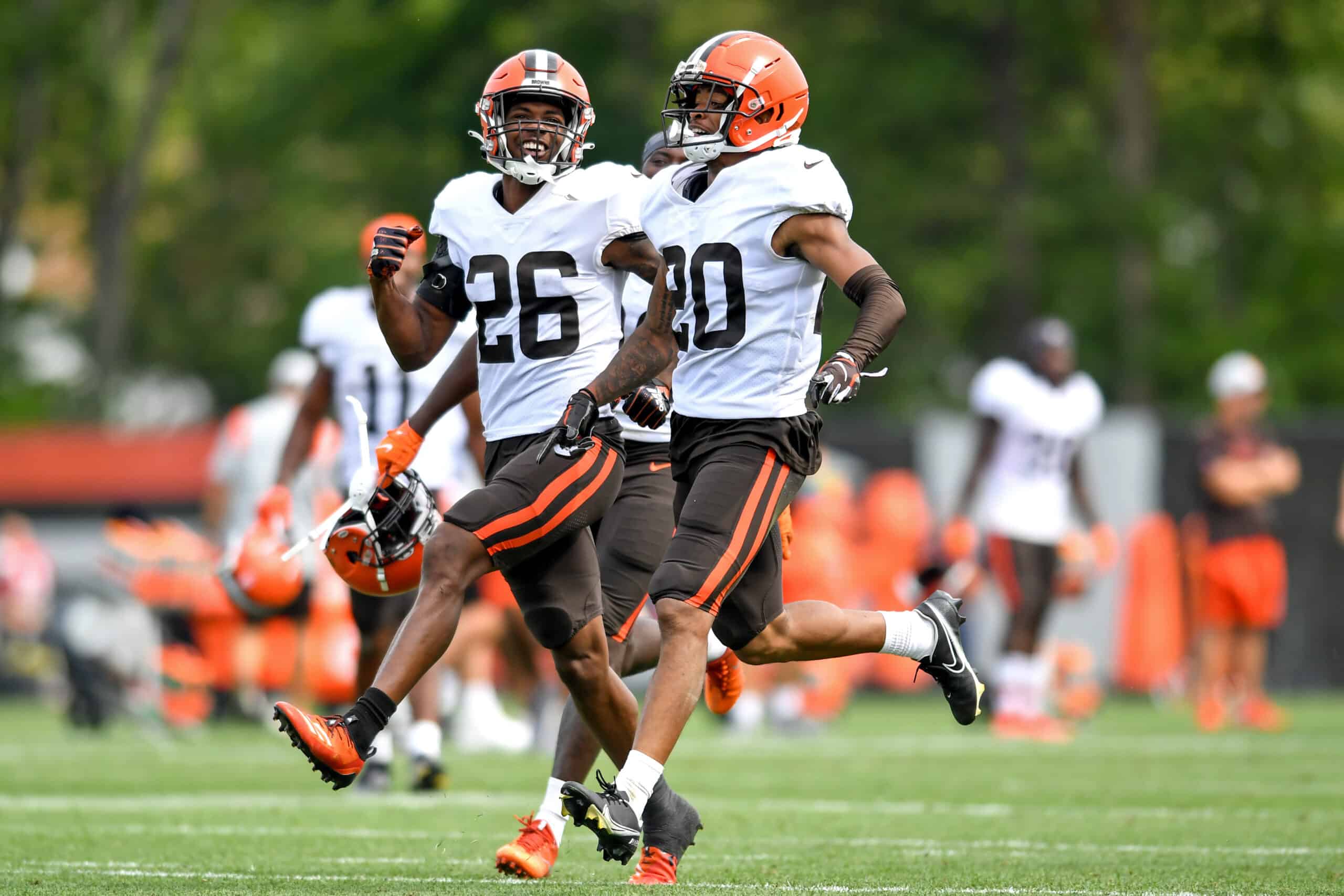 Sunday night's final preseason game might settle a few roster decisions for Kevin Stefanski and Andrew Berry.
And for sure, the days to follow will present a flurry of waiver claims and post-deadline changes.
But after 2 games and a nearly completed offseason, some of the Cleveland Browns' decisions seem pretty obvious.
Today marks the next day of roster reductions around the NFL, as teams must be down to 80 players by 4 PM ET.

And just one week from today, initial 53-man rosters will be set around the league, with plenty of additional roster movement after that.

— Field Yates (@FieldYates) August 24, 2021
As for the rest of the roster, sportswriters and fans are left to imagine who Stefanski will carry into September.
And not having the whole picture never kept me from opining on things before.
So, here is how I think the Cleveland Browns 53-man roster will look, with some explanations.
Quarterbacks
Kyle Lauletta had some nice results in his two preseason game appearances.
But they were not nearly good enough to threaten veteran Case Keenum's role behind Baker Mayfield.
Keenum made one very visible miscue last week, but overall, he makes better decisions and is the safer of the two.
#Browns Alex Van Pelt said Baker Mayfield's dedication to conditioning coming into camp has been very evident in his stamina and quickness. Said his footwork has gotten even better than last season and that's something they're still emphasizing.

— Camryn Justice (@camijustice) August 26, 2021
And when you have a running game like the Browns have, safe is the way to go.
Baker Mayfield will try to finish a third straight season without missing a game, making the backup irrelevant.
Lauletta should clear waivers and land on the practice squad again.
Running Backs
Nick Chubb, Kareem Hunt, D'Ernest Johnson, Demetric Felton. Andy Janovich
Nick Chubb will shine again for the Cleveland Browns, and I can't see Kareem Hunt trade rumors playing out.
As far as backups go, 6th-round draft pick Demetric Felton fits Kevin Stefanski's versatility metric.
But has the jack-of-all-trades mastered any position enough to earn a roster spot?
Probably not running back, although he adds a different look and perhaps the best receiving skills.
Back in the lab today.#BrownsCamp | @NickChubb21 pic.twitter.com/8HM3f5bBhH

— Cleveland Browns (@Browns) August 26, 2021
D'Ernest Johnson showed he can still step in and carry out a game plan written for Chubb or Hunt.
Felton is not likely to power through the line, but has another role and convinces Cleveland to carry 4 running backs.
Fullback Andy Janovich's roster spot is also secure, despite Johnny Stanton's game performance.
John Kelly might have won a spot elsewhere with a good preseason.
Wide Receivers
Odell Beckham, Jarvis Landry, Donovan Peoples-Jones, Rashard Higgins, Khadarel Hodge, Anthony Schwartz*
Few will argue Odell Beckham Jr, Jarvis Landry, and Donovan Peoples-Jones are the Browns' top 3 wide receivers.
And few expected to argue about Rashard Higgins a couple of months ago, too.
From Louisiana to the Land: @obj X @God_Son80. #Browns pic.twitter.com/LPPCc2sq9l

— Hayden Grove (@H_Grove) August 26, 2021
But Peoples-Jones passed him on the depth chart and he can't match JoJo Natson and Khadarel Hodge's special teams play.
Carrying 6 wide receivers isn't a radical idea, but then there is rookie Anthony Schwartz.
The third-round draft pick needs to be roster-protected but could be placed on short-term IR in September.
Fan-favorite Davion Davis won himself a delayed decision with his 2-game suspension.
This is Donovan Peoples-Jones' camp. #Browns pic.twitter.com/CdSSGNJ6WD

— Camryn Justice (@camijustice) August 19, 2021
Cleveland can carry him as a 54th player until September 20.
Higgins' guaranteed contract might be his best defense for a spot, at Hodge's or Natson's expense.
Running back Demetric Felton's return skills could also make Natson available for trade before release.
But coverage teams was an offseason concern, and that will save Hodge as the 6th wide receiver.
Tight Ends
Austin Hooper, David Njoku, Harrison Bryant, Jordan Franks*
Cleveland entered 2020 with 5 tight ends on the roster and I can't see tight end-loving Stefanski keeping only 3.
The inconsistent Jordan Franks looked like he secured the #4 spot with a solid first half against the Giants.
But then he dropped 2 passes to lead off the second half.
#Browns TE David Njoku said he will instruct his agent to work towards a contract extension to keep him in Cleveland. pic.twitter.com/KG25A2UIv1

— MoreForYouCleveland (@MoreForYou_CLE) August 20, 2021
My guess is he'll be released and then re-signed after (if?) the wide receiver Schwartz moves to IR.
But it shouldn't surprise anyone to see Berry pluck a tight end off waivers.
Kyle Markway and Johnny Stanton will land on the practice squad, where they can step in if needed.
While Austin Hooper, David Njoku, and Harrison Bryant carry most of the game day load.
Offensive Line
Wills, Bitonio, Tretter, Teller, Conklin, Hubbard, Nick Harris, Michael Dunn, James Hudson 
Cleveland will open up with 9 offensive linemen, including their starting 5-plus-1 from last season.
Jedrick Wills, Joel Bitonio, JC Tretter, Wyatt Teller, and Jack Conklin, along with Chris Hubbard are no-brainers.
Offensive Line Appreciation Day 🧡 pic.twitter.com/LmqviMceHo

— Cleveland Browns (@Browns) August 26, 2021
My guess is Stefanski will play it safe with Nick Harris and Michael Dunn joining rookie James Hudson to start.
But Greg Senat could push Hubbard, and I can't rule out a trade involving either of them.
Blake Hance and Drew Forbes might not make it through waivers, prompting the team to drop a player elsewhere.
And if Hance convinced Stefanski he can handle the center position, he could also get the nod over Harris.
Edge Rushers
Myles Garrett, Jadeveon Clowney, Takk McKinley, Joe Jackson, Porter Gustin 
Cleveland brought in a slew of defensive linemen this offseason, creating quite a competition.
Jadeveon Clowney and Takk McKinley provide strong cover for Myles Garrett.
I'm seriously convinced that when I say Myles Garrett is done playing football, he will tryout to be the world's strongest man… pic.twitter.com/FuVs5zbH7g

— ParkerSCenter 🐶4L (@ParkerSCenter) August 20, 2021
McKinley's preseason issue might be enough to warrant keeping a 5th defensive end on the roster.
But there was already talk of expanding the Browns defensive line rotation.
And that should be enough to save both Joe Jackson and Porter Gustin, who enjoyed strong preseasons.
Curtis Weaver and Cameron Malveaux are the odd men out, with Malveaux the easy add if McKinley is not ready.
Defensive Tackle
Malik Jackson, Sheldon Day, Jordan Elliott, Andrew Billings, Tommy Togiai 
Joe Woods' will keep 5 interior linemen to keep them as fresh as the edge rushers.
But Andrew Billings' subpar preseason might have thrown the starting roles into question.
#Browns DT Malik Jackson on @923TheFan on DL: "I think it's a fun, hard-nosed group. A group that knows what it takes to win. We see where Myles is at, top of the charts at pass rusher. That's our marker…somebody that's right in front of us that's one of the best in the league"

— Keith Britton (@KeithBritton86) August 24, 2021
Sheldon Day stepped up and earned himself consideration to line up opposite Malik Jackson.
But Jordan Elliott came on late and probably did enough to put himself in the starting lineup.
Before the preseason, I thought rookies Marvin Wilson and Tommy Togiai could end up starting before long.
But Wilson is headed for the practice squad, and a surging Malik McDowell could threaten Togiai's spot, too.
Linebacker
Anthony Walker, Jeremiah Owusu-Koramoah, Sione Takitaki, Elijah Lee, Malcolm Smith, Jordan Phillips*, Tony Fields* 
Mack Wilson charged into camp determined to bounce back from a sketchy second season.
Injuries to Jordan Phillips and Tony Fields led many to think he might have squeezed onto the 53-man roster.
First look at #Browns LB Anthony Walker in his new number 4️⃣ (📸:Browns) pic.twitter.com/LgZTainODj

— Brad Stainbrook (@BrownsByBrad) June 17, 2021
But I am not sure he did enough unless there is a 6th LB spot, as minor injuries hurt his cause.
Anthony Walker will call defensive plays and Jeremiah Owusu-Koramoah should be an opening day starter.
Sione Takitaki will join them if the Browns come out with 3 linebackers.
After that, Malcolm Smith's pass coverage and Elijah Lee's run and special teams skills earn them spots.
But they will have to wait until Phillips and Fields are placed on short-term injured reserve to be added to the roster.
Safeties
John Johnson, Ronnie Harrison, Grant Delpit, Richard LeCounte, Javonte Moffatt
Fifth-round draft pick Richard LeCounte could end up being the steal among steals of the Browns' 2021 draft.
Many teams were scared off by bad Pro Day metrics, affected by lingering injuries from a motorcycle accident.
But wounds heal, and LeCounte looks like the 5-star recruit he used to be.
John Johnson III 'making my presence felt' as a vocal leader of our new-look defense

📰 » https://t.co/hYv9kBxgJz pic.twitter.com/lxFCanOnW5

— Cleveland Browns (@Browns) June 9, 2021
John Johnson and Ronnie Harrison are set to start for Joe Woods' defense.
Javonte Moffatt is the Browns' best option as the next man up but could man that role from the practice squad.
And concerns about Delpit could prompt Andrew Berry to look for a safety from the outside.
Injuries might have cost Sheldrick Redwine a practice squad stint.
Cornerbacks
Denzel Ward, Greg Newsome, Greedy Williams, Troy Hill, AJ Green
This is one of the easiest groups to call, assuming the team sticks with 5 players at each position.
But the injury history of Denzel Ward and Greedy Williams might move Cleveland to hold onto a sixth corner.
Denzel Ward and Greg Newsome getting some reps in against OBJ #Browns. (📸 via @TheMattStarkey) pic.twitter.com/5cMZrTCJHD

— MoreForYouCleveland (@MoreForYou_CLE) August 26, 2021
Greg Newsome had an uneventful camp but had some injuries of his own in college.
MJ Stewart could hang on as the sixth cornerback at the expense of safety Javonte Moffatt.
Meanwhile, free agent Troy Hill is locked into the slot corner role.
And AJ Green took a big leap from last year to earn his place among the final 53.
Special Teams
P Jamie Gillan, LS Charley Hughlett, and a Kicker-to-be-determined 
Sorry, I am just not convinced about Chase McLaughlin.
Sure, he kicked an impressive-looking 49-yard field goal against the Giants.
OFFICIAL: The Scottish Hammer (Jamie Gillan) has won the punting job for The Browns! pic.twitter.com/vMcnt8pd33

— Cleveland Sports Talk (@CLEsportsTalk) August 31, 2019
But there has to be a reason Cleveland is his fifth stop in 3 years.
McLaughlin's career field goal and touchback percentages are both lower than Cody Parkey's.
So, I am betting Andrew Berry brings in competition and not just a practice squad kicker.
But at least Gillan and Hughlett are set to deliver another solid season in Cleveland.
Practice Squad Considerations 
Andrew Berry and Kevin Stefanski will scour the waiver wires for players who enhance their roster.
And several of the current Browns could be lost before the team can offer a practice squad position.
Veterans like JoJo Natson and John Kelly could find themselves on another team.
As long as I get to keep playing football, play me wherever you want. pic.twitter.com/4nPsmFK1yr

— Johnny Stanton (@johnnystantoniv) August 23, 2021
And young players with good camps, like Blake Hance, Malik McDowell, and Cameron Malveaux could be at risk.
That will prompt more movement, which is why I won't venture any guesses on the practice squad makeup.
Besides, the 53-man roster projection should provide fodder for enough comments below.