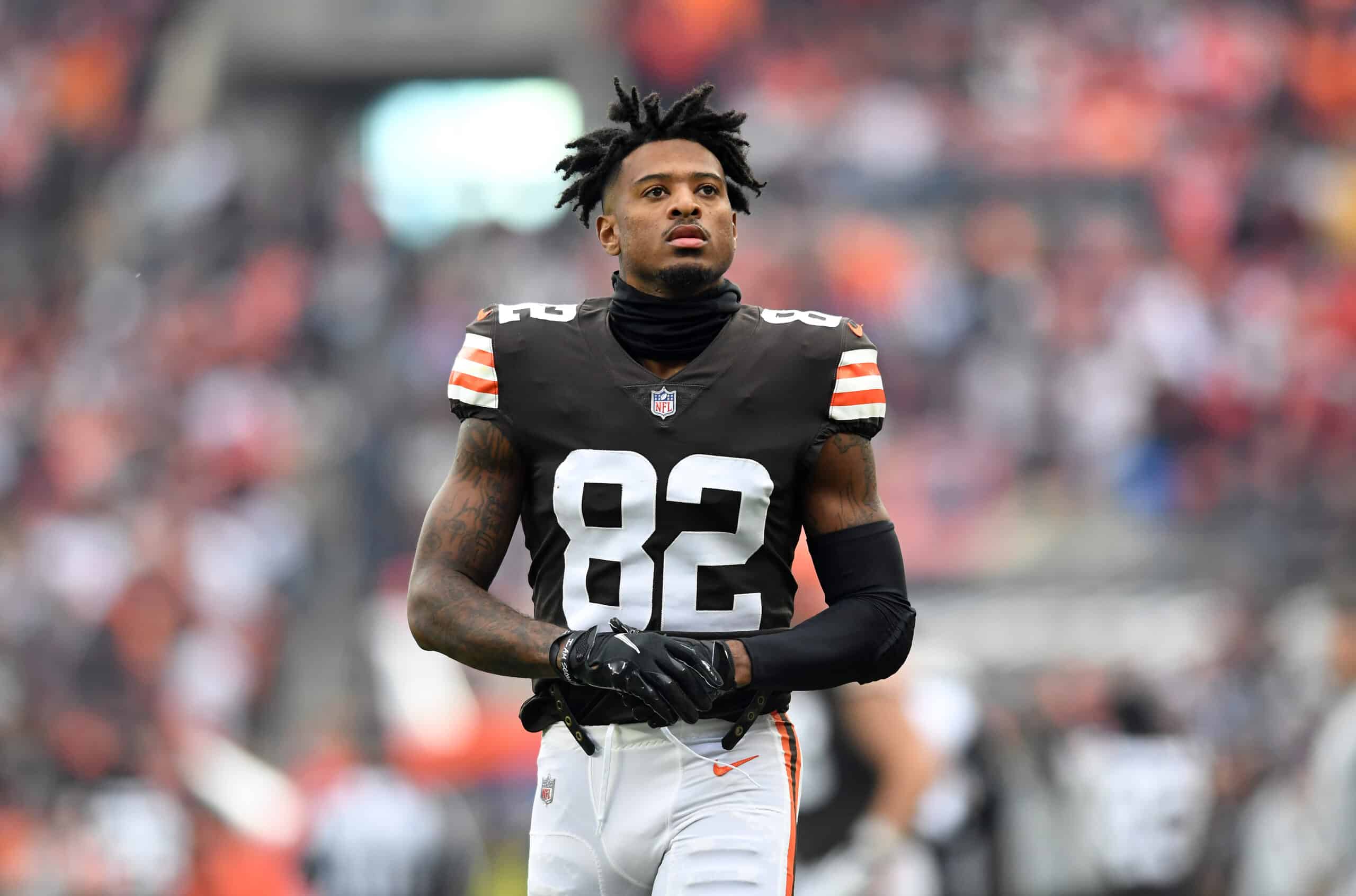 After a disappointing 2021 Cleveland Browns season, the team may need to change things up.
Let us take a look at Rashard Higgins' season and why the Browns should move on from him.
In 2016, the Browns took Higgins with the No. 172 pick (fifth round) in the 2016 NFL Draft.
Higgins, who played tremendously at Colorado State, also paved the way for Michael Gallup:
Highest-graded wide receivers in PFF College era (career grade, since 2014)

1. Corey Davis, Western Michigan-94.7

2. Rashard Higgins, Colorado State-94.5

3. Michael Gallup, Colorado State-93.7

4. Amari Cooper, Alabama- 92.8

5. Tyler Lockett, Kansas State- 92.7 pic.twitter.com/ATKo4S5oU1

— PFF Draft (@PFF_College) July 22, 2021
As a rookie, Higgins got his feet wet as a part of the 1-15 Browns, who had Terrelle Pryor as the team's leading wide receiver: 77 catches for 1,007 yards.
Oh, how times have changed.
While Higgins has been through a Browns franchise transformation of sorts, he did not step up in 2021.
Should Cleveland move on from the 27-year-old wide receiver?
If so, what are the top three reasons that the Browns should move on from Rashard Higgins?
3. Higgins did not Build on a Successful 2020
Let us jump to 2020 when Higgins played very well in the regular season and the playoffs.
In 2020, Higgins' career-high 16.2 yards per reception ranked eighth in the NFL.
He was on his way.
Higgins was ascending, and that was on just 502 snaps in 13 games.
He set new career-highs in receiving yards (599), receiving yards per game (46.1), and receiving yards per target (11.5).
Higgins then caught seven passes for 116 yards in the 2020 playoffs.
Heading into 2021, he should have built on his success.
However, all of Higgins' statistics dropped drastically:
2020: 52 receptions (2.8 per game), 599 receiving yards (46.1 per game), and four touchdowns
2021: 24 receptions (1.6 per game), 275 receiving yards (18.3 per game), and one touchdown
Everything went poorly in terms of Higgins' 2021 numbers.
It just may be time to move on.
2. His Snap Count in 2021 Shows that Stefanski Does Not Trust Him Enough
It is evident that Higgins is not a top-tier receiver, and as a result, head coach Kevin Stefanski has not rewarded him with a lot of playing time.
Near the beginning of his career, Higgins was given an opportunity by Hue Jackson in his second NFL season.
His snap count has not hit the heights of 2017 since:
2016: 183 offensive snaps (18 percent), 16 games played
2017: 663 (66 percent) – career-high, 15 games
2018: 483 (55 percent) – 13 games
2019: 172 (26 percent) – career-low, 10 games
2020: 502 (60 percent) – 13 games
2021: 509 (52 percent) – 15 games
In comparison to Jarvis Landry — who may be a former Browns receiver very soon — Higgins has not even been close in terms of snaps during their Browns careers.
Higgins is being treated like a fifth-round selection, and he is playing like one.
He did not deserve more snaps in 2021.
The passing offense struggled, and the Browns may need a rehaul.
Since Stefanski does not seem to want to rely on Higgins a lot, why hold onto him?
He appears to be the fifth or sixth offensive option on this team at best.
1. Lack Of Touchdowns
Not only has Higgins struggled to catch the ball — only 24 catches on 47 targets in 2021 — but he has also failed to get into the end zone a lot:
Receiving touchdowns this season:
Donovan Peoples-Jones: 3
Jarvis Landry: 1
Rashard Higgins: 1

Receiving touchdowns since Week 12:
Odell Beckham: 5

— Ian Hartitz (@Ihartitz) January 4, 2022
This tweet may hurt Browns fans to the core, but it is true.
At the time of the tweet, Landry had not yet scored his second touchdown of the season.
It came in Week 18.
However, that does not change the argument here that Browns wide receivers struggled.
Higgins did not score enough.
He has just 12 career touchdowns, and he has played six NFL seasons.
There can be excuses made, but for a player who has such lowly numbers, the Higgins experiment may just be over.
Maybe a change of scenery can help the receiver who is headed into his seventh season.