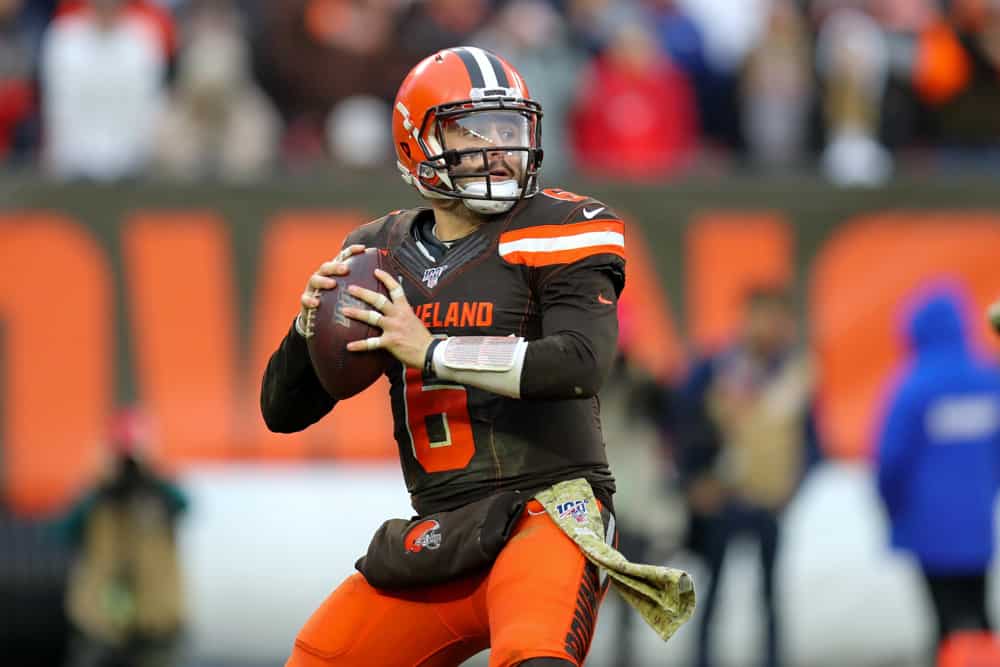 The Cleveland Browns entered 2019 with an inexperienced head coach and a new defensive coordinator.
Nick Chubb was expected to handle the full load for the first time.
Odell Beckham Jr brought star power to the receiving corps.
Coaches shuffled the offensive line.
Browns fans had plenty of questions about how their team would come together.
But they were certain they had a franchise quarterback in Baker Mayfield.
Or Did They?
On a long list of disappointments in an underwhelming season, Baker Mayfield's regression stands out.
It is second only to Freddie Kitchens' questionable coaching among angry fans.
Some numbers are painful.
How bad of a season has it been for Baker Mayfield? Lowest QB rating from a clean pocket this season per PFF…

Haskins 79.5
Dalton 81.7
Mayfield 83.2
Kyle Allen 91.3
D. Jones 94.5
Trubisky 95.2
League average is 103.1.

Mayfield is tied with Jameis with 12 INT kept clean.

— Rich Hribar (@LordReebs) December 16, 2019
Mayfield's 19:18 touchdown-to-interception ratio is disastrous.
His overall quarterback rating of 79.1 compares poorly to last season's 93.7.
The rookie was sixth in yards-per-attempt while the second-year Mayfield ranks 18th.
Is his 2019 season an aberration?
Can fans shrug it off as a sophomore slump?
Or should the Browns be worried about Baker Mayfield?
3 Reasons To Be Worried About Mayfield
With the team at 6-9 despite playoff expectations, many fans are worried.
They should be… for at least these three reasons:
1. He is Regressing to his Pre-Draft Scouting Reports
Baker Mayfield's 2019 season is eerily similar to what many pro scouts expected last year.
There were concerns about happy feet, inability to read the field, slow decisions, and pressure situations.
Mayfield staring down the dig route nearly got it picked off from the opposite side safety #NFLDraft pic.twitter.com/Fx8ZOGB6wG

— Brian Johannes (@Draft_Brian) November 24, 2017
Mayfield doesn't even look before making this throw and it could have been disastrous #NFLDraft pic.twitter.com/ACgOSUF8WJ

— Brian Johannes (@Draft_Brian) November 24, 2017
The Browns allow the second-highest number of quarterback hurries (65), but Mayfield has been hit only 18 times, the third-lowest total in the NFL.
Mayfield bolts from the pocket a split second earlier than league average (2.1 sec).
But he is unlikely to throw the ball away or scramble.
Instead, Mayfield extends plays until he finds a receiver or takes a sack.
Mayfield is the sixth most aggressive passer, according to Next Gen Stats, despite a below-average number of deep passes.
That means his aggressiveness is more about throwing into tight or double coverage.
He's already thrown a combined 58 contested passes to Odell Beckham and Jarvis Landry.
His 18 interceptions give him the second-worst interception percentage (3.6%) in the NFL.
Does he move out of the pocket to buy time or to see better?
Does he have to buy time to see what develops, as opposed to anticipating what will happen?
Mayfield's quarterback rating is significantly higher in the first three quarters (80, 80.5, 95.2) than the fourth quarter (64.4).
It drops to 55.1 in fourth-quarter situations when the score is within a touchdown.
All those quarterly QBRs were higher in 2018, including an 81.2 rating within a touchdown in the fourth.
Baker Mayfield 2019 Season with NFL Rank:
Comp %: 60.1 — 28th
Pass YPG: 239.7 — 20th
Pass Rtg: 78.7 — 30th
INTs: 17 — 29th

"Baker has been one of the 5 worst everyday starters in the league this year. You can't win that way." — @getnickwright pic.twitter.com/botljNIUZh

— First Things First (@FTFonFS1) December 17, 2019
Which begs the question, is 2019 an aberration?
Or was 2018 the outlier?
2. He is not Improving in critical areas  
Fans were disappointed the Browns didn't repeat their Week 4 performance against the Ravens this week.
But they were not terribly shocked.
Fans saw what Mayfield and the offense have done since the opening day debacle against Tennessee.
That is disconcerting.
Mayfield just doesn't look like he is getting any better.
"Getting used to Odell Beckham Jr" was an acceptable excuse earlier in the season.
Consistently overthrowing or putting it behind him is inexcusable in December.
Our ball.

👏@P2 pic.twitter.com/ajF5mwOKwG

— Arizona Cardinals ⋈ (@AZCardinals) December 15, 2019
After 18 interceptions, throwing balls away should be preferable to throwing into tight coverage.
Pro Football Focus' Mike Remmer points out Mayfield's tendency to wind up a little extra on deep balls.
He has not corrected that habit despite the number of overthrows that resulted.
Mayfield struggles with barely more than a 50% completion rate when he sets up in a 5-step drop.
He has the fifth-worst completion percentage on play-action partially due to his awful selling prowess on the fake.
These are things the quarterback can work on.
But either he isn't doing the work, or he just can't be better.
Pro Football Focus expresses their concern with Mayfield's accuracy

3. Mayfield is lacking leadership
Freddie Kitchens told reporters he thought Baker Mayfield is "doing alright in the leadership department."
The head coach said Mayfield works hard and cares about winning.
The problem is the Browns are not winning and that affects Mayfield.
His press conferences trigger more comments over his personal feelings and antics than anything the quarterback says.
Baker Mayfield got into a heated moment with a reporter and walked out of his weekly press conference. #Browns pic.twitter.com/lSGxos3Ce8

— clevelanddotcom (@clevelanddotcom) October 30, 2019
Unless, of course, he says something negative about teammates or the training staff.
Mayfield shuns the media after practices he thinks didn't go well.
He sulks too much after losses.
He does not exude any confidence things will get better.
The most damning effect of his personality is exhibited by his wide receivers.
Odell Beckham and Jarvis Landry argue with coaches on the sideline.
No one talks to Mayfield.
Beckham and Landry reportedly want to get out of Cleveland.
You can believe those rumors or believe their public statements to the contrary.
But when they talk about winning games, listen to how many times they cite Mayfield.
They don't.
Mayfield's emotions and drive to win were supposed to make him a natural leader.
But apparently, that only works if he is in a good frame of mind.
3 Reasons Not to Worry about Baker Mayfield
On the other hand, the Browns own a young player who needs time to grow into his role as an NFL quarterback.
He is on his third offensive coordinator and head coach in under two years and could well see his fourth by 2020.
Here are three reasons to think Mayfield will give Cleveland some MVP seasons in the years ahead:
1. Mayfield is Only a Product of the Coaching Staff
In the second half of last season, Baker Mayfield had a reputable quarterback coach in Ken Zampese.
He also had veteran quarterback Tyrod Taylor in the locker room.
Head coach Greg Williams inspired hard work and play from both sides of the ball.
New offensive coordinator Freddie Kitchens had Zampese and senior assistant Al Saunders to help with game-planning.
It was an upbeat locker room full of players and coaches determined to be better.
Under head coach Kitchens, there is a decidedly more passive coaching approach.
Kitchens constantly says it is up to his players to execute better.
It sounds like a hands-off management style where players need little mentoring.
But if the players don't have the training and tools they need, they fail.
Kitchens named Ryan Lindley, with little playing or coaching experience, to manage Mayfield's development.
The quarterback doesn't seem to be coached up during or between games.
The Chiefs' Andy Reid used to have a comment for Pat Mahomes after every drive, sometimes even sitting next to him on the bench.
Unless a wide receiver is yelling at him, Kitchens doesn't communicate with anyone not wearing a headset.
Freddie Kitchens has got to go. There's no way around it. #Browns pic.twitter.com/cCJ3E11cDC

— Camryn Justice (@camijustice) December 22, 2019
The pressure is building on John Dorsey to hire a more experienced coaching staff.
Mayfield didn't lose all his skills in the off-season.
He just needs someone who can use them better.
2. As someone who's been counted out his whole life, he's a safe bet to rebound
Arizona Cardinals head coach Kliff Kingsbury talked about his former Texas Tech quarterback before their Week 15 game.
"I would never bet against Baker Mayfield," he said.
Kingsbury explained that Mayfield has done pretty well over the years using naysayers and doubters as inspiration.

Last season, the Browns were a laughingstock and their selection of Mayfield with a top overall pick was widely questioned.
Mayfield used that negativity the same way he used questions about his height and arm strength to inspire him at Texas Tech and Oklahoma.
Coming into 2019, Mayfield was the toast of the town.
Few doubted the Browns had their franchise quarterback, including Mayfield.
Endorsement deals rolled in.
Few prognosticators failed to include Cleveland as 2019 playoff participants.
Then Mayfield and the Browns fell flat.
By next September, Mayfield will read or hear about how he is a potential bust.
He'll be challenged to prove the pre-draft scouting reports wrong.
Kingsbury shouldn't be the only one betting on Mayfield in 2020.
3. Maturity comes with time
While a student at Oklahoma, Baker Mayfield got drunk and wound up in a situation involving the police.
Oklahoma QB Baker Mayfield scouting report:
-Pros: Good Arm
-Cons: Lacks "getting away from the cops speed"pic.twitter.com/79OiFCHNFq

— Korked Bats (@korkedbats) March 11, 2017
That is not exactly earth-shattering news about any college student.
But along with some on-field antics, it helped tag Mayfield as immature or even a problem teammate.
Cleveland's general manager recognized Mayfield as his type of player, telling us the skill set is more important.
Other, less aloof, administrators explained that youth tends to improve with age.
That is still true about Baker Mayfield.
Putting a respected veteran quarterback in his ear would help, but fans should expect Mayfield to eventually understand his role and how his attitude affects the team.
Mayfield can learn to lead.
Someday, a reporter will show Mayfield photos of his quick-change facial hair from a post-loss press conference in his second season.
And everyone will laugh about those days.
What'll it Be?
Things change pretty fast in the NFL.
Freddie Kitchens could be the 2020 Coach of the Year alongside MVP Baker Mayfield.
Ron Rivera could be the GM/head coach who trades Mayfield for Cam Newton.
Kitchens could become a 2020 mid-season firing that leads to another rebuild.
That's why fans keep watching.
We all want to know if our worry is justified.