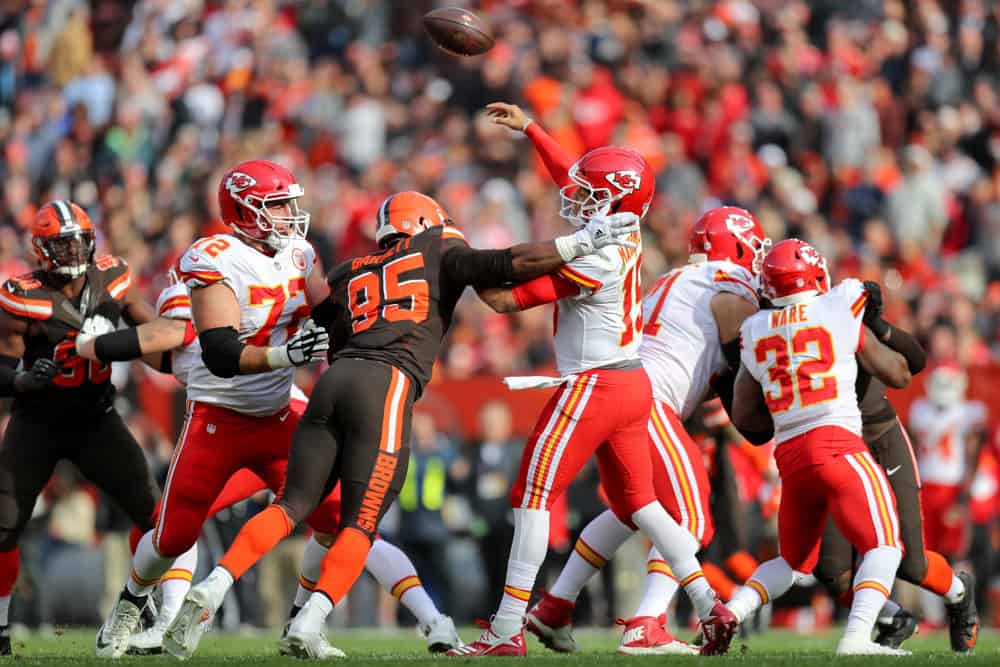 Game day has finally arrived.
The 2021 Cleveland Browns take the field for a brutal Week 1 matchup against the defending AFC Champion Kansas City Chiefs at Arrowhead Stadium.
The Browns are underdogs in this game.
Even the Browns beat reporters unanimously picked the Chiefs to win.
I'll just assume #CLEvsKC pic.twitter.com/bFCTvEZw7m

— Cyrus CLE 🐶 (@Cyrus_CLE) September 10, 2021
A Browns win over the Chiefs is possible, and some would argue highly likely.
Here are three things the Browns accomplish if they earn a big win over the Chiefs on Week 1.
1. Live Up To The Hype
"The Browns are going into Arrowhead. It's almost a playoff game Week 1. We've had a whole summer of hype about the Browns. You cannot get waxed in this game.. and I don't think they will be."
@PSchrags is ready for #CLEvsKC pic.twitter.com/oIHNzDUQMb

— GMFB (@gmfb) September 7, 2021
A lot of preseason hype has focused on the depth of the Browns roster.
This game has been called a potential playoff preview.
Beating the Chiefs will show that the roster lived up to expectations in a crucial Week 1 game in which everyone will be watching.
Defensive end Myles Garrett summed up what a Browns win would mean.
"Go in and go win. It's a big game. They've proven that they can go to the Super Bowl and win the Super Bowl. They're one of the best teams in the league. We want to be ranked amongst that group, so we have to go in there and attack them."
2. Break An Awful Opening Day Losing Streak
Will this be the year that Cleveland FINALLY ends its Week 1 losing streak?

The Browns open the season in Kansas City next Sunday. 👀🍿 pic.twitter.com/JbRHOSQvxk

— theScore (@theScore) September 5, 2021
The Browns have a well entrenched opening game losing streak.
The team has not won an opening game at home since 2004 or a road opener since 1994.
Breaking this streak would once again show that the Browns under Coach Stefanski are breaking the old norms that have crippled this franchise for years.
3. Create Momentum
Obviously, performance in the NFL is measured by wins so every win is important.
Going 1-0 versus 0-1 into Week 2 could give the Browns enormous confidence.
It is a long 17 game season ahead with yet-to-be-determined challenges so collecting early wins and building upon that success week after week is vital.
A Week 1 win means the Browns handled all the tangible and intangible challenges of the game at Arrowhead which gives them confidence later in the season with other challenging road games in Green Bay and Baltimore.
Quarterback Baker Mayfield talked about playing this game in front of a packed Arrowhead crowd.
"Arrowhead is one of the more hostile environments in the whole league, and then them being back at full capacity, I can only imagine how loud it's going to be…For our guys, it's knowing the plan and doing your job and handling adversity because it's not like we're going to be shocked by the environment. We know exactly what we're stepping into."
What This Win Would Not Be
If the Browns beat the Chiefs, this does not erase the loss in the 2020 AFC divisional playoffs.
While the team certainly had eight months to think about the loss, this is a new team with a different roster of players that have already turned the page.
Coach Stefanski put this game in perspective.
"I think we are so far past last season. We obviously go back and look at the tape and see what we could have done differently, what they did and what they might do this game. In terms of taking last season into this season, I think we are way past that."
This win would be a stepping stone for the 2021 Cleveland Browns and a very positive one at that.