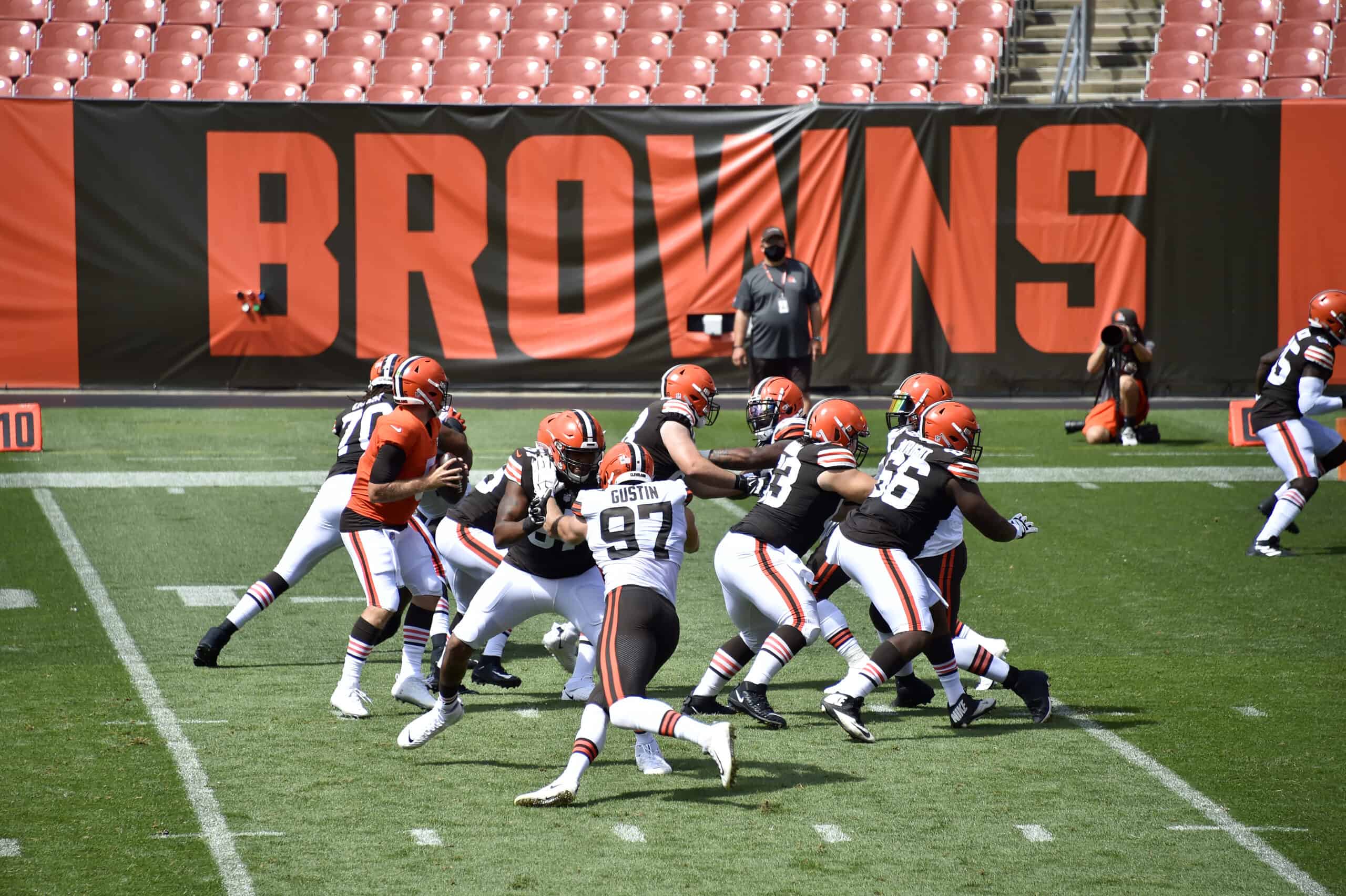 By all accounts, Andrew Berry did a fine job building the 2021 Cleveland Browns roster.
He turned over most of his defense in free agency and the NFL Draft.
Then he polished it off with a few undrafted free agents on top of last season's returning wounded.
Even though his entire starting offense returns, Berry did a little fine-tuning on that side of the ball, too.
Browns put exclamation point on "defensive lean" offseason with 2021 draft class

📰 » https://t.co/3oVgycz8pe pic.twitter.com/jyzOqHRC44

— Cleveland Browns (@Browns) May 3, 2021
He added a speedy receiver, a couple of versatile running backs, and some offensive linemen.
Top-to-bottom, the roster looks as complete and loaded as Browns fans have seen in a long time.
In fact, maybe it's a little too full of talent.
Some of these guys will have to go.
Here are 3 shocking roster cuts the Browns could make in 2021.
1. Mack Wilson  
Mack Wilson has been working hard this offseason hoping to bounce back from a subpar 2020 campaign.
Statistically, his 39 tackles paled in comparison to the 82 he picked up as a rookie.
During his defensive makeover, Berry released 8 of the 10 Browns players with the most missed tackles.
Wilson is one of the survivors, despite a whopping 20.4% missed tackle rate.
Hard work might correct his tackling issues, but there is another thing working against him he can't fix.
Rewriting our story 1 day at a time. #5ive1x5ive4 🙇🏾‍♂️ #CLE🧡🤎 pic.twitter.com/fVCvA3nkxL

— Mack Wilson Sr. (@5mackwilson1) June 3, 2021
Speed is vital in Joe Woods' defense, and Wilson is not the fastest option in the linebacker room.
Finally, Woods is rumored to want an additional lineman or 2 available on game days.
With dime and nickel packages prevailing, it makes sense an extra roster spot could come at a linebacker's expense.
Wilson's rookie season will earn him some field time in 2021.
But he might not be wearing the orange helmet of the Cleveland Browns.
2. D'Ernest Johnson  
D'Ernest Johnson proved to be a solid contributor when called upon last year.
Fans never felt a discernible lull in the offense when Nick Chubb and Kareem Hunt were off the field.
Johnson proved his worth, especially when Chubb missed games early in the year.
But the Browns added a couple of interesting running backs on draft day.
Sixth-round pick Demetric Felton is a versatile player who can line up anywhere.
#Browns coach Kevin Stefanski said D'Ernest Johnson has given us boost in the return game, but he also does great job in the coverage phase, really great teammate and is ready to go in at a moment's notice

— Nate Ulrich (@ByNateUlrich) January 13, 2021
His wide-receiver skills rival his rushing ability, and he showed some kick return prowess in college, too.
Undrafted free agent Tre Harbison had a pair of 1,000-yard rushing seasons at Illinois.
He earned mixed reviews on his pass-catching and blocking abilities and logged some special teams play.
D'Ernest Johnson fielded some punts and kicks last year, too, and is the known commodity in the group.
But the Browns only carried 3 running backs last year (plus a fullback) making Johnson's status tenuous.
3. Rashard Higgins  
Lots of talented football players will find themselves out of work at the end of August.
But releasing (or trading) a popular player like Higgins is why most coaches and GMs aren't on social media.
Higgins signed a low-wage contract to return to Cleveland, professing his love of the team and fanbase.
Even if his hands turned to concrete and fell off, releasing him would elicit some negative fan feedback.
And much of that will be directed at Odell Beckham Jr and rookie Anthony Schwartz.
Most Yards per Target 💥

1️⃣ Will Fuller: 11.7
2️⃣ Rashard Higgins: 11.5
3️⃣ Julio Jones: 11.3 pic.twitter.com/IsWQPqC9v2

— RotoUnderworld (@rotounderworld) June 7, 2021
For sure, Beckham's return diminishes Higgins' value, and Schwartz's speed demands some field time, too.
Donovan Peoples-Jones would be plucked away from the practice squad, solidifying his roster spot.
But it is actually Khadarel Hodge who can give Higgins the final push off the roster.
Hodge can play the Higgins role and is arguably better at contested catches.
But it is his special teams prowess that gives the nod to Hodge over his popular teammate.
More Unpopular Notions
Part of the price of success is difficult roster decisions.
Upgrading a position often means cutting someone who was a big part of the franchise's return to relevance.
Sheer numbers will come into play when it comes to the offensive and defensive linemen.
Blake Hance will have a hard time defending his roster spot.
The craziest part of the Browns off season is Andrew Berry has added more talent to Cleveland than the rest of the AFC North has combined. pic.twitter.com/DkK3b91naV

— Nick Karns (@karnsies817) April 18, 2021
If he holds on, it could be at the expense of Drew Forbes or Michael Dunn.
Porter Gustin and Joe Jackson could be displaced by Curtis Weaver and Takk McKinley.
Peoples-Jones and Demetric Felton might be pressed into service returning kicks.
But an analysis of risking those duties to unproven players might save JoJo Natson or Ryan Switzer.
That's why fans should ready for anything and trust the decisions are not made lightly in any case.