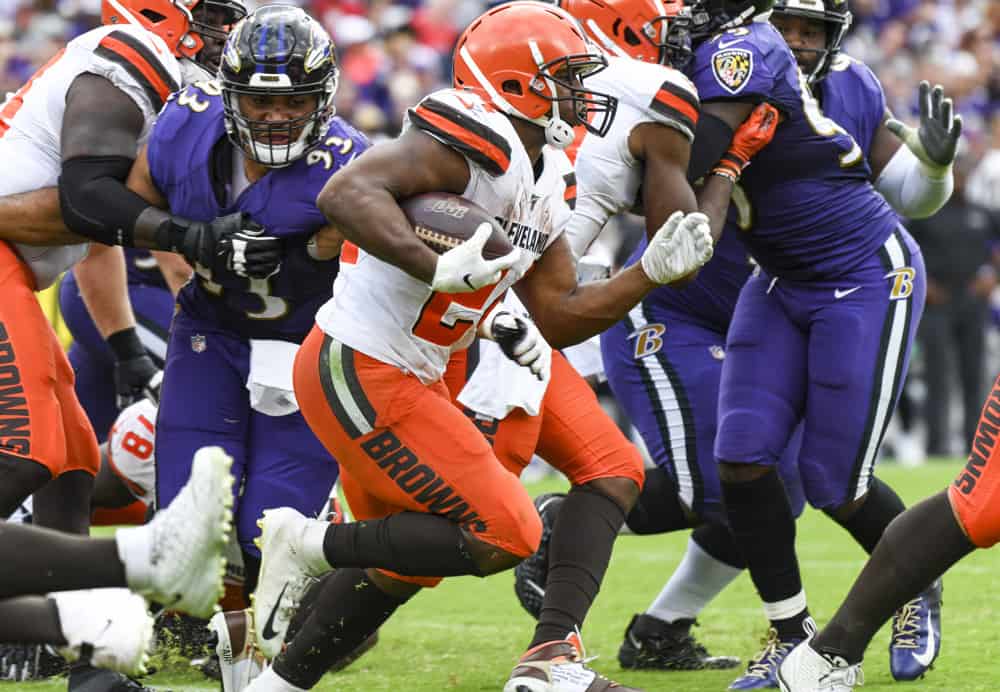 Nick Chubb has been activated from the Injured list, but coach Stefanski says it's not a lock that he plays this weekend.
Here are the three things that the Browns offense has missed the most with Chubb out.
1. The Explosive Plays
Anyone with eyes could see that Chubb was going to be an outstanding pro running back.
He finished up his time at Georgia with 4,769 yards rushing, good for second place all-time at UGA, just behind the great Herschel Walker.
Overall, he racked up 5,130 total yards and 48 TDs while in college.
The professional ranks are different. The speed. The size. The schemes.
An observer might think there would be a drop-off, but there really hasn't been.
Since he took over starting duties around the midway point of his rookie season, he's been a force out of the backfield.
It isn't just those tough yards between the tackles, Chubb can pull those down.
It's the big, dynamic plays that can change the course of a game that he's become known for.
Nick Chubb leads the NFL with 6 runs of 20+ yards

He hasn't played since Week 4 🤯 pic.twitter.com/fmnIUDir8k

— PFF Fantasy Football (@PFF_Fantasy) November 12, 2020
Chubb has the physicality to get a tough 3 yards for a first down, as well as the speed to rip off the home run.
Those electric plays have been something that has been missing from the Browns offense since his absence.
2. Receiving Threat Out Of The Backfield
One of the big knocks against Chubb coming out of college was his involvement in the passing game.
He didn't catch many passes while at UGA, and pro scouts were saying that he would be a liability in the passing game.
That hasn't been the case.
While Kareem Hunt is the better receiver out of the backfield, Chubb still does good work.
For his career, he's put up 444 receiving yards and 2 TDs.
On a less glamorous note, he's also improved in his pass blocking skills.
As has often been discussed, Baker Mayfield does his best work with a clean pocket, and even more so when he's running a bootleg.
Having the extra protection and outlet for Mayfield will only make the offense more potent in the second half of the season.
3. Chubb's Presence And The Pressure He Put's On Defenses
Let's face it, the Browns offense hasn't looked the same without Chubb.
Just look at this Tweet, courtesy of CBS Sports HQ:
The Browns are going to be VERY HAPPY to have Nick Chubb back in the lineup this week…

Wk 1-4 Wk 5-9
Rush Yds/Gm 1st 24th
Yds/Rush 1st 26th
Rush TD 1st 32nd

>> Chubb missed Weeks 5-9#Browns pic.twitter.com/IvnZkzEOnm

— CBS Sports HQ (@CBSSportsHQ) November 11, 2020
This perfectly demonstrates just what Chubb brings to the table.
Getting Chubb back in the backfield gives the Browns that dynamic, explosive player they've been missing.
It also makes Baker's life easier.
Defenses will stack the box in an effort to stop Chubb, giving Mayfield the space to run play-action passes, and is a capable receiver as a check-down option.
The Browns offense thrived when they were able to swap Chubb and Hunt in various packages, leaving the defense working off their back foot trying to stop them.
Even with the loss of Odell Beckham for the season, adding Chubb will make this offense more lethal going forward.