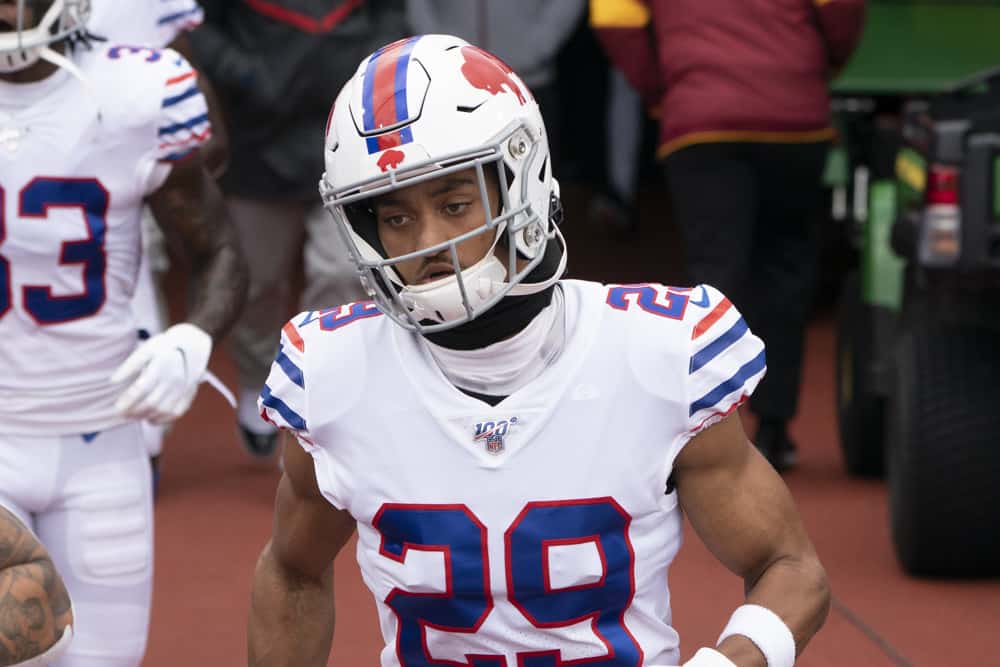 Cornerback Kevin Johnson signed with the Cleveland Browns this week.
Kevin Johnson could be the answer in the slot for the Browns.
Former Bills' and Texans' CB Kevin Johnson is signing a one-year, $3.5 million deal that could go up to $6 million on incentives with the Cleveland Browns, per league source.

— Adam Schefter (@AdamSchefter) March 19, 2020
He also gives Cleveland an experienced backup behind Greedy Williams and Denzel Ward.
Johnson signed a one-year, prove-it deal with Buffalo last season.
His skill set wasn´t so much in question as was his ability to stay on the field.
While he started only one game for the Bills, he played in all 16 games.
He challenged Levi Wallace for a starting job, eventually splitting snaps with his teammate.
Kevin Johnson ranked 27th out of 133 CBs in QB rating allowed last year. Only 91 coverage snaps out of the slot but 32nd out of 52 CBs in yards/snap allowed. Assuming he's the Browns main slot DB next year. Another solid signing for 1 year

— TA (@ClevTA) March 19, 2020
Johnson allowed opposing quarterbacks a 59% completion rate and QBR of 79.8.
Buffalo was interested in re-signing Johnson.
But Cleveland sweetened Johnson´s contract with incentives that could double his 2019 salary.
Will Andrew Berry´s latest signing fill the Browns´ bill in the slot?
Here are three things to know about Kevin Johnson to help you decide.
1. Johnson Was a First-Round Draft Pick
Kevin Johnson lost a year of college eligibility due to academic concerns.
But he came back strong for his junior and senior years at Wake Forest.
Entering the 2015 draft, Johnson was the second-highest rated cornerback per NFLDraftScout.com.
There were 212 cornerbacks evaluated and available in that draft.
The Houston Texans made Johnson the 16th overall draft pick.
The Texans have selected CB Kevin Johnson. Some I've talked to think he could be best corner in this draft. 49ers back on the clock

— Jason La Canfora (@JasonLaCanfora) May 1, 2015
Trae Waynes (#11 overall) was the only cornerback selected ahead of Johnson.
Johnson gives the Browns three high draft picks at cornerback.
Cleveland used their fourth overall pick in 2018 on Denzel Ward and a second-rounder on Greedy Williams in 2019.
Johnson fought off AJ Bouye to win the third cornerback position as a rookie in Houston.
He moved up the depth chart to start ten games for the Texans that season.
2. Kevin Johnson Tries to Escape the "Injury Prone" Label
After his impressive rookie season, Johnson entered 2016 as the Texans' third cornerback.
Once again, he became a starter, this time in Week 3.
But on October 22, a broken foot landed Johnson on injured reserve.
That opened the door for AJ Bouye, who turned the opportunity into a free agent contract with Jacksonville.
Johnson was named the starting right corner for Houston heading into 2017.
But an MCL injury cost Johnson four games early on.
Kevin johnson says he's confident his injuries are behind him and feels good. Also, "it's a team on the rise….I just got word of some of the offensive moves."

— Sal Capaccio 🏈 (@SalSports) March 12, 2019
It also cost him his starting role as Kareem Jackson took over.
Houston still thought enough of Johnson to pick up his fifth-year option.
But in the first game of 2018, Johnson suffered a serious concussion.
It cost him the rest of the season and led to Houston waiving their former first-rounder.
Buffalo signed Johnson as a free agent to a one-year, $3 million contract for 2019.
He finished the season without suffering an injury, providing backfield depth for the Bills.
#Browns Throughout his five-year NFL career, Kevin Johnson has allowed just a 58.4% completion percentage and 6.7 yards per target, to go along with 18 pass breakups (Sports Info Solutions).

Yet another solid defensive back addition by GM Andrew Berry.

— Cody Suek (@WFNYCody) March 19, 2020
Cleveland loaded his 2020 deal with incentives hoping he takes ownership of their slot corner position.
If Johnson plays all 16 games, the Browns can keep Johnson from a third consecutive year of free agency.
And maybe the former first-rounder can shed the "injury-prone" label.
3. Kevin Johnson Was a Hot Commodity
Kevin Johnson is a cornerback with only one interception in 51 games played.
He is also on the smaller side of cornerback prototypes at 6´and 185 pounds.
Yet he had multiple suitors vying for his services.
#Broncos are interested in #Bills slot cornerback Kevin Johnson, according to 9News. https://t.co/U8iKRWHo4s

— Broncos Wire (@TheBroncosWire) March 17, 2020
Besides the Bills, Johnson reportedly drew interest from the 49ers and Broncos.
Rumors linked Johnson to another dozen teams as well.
Although in today´s world of internet sports sites and social media, it is difficult to know how many had substance.
Cleveland has a pair of solid and young corners on their roster.
But they could promise Johnson a shot at the slot corner position.
Look for Kevin Johnson to fill the role TJ Carrie essentially held last year. Can play the nickel, but can also swing outside, as well. Browns really like Johnson's intelligence in the secondary, as well as his versatility

— Jake Trotter (@Jake_Trotter) March 19, 2020
In today´s passing-first NFL, that is as attractive as the outside corner roles.
With incentives, Johnson can make $6 million this season.
In return, Cleveland solves their slot woes and adds another experienced special teams player.