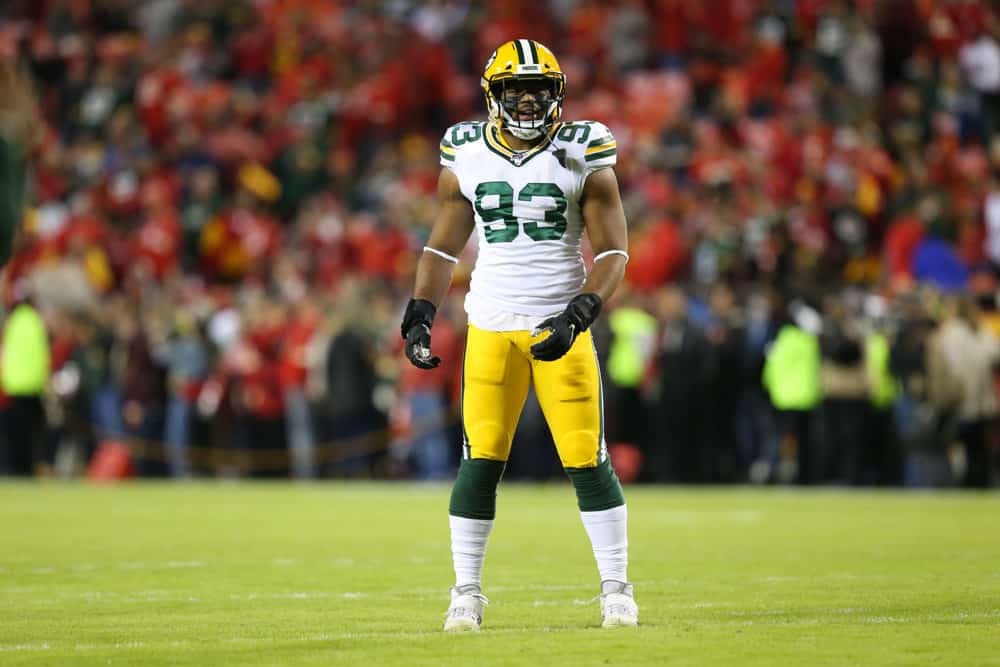 Andrew Berry continues to fill in his roster in the month before the 2020 NFL Draft.
Former Packer and Giants linebacker BJ Goodson is among those joining the Cleveland Browns.
Goodson was drafted by the Giants in the 4th round of the 2016 draft.
He is primarily a run-stopping defender, replaced in obvious passing situations with a third safety while in Green Bay.
2019 MLB rankings from @PFF:

80th: BJ Goodson

97th: Joe Schobert #Browns pic.twitter.com/hmDV1az0E1

— MoreForYouCleveland (@MoreForYou_CLE) March 19, 2020
The newest Brown will add experienced talent to the special teams unit.
Goodson also brings a veteran presence to the Browns linebacker group.
But is he future captain material, ready to replace Joe Schobert?
Here are three things to know about BJ Goodson that might help you decide.
1. Goodson Caught 16 Passes One Year
B.J. Goodson played his high school football in Lamar, South Carolina.
By necessity, he was on the field on offense and defense.
He also returned kickoffs.
In his junior year, Goodson had 96 tackles from his middle linebacker spot.
He also caught 16 passes for 220 yards and 2 touchdowns as the team´s tight end.
#Lamar High's BJ Goodson led #Clemson with 12 tackles & 1.5 sacks #football #Defense pic.twitter.com/tFwOnjuxXW

— Van Lott (@VanWLTX) November 28, 2015
Lamar made it to the South Carolina State Championship game that season.
Goodson´s 156 tackles as a senior came after Goodson committed to Clemson.
Several other large programs recruited him, including Tennessee and LSU.
2. Goodson´s Numbers Might Not Do Him Justice
As a rookie with the New York Giants, Goodson racked up 9 tackles and force a fumble.
Those numbers don´t sound impressive until you realize he only played 14 snaps.
Goodson was named the starting middle linebacker the following season.
Against Ezekiel Elliott and the Cowboys on opening day, Goodson totaled 18 tackles, including 15 solo.
Giants @ Cowboys from last season and #Giants LB BJ Goodson has looked good through the 1st half. Watch him read the play and put himself in position to easily defeat Collins' block @ the 2nd level, with a powerful 👐🏾and the footspeed to flow outside and make a violent tackle. pic.twitter.com/ItpEWYN31a

— Nick Falato (@nickfalato) July 13, 2018
But he missed the next two games in what turned out to set a pattern.
Goodson played only 7 games before going on injured reserve with 53 tackles, 2 passes deflected, and a forced fumble.
The following season, the Giants switched to a 3-4 set with Goodson lining up next to Alec Ogletree.
In 13 games, Goodson tallied 61 tackles, 4 passes defended, his first 2 interceptions, and his first sack.
Just before the first game of 2019, Green Bay acquired Goodson as a depth piece.
He was limited to 254 snaps for the Packers, almost all of them in presumed rushing situations.
#Packers BJ Goodson doesn't get much playing time in Pettine's sub-heavy personnel groups… But he might be on the field a lot this week vs CAR

Goodson is a physical downhill run plugger and that's what this defense needs right now.

📝READ: https://t.co/p6YgTUQNcH pic.twitter.com/gqOeOJTtRA

— Ben Fennell (@BenFennell_NFL) November 6, 2019
In 4 years, his 160 career tackles don´t impress much.
But using the expected average of 67-84 plays per game, Goodson´s tackle rate projects to 9-11.5 per game.
That is a Pro Bowl-worthy 144-185 tackles per 16-game season.
3. Goodson Might Be a Liability in Pass Coverage
It is easy to say the numbers don´t do justice to Goodson´s pass defense, too.
After all, teams use him primarily as a passing downs linebacker.
But there had to be a reason for that.
Last season, teams threw at Goodson only 9 times as Green Bay limited his snaps.
Opponents caught 7 of those passes and scored a touchdown.
That gave quarterbacks a 126.4 passer rating.
But in 2018, quarterbacks threw at Goodson 30 times.
Not a good pass by the QB, but BJ Goodson did a good job coverage to make sure this pass wasn't completed. I said in our pregame show BJ could wiggle his way onto this roster, I hope he does because I believe he could be a huge help. pic.twitter.com/LxkWMghRnl

— Danny King (@DannyKingNFL) August 29, 2019
Goodson allowed 19 completions for a more respectable catch percentage.
But yards per catch and target were higher.
Fortunately, Goodson managed to intercept two of those passes and did not allow a touchdown.
His 50.4 passer rating against looks rather impressive.
Those are the only interceptions Goodson captured in his professional and college career.
How bad is Goodson in coverage?
Probably somewhere between these two examples.
But Cleveland has time to find a scheme or adjustment that maximizes Goodson´s talents.