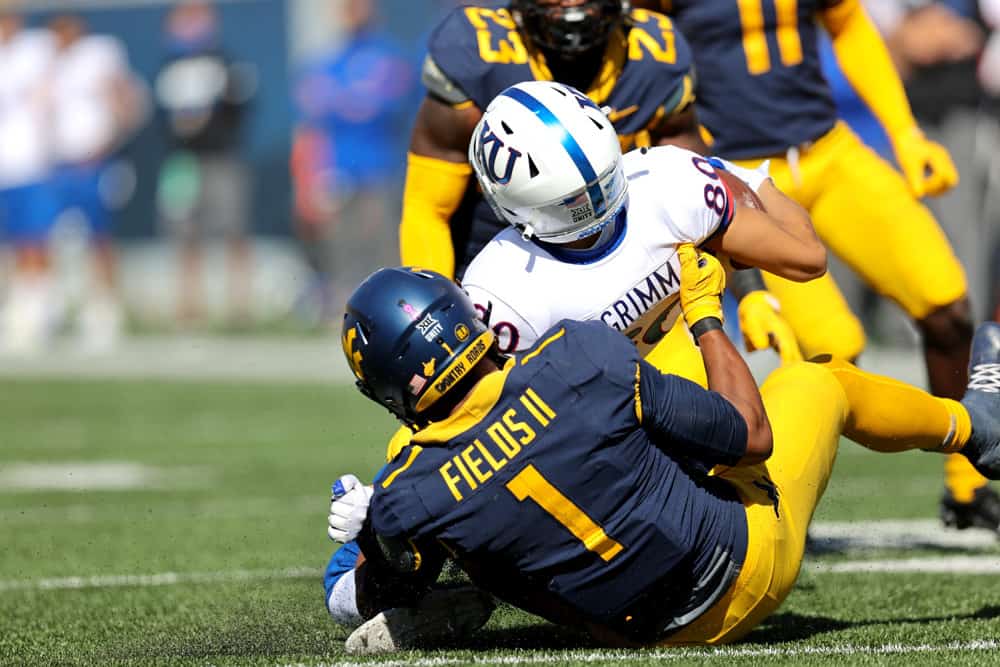 Tony Fields II is a Cleveland Brown.
If you missed that during the NFL Draft, the former West Virginia linebacker had no issue taking to Twitter and letting his fans know.
I'm a Cleveland Brown!!!🤎🧡

— Tony Fields II (@T_Fields1) May 1, 2021
The fifth-round draft pick is one of eight new members of the brown and orange looking to get their professional careers off the ground.
In the coming months, Fields II will have the opportunity to learn the city of Cleveland and get to know the area.
While northeast Ohio prepares to give him a warm welcome, let's look at some things to know about one of the newest Browns.

1. He Did Not Graduate a Mountaineer
Even in college sports, it's rare an athlete finishes his playing career with just one team (or, school in this scenario).
This is the case for Fields II, who played football at and graduated from the University of Arizona before heading east to Morgantown.
It was in the desert where Fields II started his professional development path under Wildcat head coach Kevin Sumlin.
At Arizona, Fields II started all 37 games for the Wildcats, logging 287 tackles, 8.5 sacks, and 17 tackles for loss.
Studying 2019 tape of LB Tony Fields II while at Arizona (now with WVU & heading to @seniorbowl)

This is one of the most underrated/under-hyped players in the country

Fiesty 6'1 220lb MLB, SL/SL Speed, Secure Tackler, Crushes RB on blitzes, can QB spy, & tough tough tough!! pic.twitter.com/IaCIiuS1ou

— Ben Fennell (@BenFennell_NFL) November 28, 2020
That dominance would only continue at West Virginia.
Fields II earned All-Big 12 First Team and Big 12 Defensive Newcomer of the Year honors in 2020 in addition to landing an invite to the Reese's Senior Bowl.
Transferring doesn't always work out for college athletes, but it did for Tony.

2. Versatile Athletic Background
Going into the draft, scouts loved Fields II's quickness and burst despite not possessing the largest body frame.
Much of that athleticism likely stems from his background, even before college.
At Desert Pines High School in Las Vegas, Tony played wide receiver in addition to linebacker.
Most receivers need to be able to move better than your average linebacker, so it's easy to see where that speed comes from.
He also played baseball and basketball throughout high school, huge for both coordination and quickness.
Fields II also helped lead the football team to a state title during his junior year in 2016.
While he'll be hoping to compete for a championship of a much higher caliber in the NFL, his history as a versatile athlete will be something that helps him (and the Browns) get there.

3. He Is Not the Biggest Guy Around
If you didn't notice in either of the basketball videos above, Fields II isn't the largest guy in town.
He's obviously grown and put on weight since high school, but at 6'1" and 220-pounds currently, he's below the league average size at linebacker.
Unfortunately for offensive players Fields II has come across, the smaller size did not equate to lighter hits.
WVU/Arizona ILB Tony Fields (@T_Fields1) is that dude #seniorbowl pic.twitter.com/xxVmhd9MVg

— MGA Sports Agency (@MGASportsAgency) January 26, 2021
While teams like New England still look to deploy the old-school looking, beefy linebackers, the modern trend looks more for speed and agility.
Oftentimes, linebackers are called upon to stick with elusive tight ends and even slot receivers where there is a clear mismatch.
Linebackers who can not only hold their own but excel in those scenarios will play for any defense in the NFL.
If Fields II can do that, he'll work out just fine in Cleveland.