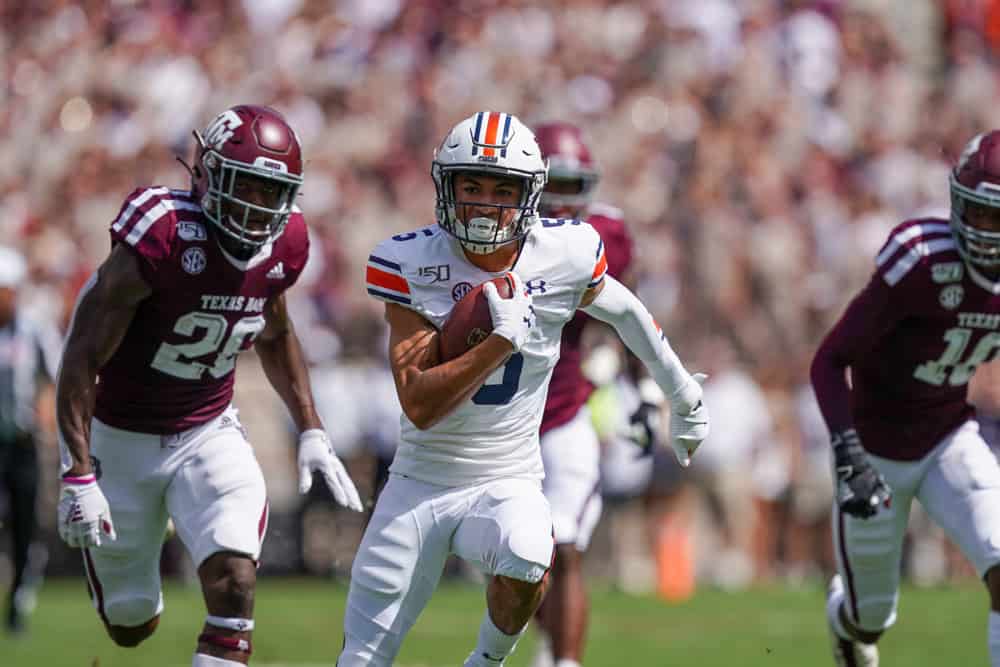 The Cleveland Browns selected Auburn wide receiver Anthony Schwartz with the 91st overall pick of the 2021 NFL Draft.
Schwartz is an interesting addition to an already fast wide receiver room that contains Odell Beckham Jr. Jarvis Landry, Rashard Higgins, and Donovan Peoples-Jones.
Here are three things to know about the newest Browns wide receiver Anthony Schwartz.
1. Florida Native 
Schwartz is 20 years old.
He is 6'0″ tall and weighs 185 pounds.
Anthony Schwartz hails from Florida.
He attended American Heritage School in Plantation, Florida and was the 22nd prospect coming out of high school in the state of Florida.
2. Track Star
Besides playing football at Auburn, he ran on the track team.
Anthony Schwartz is my WR14. 4.2 track stud who adds a deep element. Started to develop as a route runner, especially the quick slants and out routes. Special teams ace too. Adds a new element to the #Browns. Great pick. #NFLDraft #HallamAnalysis

— Shane P. Hallam (@ShanePHallam) May 1, 2021
In 2018, Schwartz won the USA National Junior Championship in the 100 meters.
He also was part of the 4 X 100 relay teams that finished first in the 2017 Pan American U20 Championships and the 2018 World U20 Championships.
Leveraging his speed from the track to the football field gives the Browns a lot of options, and versatility is what GM Andrew Berry and Coach Kevin Stefanski are looking for in all the roster positions.
#Browns GM Andrew Berry on addition of WR Anthony Schwartz: "What attracted us to Anthony is his ability to stretch the field." Adds they believe he's very early on in his development curve in his career

— 92.3 The Fan (@923TheFan) May 1, 2021
3. Nicknamed "Flash"
Nicknamed "Flash", Schwartz played three seasons at Auburn.
In 33 career games, he amassed 1,433 yards and 6 touchdowns.
His career-best season was in 2020 where he netted nearly half of those yards (636) and 3 touchdowns.
Early in his Auburn career, he was used as a legitimate rushing threat.
He had over 300 yards rushing and 7 touchdowns during the 2018 and 2019 seasons.
Browns just got the fastest player in the NFL Draft, Anthony Schwartz💨

— PFF Draft (@PFF_College) May 1, 2021
Schwartz is the first Auburn player drafted in the 2021 NFL Draft.
Anthony Schwartz has been very clear that football is now a higher priority than track.
He dedicated himself to football prior to the 2020 season and had his career-best year.
Though he had another year of eligibility at Auburn, he declared for the draft because he felt he learned everything he could while at Auburn.
His decision was further reinforced when Auburn fired head coach Gus Malzahn.
Schwartz has spent the spring training at Yo Murphy Performance in Tampa, Florida; Randy Moss and Reidel Anthony have also trained there.
He is described as a hard worker and great learner.
Regarding Schwartz, Murphy said:
"He's very hard and easy to coach because he's going to lock in and do everything you say, so you better not say the wrong thing."