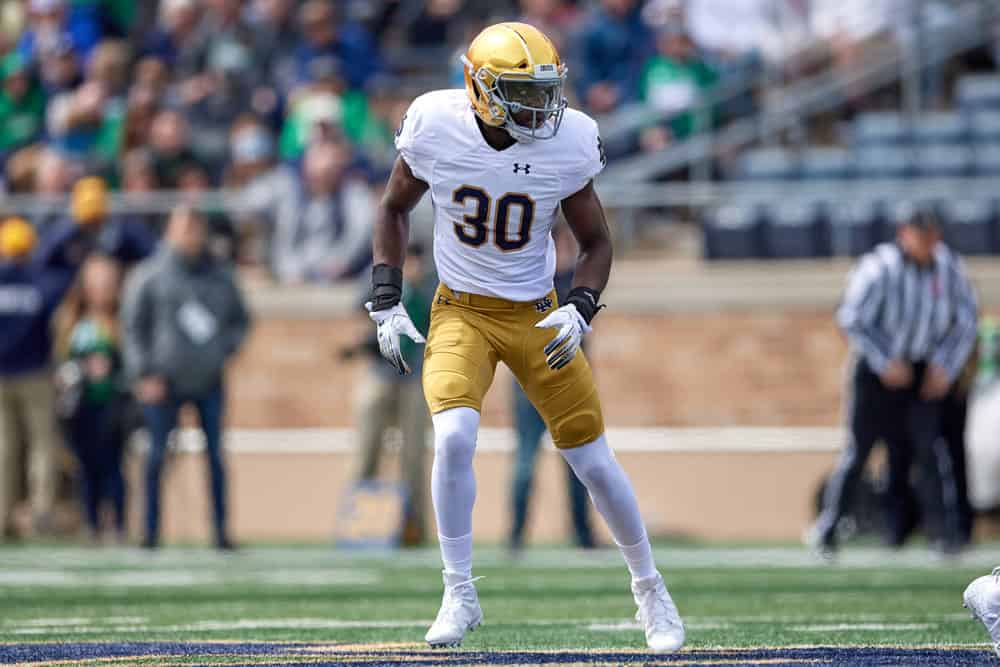 Most NFL mock drafts named Jeremiah Owusu-Koramoah of the Cleveland Browns a top-3 linebacker.
But JOK is more than a linebacker, with most analysts describing multiple ways he helps a defense.
His falling status in the draft surprised most observers, including those stationed inside NFL Draft war rooms.
NFL NEWS | Browns Get A Steal By Drafting Notre Dame LB Jeremiah Owusu-Koramoah In The Second Round!
WATCH NOW!https://t.co/vHZCudDiWA pic.twitter.com/RtQzZzUR7w

— Garrett Bush (@Gbush91) May 1, 2021
Owusu-Koramoah's versatility prompts some confusion about how to use him.
His relatively small stature opens debate over whether he is better used as an NFL linebacker or safety.
GMs might have thought twice about how JOK fits into their own scheme.
But most analysts agree he is a great fit for Joe Woods' system.
When the commissioner called Greg Newsome II's name at the 26th spot, nobody expected Cleveland to get a second chance.
#Browns Chief Strategy Officer Paul DePodesta said that before he left the room for the press conference, Jason Tarver, Joe Woods and Kevin Stefanski were already at the white board planning all the things they'll be able to do with Jeremiah Owusu-Koramoah

— Camryn Justice (@camijustice) May 1, 2021
But Andrew Berry swung into action as Owusu-Koramoah fell deeper into the second round.
And that is why JOK is a Cleveland Brown today.
Here are 3 things to know about the Browns' LB Jeremiah Owusu-Koramoah.
1. JOK Isn't The Most Famous Athlete From His High School
Owusu-Koramoah boasts an impressive college career and is now a budding NFL star.
But he'll have to work hard to become his high school's most famous athlete.
That is because NBA star Allen Iverson is also an alumnus of Bethel High School in Hampton, Va.
And Iverson might even own the title of Bethel's best-ever football player, too.
Throwback Thursday: Virginia's top HS football player in 1992, Bethel High QB Allen Iverson pic.twitter.com/LRRW8pvjiA

— Darren Rovell (@darrenrovell) September 8, 2016
While walking among Iverson memorabilia, JOK became a 3-star college football recruit.
He turned down Virginia and Michigan State to attend Notre Dame.
The newest Browns linebacker burst onto the college football scene as a junior with 13.5 tackles for a loss.
JOK's speed is impressive, but his jarring hits drew the attention of NFL scouts.
If NFL coaches and GMs aren't sure what to make of him, they could ask how Notre Dame figured him out.
2. JOK- A Physics Professor's Project 
Jeremiah Owusu-Koramoah, more popularly known as "Wu" than JOK, is an athletic phenomenon.
People paid to write about college football have difficulty explaining Wu's abilities.
In fact, the Athletic's Pete Sampson once wrote that he was tempted to consult some physics professors about JOK's consistently effective hits.
PJ Moran, who happens to be a physics professor at the US Naval Academy, answered the call as the Twitter video below explains:
Going to be watching Jeremiah Owusu-Koramoah very closely today
pic.twitter.com/VyBdTfy9gB

— Chris Mallee (@mallee_chris_24) January 1, 2021
Moran breaks down Wu's hitting technique and its effect with a professor's expertise.
But most football fans only understand how Owusu-Koramoah's hits make them react.
Usually, it is with a cringe of projected pain, often with an audible, "Ouch!"
"Wu" is the 2020 Dick Butkus Award winner (best college linebacker) and the ACC Defensive Player of the Year for a reason.
He is also a unanimous-choice All-American selection.
3. Did JOK Call His NFL Draft Destiny? 
Like most of the NFL Draft analysts, Owusu-Koramoah is surprised he fell into the second round.
Before the draft, JOK told reporters which NFL team could best utilize his game.
And like many Browns fans, it seems he tried to speak his draft selection into existence.
At least based on what Tyler James, a sportswriter for Notre Dame Insider, remembers:
Jeremiah Owusu-Koramoah selected by the Cleveland Browns at pick No. 52. He said this about the Browns and culture before his Pro Day last month. pic.twitter.com/OIYagzVw2o

— Tyler James (@TJamesNDI) May 1, 2021
JOK's favorable impression of the Browns isn't just the result of his first Zoom interview.
He watched Cleveland play last season and imagined how he fits into their scheme.
Today, millions of Browns faithful imagine how Wu looks in the middle of their favorite defense.
And that explains the abundant smiles around the Greater Cleveland Area.