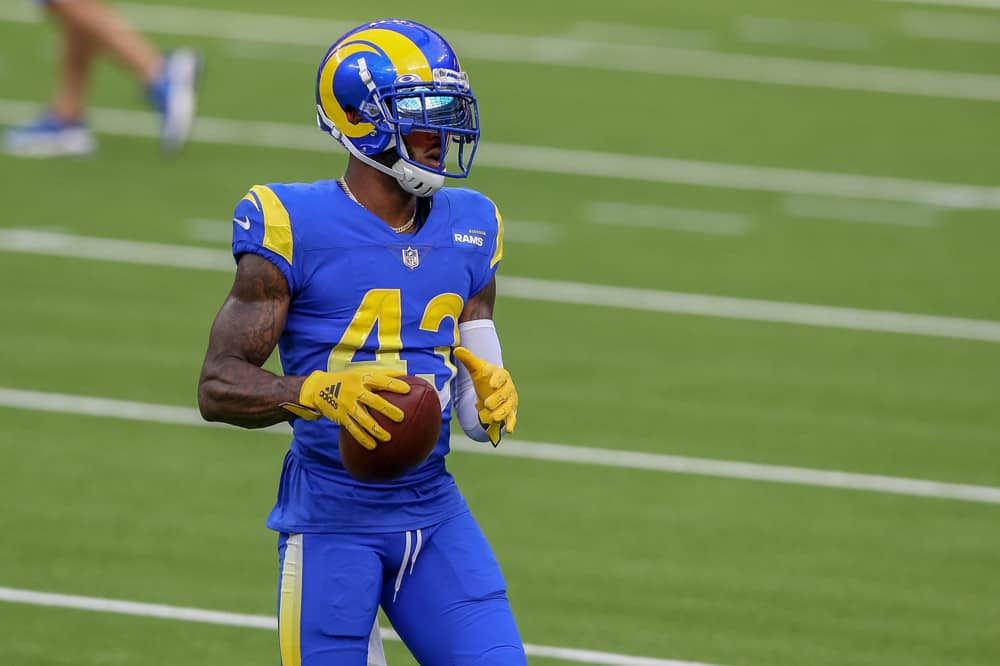 John Johnson III is ready to shore up the Cleveland Browns' defensive backfield after agreeing to a 3-year deal.
Browns GM Andrew Berry wasted no time addressing a position of need, although he didn't blow away the competition.
From Free Agency Frenzy: The #Browns landed their top target in free agency, signing #Rams S John Johnson III to a three-year deal. pic.twitter.com/XI2npBuGFK

— Ian Rapoport (@RapSheet) March 15, 2021
At least one team is believed to have offered more money for the talented safety.
But Johnson chose to accept Cleveland's offer in an apparent sign of faith in the Kevin Stefanski-era Browns.
Los Angeles lamented the loss of not only a great football player but a community presence as well.
Johnson was often the face of the franchise at events and programs around the Rams facilities.
But his football prowess is pretty good, too, if you believe in the Pro Football Focus player evaluations.
Browns safeties earned the worst cumulative grade in the league last season at 48.2

John Johnson III: 85.3 PFF Grade in 2020 (3rd) pic.twitter.com/jFVHUn1lQ8

— PFF (@PFF) March 15, 2021
Cleveland's new safety ranked third overall last season at his position and 7th overall in 2018.
He racked up 350 tackles and 8 interceptions in about three and a half seasons with L.A.
He was ranked the 24th best available free agent and among the top safeties.
But what else can we tell you about Andrew Berry's latest free agent?
Here are 3 things to know about the Browns' new safety John Johnson III.
Johnson Already Lost a Game For the Browns! 
Well, to be precise, Johnson didn't so much lose a game for the Browns as he won a game for the Rams.
In Week 3 of the 2019 season, it was John Johnson who picked off Baker Mayfield to seal a 20-13 victory over Cleveland.
Game Recap: John Johnson III's late interception seals 20-13 Rams win at Browns – https://t.co/AOy4hn83bs https://t.co/USLQuepadn

— ゴルフニュースまとめ (@fishas0607) September 23, 2019
We mention that not to make Johnson feel bad as much as to reiterate his pass coverage skills.
Johnson was ranked 4th in pass coverage among all safeties in 2020, and 4th in pass breakups.
Browns safeties overall ranked in the bottom tier of the NFL in pass coverage.
In fact, Johnson's overall PFF grade of 85.3 almost doubles the Browns team safety rating of 48.2.
Johnson Was Traded Twice Before He Signed a Contract! 
Former Rams GM Les Snead selected John Johnson III with the 91st overall pick, a third-rounder in the 2017 draft.
But that pick already had quite the travel history before Johnson's name was finally attached to it.
The 91st selection spot originally belonged to the Kansas City Chiefs.
John Dorsey, then the Kansas City GM, dealt that pick and his 2017 and 2018 first-rounders to Buffalo.
Buffalo Bills 2017 NFL Draft order changed again after trade with Los Angeles Rams https://t.co/YuOgsrhojs pic.twitter.com/yGoXvGiLLD

— Zesty Buffalo Bills (@zesty_bills) April 29, 2017
In return, the Chiefs landed the Bills' 10th overall selection, which became quarterback, Patrick Mahomes.
Buffalo then traded the 91st pick, along with the 44th to the Rams in order to move up in the second round.
Zay Jones was the player Buffalo moved up to select.
The Rams turned their two picks into tight end Gerald Everett and the new Browns safety, John Johnson III.
Johnson Is Ready To Lead On the Field And Off
John Johnson "wore the green dot" for the Rams' defense.
That means he spoke with the coaches on the sideline and relayed the plays in the huddle.
He lined players up, called audibles, and carried the stats to make him a natural on-field leader of the defense.
Fans can expect him to slide into that role in Cleveland, too.
One note on John Johnson III that isn't in a contract detail or bottom line ticker…was often the Rams' face and voice in the community. Beloved member of that franchise for years. Made biggest INT in franchise history, too.

Great culture addition by Cleveland, on top of ball.

— Peter Schrager (@PSchrags) March 15, 2021
Team leaders tend to have their opinions sought by the press and pundits off the field.
And Johnson is more than comfortable in front of a TV camera or microphone.
He told TheRams.com's Sarina Morales his camera presence and comfort come naturally.
But it's possible selecting a communications major at Boston College helped him along.