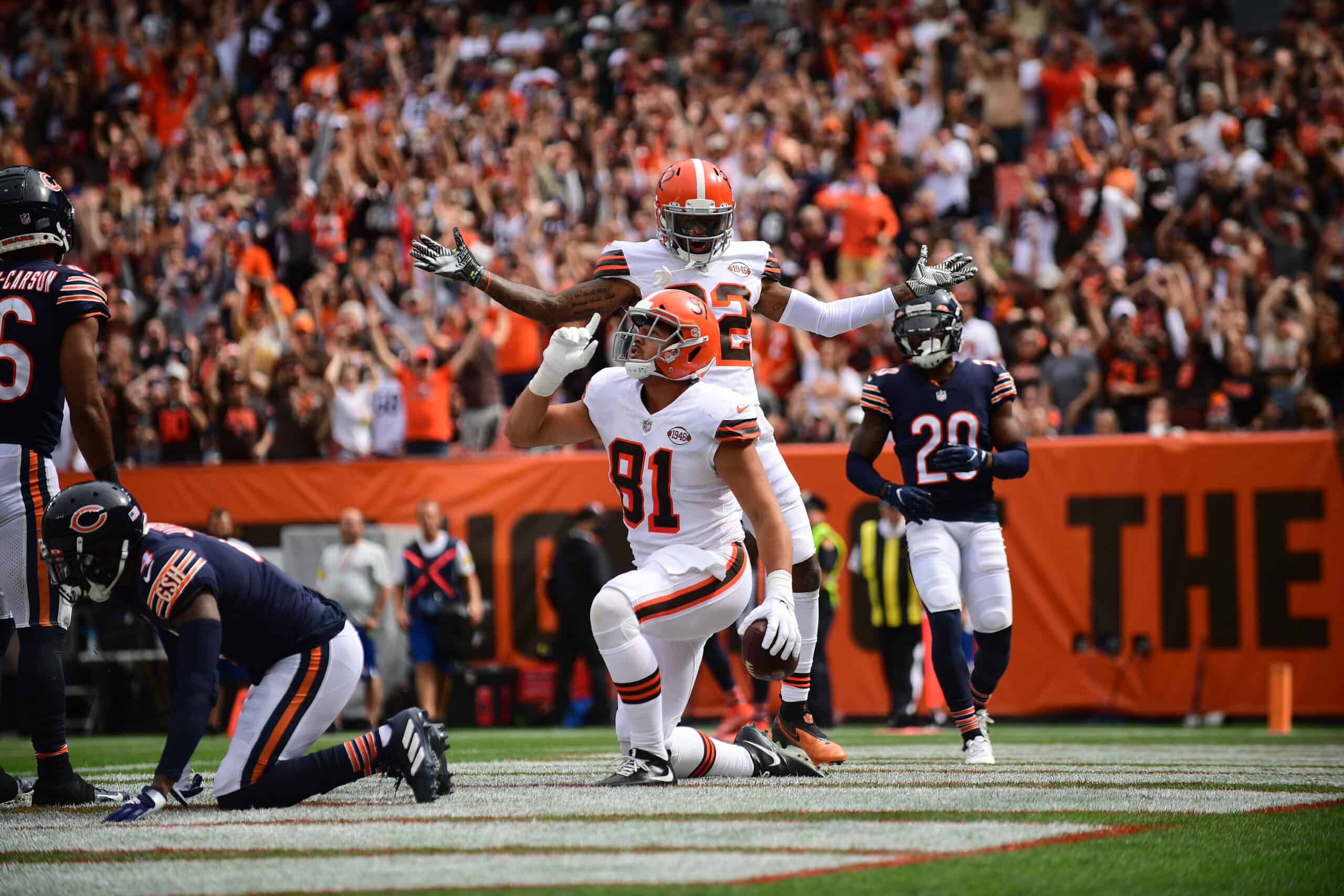 The Cleveland Browns won big in Week 3 over the Chicago Bears by the score of 26-6.
It was tight early as the Browns offense seemed a little off kilter, but good things started to happen in the second quarter.
And the game rolled on from there.
Here are three things we learned from the Browns' win over the Bears.
Spoiler alert: We might have known some of these before, but we were reminded during the game.
1. The Browns Defense Looked Outstanding
Remember how we spent months talking about how talented this Browns defense is on paper?
Then, we spent the last two weeks impatiently waiting for things to click.
Today was the glorious day when everything clicked into place.
The lack of pass rush and blitzing we wondered about in the previous two games are in the past.
Myles Garrett had a huge game.
That really is an understatement even for someone as talented and competitive as he is; his 4.5 sacks were incredible.
MYLES GARRETT. 4.5 SACKS.

📺: #CHIvsCLE on FOX
📱: NFL app pic.twitter.com/8iqoPoRiWa

— NFL (@NFL) September 26, 2021
In his postgame press conference, Coach Stefanski attributed the defensive domination to an excellent week of practice.
"It was great, but what I would tell you is these guys practiced their tails off this week. In particular on Thursday, which is our third down day, we were flying off of the ball and executing the games. I really believe you take the practice field to the games. I would tell you that the guys were outstanding during the week and then they showed up today."
2. Kareem Hunt Is A Stud
We talk about Hunt's abilities both running and catching the ball.
Today, it was on display yet again.
He had 81 yards rushing on 10 carries and 1 touchdown while catching 6 passes for 74 yards.
Hunt is so aggressive and practically impossible to bring down.
Every time Kareem Hunt runs, he acts like it's the last time he's ever going to be able to run again.

— I'm Mr. Brightside (@_blue42) September 26, 2021
Early in the game when the offense was not settled in, Hunt was one of the players that stepped up to turn things around.
He has been a game changer and a key player in other games, but arguably he did some of his best work as a Cleveland Brown today.
This is quite possibly the best game Kareem Hunt's had with the Browns.

— Andrew Gribble (@Andrew_Gribble) September 26, 2021
Coach Stefanski talked about Hunt's play in the postgame press conference.
"Kareem runs very hard. When it is there, he runs hard and makes great yards. When it is not there, he is still running hard and he is spinning out of it. I have seen it live and in living color with a great seat the last couple of years to see this kid fight for every yard out there. He has a great mentality and is a team guy all of the way. We are certainly were leaning on him there in moments."
3. Justin Fields Is A Rookie
The Browns gave Fields a special welcome to the NFL.
In his first NFL start, Fields never seemed to have enough time to get settled.
He was sacked 9 times for 67 yards.
Fields only completed 6 out of 20 passes for 68 yards.
His legs can usually help him get out of sticky situations.
That did not work today either.
He had 3 rushes for 12 yards.
Fields finally lost a game in the state of Ohio, but he is just beginning his NFL journey.
These are the growing pains.
As if could not get much worse, Bears Coach Nagy hinted that Fields may have injured his hand at the end of the game.
Fields said it is fine.
Justin Fields told reporters his hand is fine. https://t.co/NFPwT06BlN

— Ian Rapoport (@RapSheet) September 26, 2021
This was a huge team win that happened once the Browns took over this game and completely dominated, and we loved it.