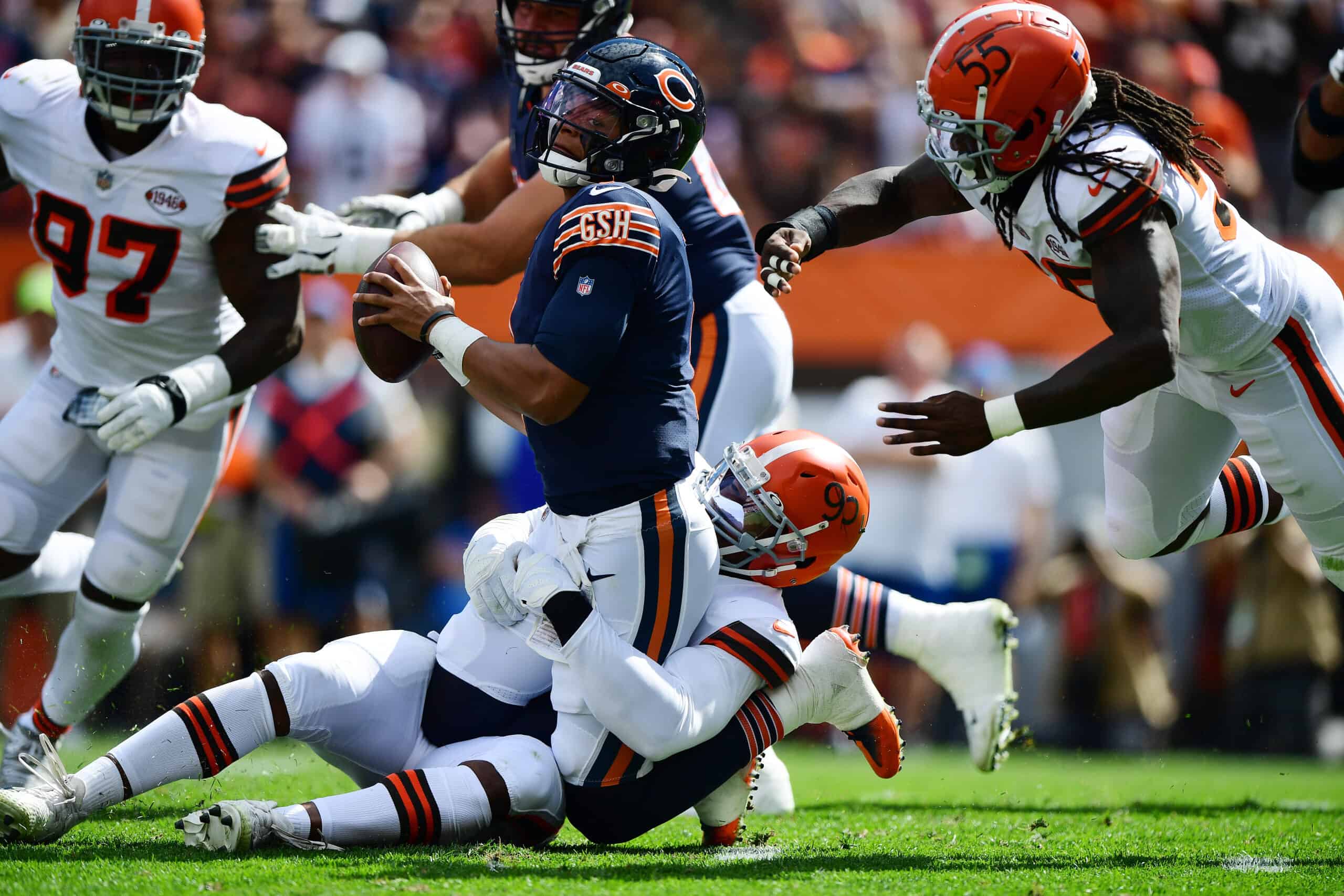 Baker Mayfield didn't have his A-game going and Nick Chubb put up a merely human 3.8 yards-per-carry.
But regardless of what the scoreboard said, the outcome of the Cleveland Browns game was never really in doubt.
Myles Garrett and his defensive teammates smothered Justin Fields and the entire Chicago Bears offense.
VICTORY FORMATION!!! #CHIvsCLE

— Cleveland Browns (@Browns) September 26, 2021
The former Ohio State star wound up with 1 net yard passing as his team managed only a pair of field goals.
Mayfield made some plays when he had to, including several scrambles to extend drives.
But it was a great effort by Kareem Hunt that carried the team to a 26-6 win over the visitors.
The Browns held the Bears to 47 yards of offense.

It's the fewest yards Cleveland has allowed since 1946.

Yep. 1946. pic.twitter.com/INXzzeEOZK

— NFL on CBS 🏈 (@NFLonCBS) September 26, 2021
Cleveland wound up outgaining Chicago 418-47 with almost 40 minutes of possession.
Here are the studs and a dud from the Cleveland Browns game against Chicago.
STUD: Myles Garrett (7 tackles, 4.5 sacks., 6 QB hits) 
Myles Garrett did not play poorly in the first 2 games, as his 3rd-best 6 quarterback hurries attest.
But with only 1 sack to show for his effort, he heard some folks question his abilities last week.
He needed a big game to get his mojo back, and you might say, he over-performed.
What a historic day for @flash_garrett! pic.twitter.com/bJvNWC3GGe

— Cleveland Browns (@Browns) September 26, 2021
Garrett grabbed a team-record 4.5 sacks of elusive rookie quarterback Justin Fields.
Two of those sacks required Garrett to run down the passer from behind.
He just missed another as Fields escaped his grasp with the help of his linemen late in the game.
That's a franchise record for sacks in a game for @Flash_Garrett.

📺: #CHIvsCLE on FOX
📲: Browns mobile app pic.twitter.com/nEl2Qn8kLJ

— Cleveland Browns (@Browns) September 26, 2021
Garrett hit Fields 6 times to keep him on his heels,  but his best play might have come on Saturday.
That was when he threw the gauntlet down to his teammates to rise up with a big game on Sunday.
STUD: Kareem Hunt (155 total yards, TD) 
Chicago's defensive front keyed on Nick Chubb from the get-go.
Chubb was off to a slow start with a series of short gains leading to long third downs.
But Hunt brought a different gear to the field, averaging over 8 yards per rush.
KAREEM HUNT WON'T BE DENIED💪pic.twitter.com/bjlTjTdzbd

— PFF CLE Browns (@PFF_Browns) September 26, 2021
He also caught a team-high 6 catches (on 7 targets) for 74 yards.
And it was Hunt's brilliant 29-yard touchdown run in the second half that finally gave Cleveland a little breathing room.
DUD: Jedrick Wills Difficult Day 
It would be easy to shrug off Jedrick Wills' bad day to his injured ankle.
After all, Blake Hance spelled Wills several times to let him get treatment on the sidelines.
But right from the start, Wills had some high-profile misses.
#Browns Jedrick Wills Jr. walked off the field holding his ankle. Blake Hance in at LT.

— Camryn Justice (@camijustice) September 26, 2021
We spotted Wills several times standing alone while his defender was making a tackle.
He allowed several QB hurries, at least one sack, and let his defender go on a Nick Chubb run that let the Bears stuff it.
Maybe Stefanski takes some blame for not having a viable plan B, but Wills had the worst of some subpar line performances.
STUD: Chase McLaughlin, (4 FGS, 2 Extra Points)
Kevin Stefanski tried to convert 4th downs on each of the Browns' first two possessions.
After turning the ball over on downs both times, he went for a field goal on his third opportunity.
But it wasn't just another field goal; it was a 57-yard attempt by Chase McLaughlin.
Chase McLaughlin hitting a 57-yard FG just secured his spot for maybe the rest of the year. #Browns

— Hayden Grove (@H_Grove) September 26, 2021
McLaughlin nailed it, along with a 52-yarder later in the game and 2 short field goals and extra points.
Stefanski might never go for it on fourth down again.
And Browns fans believe they have a kicker they can count on… for at least another week.
STUD; Jeremiah Owusu-Koramoah (.5 sack, TFL, 2 PD, QBH)
Jeremiah Owusu-Koramoah was all over the field Sunday.
He stopped several plays in their tracks and helped control momentum with his speed and strength.
JOK improvised a blitz when he realized there was nobody in a position to stop him from nailing Herbert on one play.
Jeremiah Owusu-Koramoah played out of his mind in the 1st half. This kid is special. Here's a couple highlights. And that sack is not a designed play. JOK saw an opening to the QB and he took it. #Browns pic.twitter.com/nhPu7B6WnW

— Roberto Shenanigans (@Rob_Shenanigans) September 26, 2021
And later in the game, it looked like Justin Fields might be finding a rhythm.
Fields had just completed a nice first-down pass and a Chicago receiver grabbed what looked like another chain-mover.
But Owusu-Koramoah made a nifty play to poke the ball out of the receiver's hands, and stop the Bears' momentum.
Other Notables: Clowney, Mayfield
Baker Mayfield did not have a great game Sunday, but he fought through it.
He missed several open receivers for long gainers, usually overthrowing his mark.
But he also gutted out his shoulder injury, made some key throws, and scrambled effectively to extend drives.
The Browns defense pressured Justin Fields on 55.2% of his dropbacks, tied for the 4th highest pressure rate by any team in a game since last season.

Myles Garrett
🔸 7 QBP on 25 pass rushes (28.0%)

Jadeveon Clowney
🔸 8 QBP on 25 pass rushes (32.0%)#CHIvsCLE | #Browns pic.twitter.com/Z3rXksph2Q

— Next Gen Stats (@NextGenStats) September 26, 2021
Jadeveon Clowney, on the other hand, had a great game with 5 QB hits and 2 sacks.
He was a force along the line, drawing attention away from Myles Garrett.
Demetric Felton teased fans with some great moves on returns but left us waiting for his first touchdown.