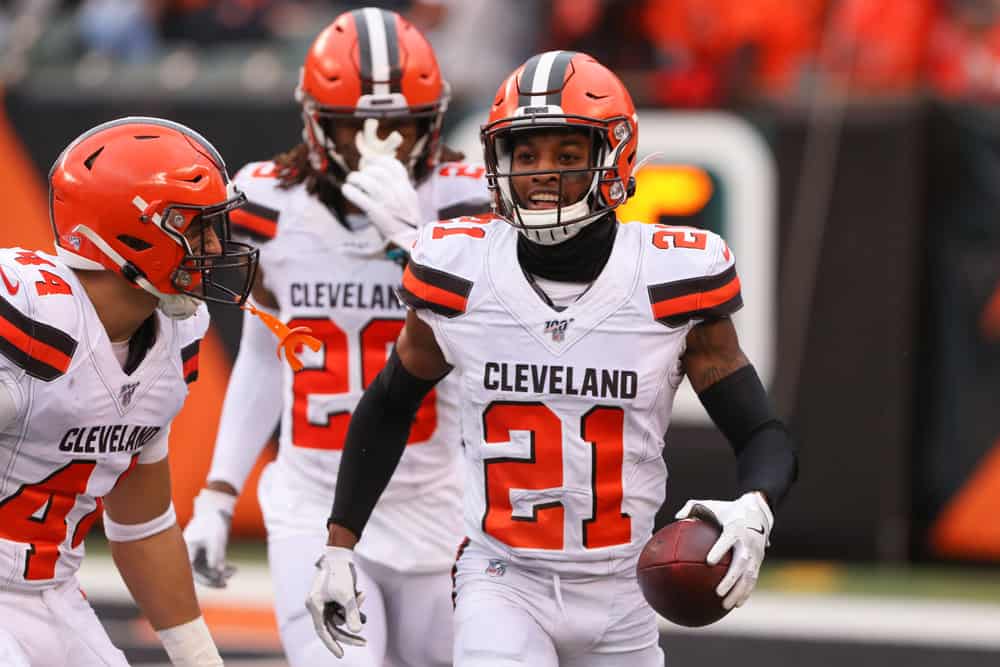 Training camp gets closer and closer, but it still feels like there are unanswered questions with the Cleveland Browns.
Surely, there are more than five questions that come to mind.
However, as we sit in the middle of July, I find myself asking my inner voice these questions quite a bit.
Maybe, you have some answers that my inner voice has not produced.

1. Will There Be A NFL Game Played In Cleveland?
Right now, I just don't know how attainable an NFL season is.
My main role in life is serving as an educator in a high school and as a cross country, basketball, and track coach.
Having open gyms for basketball has been brutal.
We have to wear masks inside, take temperatures, do wellness checks, and all scrimmages are off-limits.
I understand that professional sports are a totally different playing field, but the more I talk to high school coaches, the grimmer it looks.
As of now, 7-on-7 tournaments have been canceled and are prohibited in the state of Illinois.
I pray that football is back because not only does the world need it, our youth needs it just to function in the classroom and in their daily life.
As of now, my voice is telling me the pro season is a coinflip.

2. Can Odell Be A True No. 1?
On a more positive note, let's say that this season will happen.
When I think Odell Beckham Jr., I think athletic, talented, potential, and beast.
Then, he gets on the football field, and it feels like excuses and immaturity.
Odell hasn't ranked in the top-10 in receiving yards since 2016, where he hauled in 101 receptions (third-best that season) for 1,367 receiving yards.
In your head, when you think of the best receiver on the team, you don't think Jarvis Landry right off the bat, right?
Landry was the one that finished in the top-10 in receiving yards last year.
Just think if Odell can regain top-10 form.
Odell Beckham Jr. doing Standing Triple Jump as part of his Off-Season Training Program

✅ Sprint
✅ Jump
✅ Skip
✅ Bound

🔑 These are essential components of any Football Training Program.

💰 They cost you nothing.

🚫 You don't need a weight room. pic.twitter.com/axIcGY5A3u

— Coach Dan Casey (@CoachDanCasey) July 10, 2020
3. Will Myles Garrett Regress? 
This question came to mind right after Garrett signed his mega five-year extension.
Chicago Bears pass rusher Khalil Mack went from 12 sacks to 8.5 last season.
Los Angeles Rams star Aaron Donald went from 20.5 to 12.5.
Granted, both players are superstars on defense, but it's something about getting the big contract that turns some players' performance into sub-par.
Myles Garrett has yet to prove to me that he is the next Mack or Donald-like player.
Hopefully, he proves the doubters wrong.

4. Which Draft Pick Will Make The Biggest Impact?
I believe the easy answer is Jedrick Wills Jr. because he is going to be thrown into the fire immediately.
However, don't sleep on safety Grant Delpit.
Delpit was considered first-round caliber talent leading up to the draft.
Compared to Anthony Sendejo, Delpit appears to have superior talent.
The Browns have signed their 2nd round pick, LSU S Grant Delpit.

Cleveland has now signed its entire 2020 draft class!!! pic.twitter.com/dDUtgyhYOV

— Cleveland Sports Talk (@CLEsportsTalk) July 15, 2020
5. Can Kareem Hunt Contribute On A High Level?
This is my favorite question in my head.
If the Browns can pull off a Mark Ingram-Alvin Kamara scenario in Cleveland, then there could be no stopping this offense.
Nick Chubb is going to get you 1,000-yards receiving by powering himself through the lines.
Hunt is not going to rush for 1,400 yards this season, but could he pull off what Kamara did his rookie season in 2017?
Kamara went for 728 rushing yards and 826 receiving yards.
In that same season, Ingram rushed for over 1,100 yards.
Combine that with the rest of the weapons on offense, this Browns offense could be a top-5 contender each week.