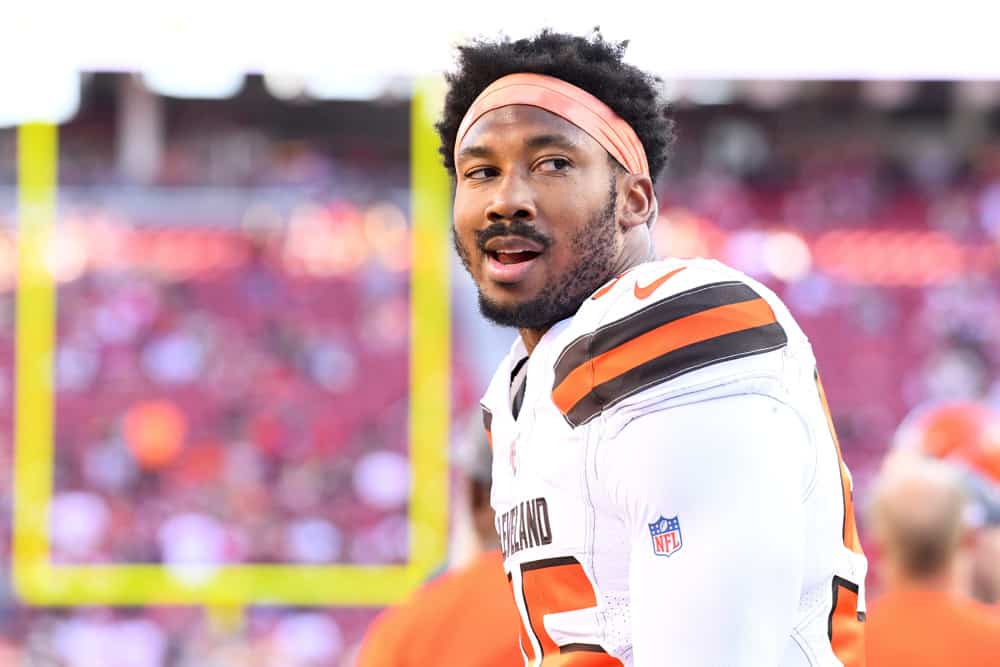 Defensive end Myles Garrett is the highest-rated member of the Cleveland Browns in the "Madden NFL 21" video game headed into the season.
Garrett is rated a 93 overall coming off Tuesday's news he is finalizing a five-year, $125 million contract extension with the Browns, which includes $100 million in guarantees.
The 24-year-old defensive end jumped two points from last year's initial ratings.
Garrett is the ninth-highest-rated pass rusher in this year's video game.
Here are the top pass rushers in "Madden NFL 21":
Aaron Donald, RE, Los Angeles Rams: 99 overall
J.J. Watt, LE, Houston Texans: 98 overall
Khalil Mack, LOLB, Chicago Bears: 97 overall
Von Miller, LOLB, Denver Broncos: 97 overall
Fletcher Cox, DT, Philadelphia Eagles: 96 overall
Cameron Jordan, LE, New Orleans Saints: 96 overall
Chandler Jones, LOLB, Arizona Cardinals: 95 overall
Calais Campbell, RE, Baltimore Ravens: 95 overall
Myles Garrett, RE, Cleveland Browns: 93 overall
Chris Jones, DT, Kansas City Chiefs: 92 overall
QBs beware of these pass rushers 😳

Thoughts? #Madden21 @EAMaddenNFL pic.twitter.com/brUHA5LcvC

— ESPN (@espn) July 15, 2020
Garrett is tied for the game's third-best power-move rating at 96, and tied for eighth-best strength rating at 96.
This is your Top 10 for Power Moves in #Madden21 💪

(via @ESPN) pic.twitter.com/VQI4uW3sl5

— Madden NFL 21 (@EAMaddenNFL) July 15, 2020
The STRONGEST men in the NFL 💪 💪 💪@EAMaddenNFL #Madden21 pic.twitter.com/isoOLxI4vS

— NFL on ESPN (@ESPNNFL) July 15, 2020
While sacks don't tell the complete picture of a pass rusher's ability — there are several other metrics like quarterback pressures, quarterback hits, tackles, tackles for a loss, etc. —Garrett is averaging 0.82 sacks per game since coming into the league in 2017.
Only Jones (1.02), Donald (0.96) and Jordan (0.84) have a higher sack-per-game rate.
The Browns and DE Myles Garrett are close to a contract that would make him the highest-paid non-QB in the NFL (7 yrs/$144M, including 2 yrs left on rookie deal).

Since being drafted 1st overall in the 2017 Draft, Garrett has the 4th-highest sacks per game rate in the league. pic.twitter.com/iGZnWymcxy

— ESPN Stats & Info (@ESPNStatsInfo) July 14, 2020
Garrett's 30.5 sacks from 2017-2019 rank 11th in the NFL during that span.
When the NFL suspended Garrett indefinitely for ripping off the helmet of Pittsburgh Steelers quarterback Mason Rudolph and hitting him with it on Nov. 14, the Browns defensive end had 10 sacks, tied for fourth in the league.
Garrett finished the 2019 season playing 10 games with 29 tackles, 11 tackles for loss, 18 quarterback hits and two forced fumbles.
NFL Commissioner Roger Goodell reinstated Garrett in February.
Since the Browns selected Garrett with the first overall pick of the 2017 NFL Draft out of Texas A&M, he made the Pro Bowl in 2018, logged 104 total tackles, 30.5 sacks, six forces fumbles and four passes defended in 37 games.
From 2011-2017, the Browns made 12 first-round picks:
Phil Taylor, DT, Baylor: 21st overall pick of the 2011 NFL Draft
Trent Richardson, RB, Alabama: Third overall pick of the 2012 NFL Draft
Brandon Weeden, QB, Oklahoma State: 22nd overall pick of the 2012 NFL Draft
Barkevious Mingo, OLB, LSU: Sixth overall pick of the 2013 NFL Draft
Justin Gilbert, CB, Oklahoma State: Eighth overall pick of the 2014 NFL Draft
Johnny Manziel, QB, Texas A&M: 22nd overall pick of the 2014 NFL Draft
Danny Shelton, DT, Washington: 12th overall pick of the 2015 NFL Draft
Cameron Erving, C, Florida State: 19th overall pick of the 2015 NFL Draft
Corey Coleman, WR, Baylor: 15th overall pick of the 2016 NFL Draft
Myles Garrett, DE, Texas A&M: First overall pick of the 2017 NFL Draft
Jabrill Peppers, S, Michigan: 25th overall pick of the 2017 NFL Draft
David Njoku, TE, Miami: 29th Overall pick of the 2017 NFL Draft
Garrett is the first of those 12 players to sign a second contract with the Browns.
A wild stat: the Browns made a total of 12 first round picks between 2011-2017. Myles Garrett just became the first of those 12 players to sign a second contract with the team.

— Field Yates (@FieldYates) July 15, 2020
Fellow Browns teammate Nick Chubb is rated just behind Garrett at 92 overall.
Wide receiver Odell Beckham Jr. is rated a 91 overall, making him the only other Browns player in the 90 club.
The non-EA Sports-affiliated website Madden School posted the Top-10 players from each team.
The site has posted the ratings early in older versions of "Madden" in previous years.
Here are the next seven highest-rated Browns, according to Madden School:
 Austin Hooper: 89 overall
 Kareem Hunt: 87 overall
Denzel Ward: 86 overall
Joel Bitonio: 86 overall
Jarvis Landry: 85 overall
Olivier Vernon: 82 overall
Sheldon Richardson: 81 overall
Last season, quarterback Baker Mayfield entered the 2019 season rated an 83 overall.
We'll see how far Mayfield's rating drops headed into the 2020 season.
"Madden NFL 21" is scheduled for an Aug. 25 release.