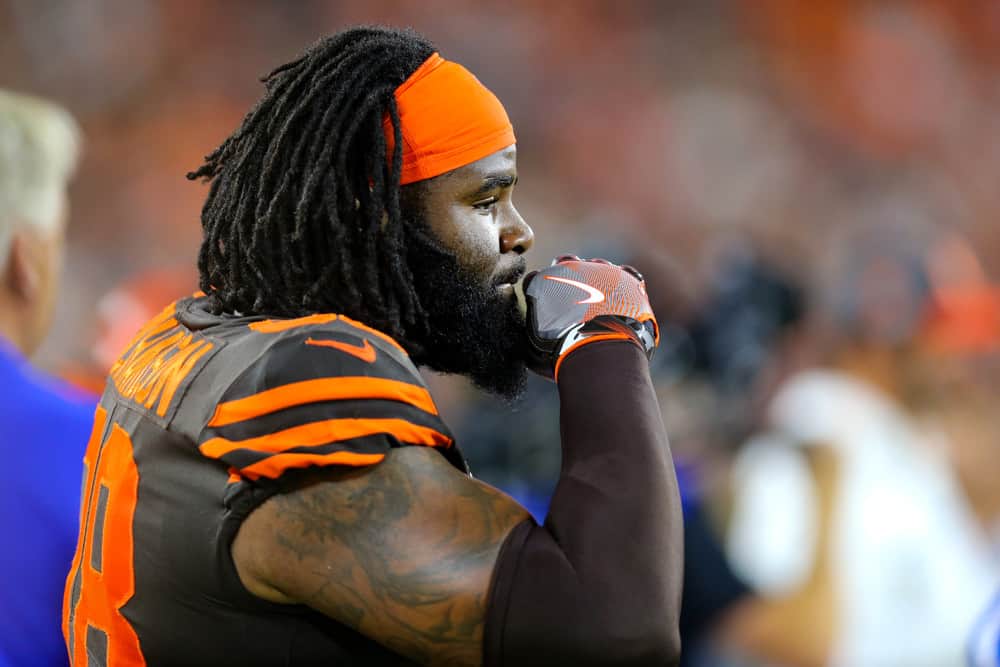 Just a few days ago, it seemed Andrew Berry could do no wrong in the minds of Cleveland Browns fans.
But into every life, a little rain must fall, even the best cookie crumbles, and sometimes reality stinks.
And so it is that Andrew Berry released Sheldon Richardson.
#Browns Sheldon Richardson on IG says goodbye to Cleveland. "It was just starting to feel like home." pic.twitter.com/dh2jqDiTT0

— Brad Stainbrook (@BrownsByBrad) April 16, 2021
Richardson was the most consistent and reliable presence on the Browns' front line for the past two years.
He never missed a game and made his presence felt with 126 tackles, 4 forced fumbles, and 33 QB pressures.
But he also had a high and non-guaranteed salary and a very small cap hit.
And after all, the NFL is a business as much as anything else, and $11 million is $11 million.
That didn't make the transaction any more palatable to most Browns fans.
The #Browns & Andrew Berry releasing Sheldon Richardson is…

— ESPN Cleveland (@ESPNCleveland) April 17, 2021
There was speculation earlier in the offseason that Richardson might be a salary cap casualty.
But pulling the trigger this late in free agency was a surprise.
Fans were disappointed and questioned the plan for the defensive line going forward.
But most agree Andrew Berry deserves the benefit of the doubt in the Sheldon Richardson release.
Playing the Money Game 
Up until now, the Browns' analytics-driven front office allayed fears that analytics is all about saving money.
But this wreaks of a simple financial move, at least at first glance.
Recently signed Malik Jackson and Andrew Billings' PFF grades are pretty close to Richardson's.
Berry signed the pair of them for less money combined than Richardson was set to make this season.
On the one hand, fans can argue Richardson was well worth his salary.
Sheldon Richardson: 80 total pressure since 2019

T-13th among all DI pic.twitter.com/zpwPkENLNn

— PFF (@PFF) April 16, 2021
But Berry can argue similarly rated free agents ask for half as much.
There are other veterans playing on large contracts, too.
Jarvis Landry is arguably the most vulnerable, with $11.6 million available in cap savings should he be cut.
Cleveland can open significant cap space with JC Tretter ($7.8 million) and Joel Bitonio ($10 million).
Those would be very difficult players to cut, but not that much more difficult than Richardson.
Could cutting a productive and popular veteran like Richardson spook other veterans into renegotiating?
But It's Probably More Than That 
Cleveland has some potentially expensive contract extensions coming up.
They will certainly pick up the fifth-year options on Denzel Ward and Baker Mayfield.
But Andrew Berry has 20 other unrestricted free agents (31 total) after this season.
As much as I liked/respected Sheldon Richardson, the business of the NFL always wins. That $12 million in cap savings for #Browns likely will be rolled over/to help accommodate extensions for Chubb/Mayfield/Ward

— Daryl Ruiter (@RuiterWrongFAN) April 16, 2021
Nick Chubb and Wyatt Teller headline the group, along with Jadeveon Clowney and Ronnie Harrison.
And every interior defensive lineman is only signed through this season.
Berry is more likely opening up cap space to deal with extensions than simply cutting payroll.
Cleveland might be confident they will find a rookie to plug into the defensive tackle rotation.
And the rest of the 2021 draft class might offer clues as to how Berry will handle some free agents.
Richardson's release was definitely predictable this entire offseason, and the Clowney signing pushed it over the top.

Over the next few years, the #Browns have to make decisions on Mayfield, Ward, Teller, Chubb, etc. This gives them a little more flexibility. Be patient.

— Brad Stainbrook (@BrownsByBrad) April 16, 2021
But another splash signing using most of Richardson's contract is highly unlikely.
As we saw with the Clowney contract, the NFL is giving teams a lot of flexibility to manipulate the salary cap.
And Andrew Berry is as astute as any other GM when it comes to creative roster management.
Fans can trust he has a plan, and that is why Berry deserves the benefit of the doubt regarding Richardson.