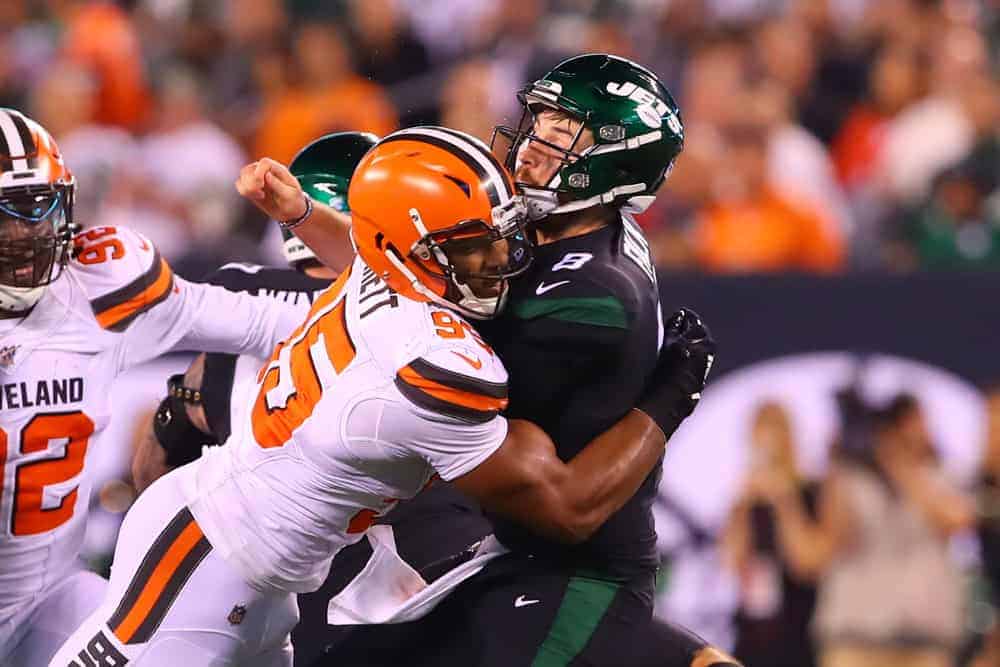 The front office has done an incredible job revamping the Cleveland Browns defense this offseason.
They've added multiple players on the defensive side through free agency.
Both safety John Johnson III and linebacker Anthony Walker should make a significant impact next season.
However, the Browns also recently added pass rusher Jadeveon Clowney on a one-year deal.
The #Browns are signing free agent pass-rusher Jadeveon Clowney to a 1-year deal after he passed his physical, sources say, landing a player who has been a target of Cleveland's for years. Fresh off a lost season in 2020, Clowney has high hopes with his new team.

— Ian Rapoport (@RapSheet) April 14, 2021
The former No. 1 overall pick came into the NFL with high expectations.
Clowney has accomplished quite a lot with three Pro Bowl appearances.
However, will Clowney and Myles Garrett be able to create one of the most dangerous pass-rushing duos in the NFL?
Buy
On paper, Garrett and Clowney should have no issues hitting the 25-sack mark next season.
Last year, Garrett recorded 48 tackles, 12 sacks, and four forced fumbles in 14 games.
His numbers did decline in the second half after he returned from COVID-19.
There is no doubting that Garrett could easily hit the 15-sack mark in a full season.
Honestly, there are only a handful of players in the league that are as dangerous as Garrett is on defense.
He attacks the quarterback with his power and explosiveness on every snap.
Myles Garrett sacks Haskins by his jersey 😅

(via @Browns)pic.twitter.com/sEiRjFkfTR

— Bleacher Report (@BleacherReport) September 27, 2020
It wouldn't be shocking to see Garrett recording around 15 sacks by himself in 2021.
However, Clowney does need to bounce back in order for them to reach the 25 sacks combined.
Over the last two seasons, Clowney has a total of three sacks, which is obviously not what anyone wants to see.
To be fair, he has been limited by injuries, so fans haven't been able to see what Clowney is fully capable of doing on the football field.
Prior to the 2019 season, Clowney put together two straight seasons with nine sacks or more.
He has made three Pro Bowls for a reason because he is a legitimate top tier pass rusher when fully healthy.
At full strength, both these players could reach the 25-sack mark together.
Sell
Over the last few seasons, the Browns have failed to put a legitimate pass rusher alongside Garrett.
He often times is forced to take on double teams and his teammates didn't take advantage of it.
Clowney was a No. 1 overall pick for a reason, but sadly he's not that same player.
The injuries have taken a toll on him over the years, which is a real shame.
Last season, Clowney had flashes of solid play with the Titans, but mostly struggled.
Clowney gets his first sack for the Titans 💪

(via @NFL)pic.twitter.com/Q14xWgMBAr

— Bleacher Report (@BleacherReport) September 15, 2020
Through eight games, he finished with 19 tackles and one fumble forced.
As mentioned earlier, Clowney has three sacks total over his last two seasons.
He will certainly be helpful alongside Garrett, but recording at least 25 sacks together could be difficult.
There is no doubting that Garrett could record around 15 sacks by himself.
However, trusting Clowney to have basically a career year at age 28 is a tough sell.
Verdict: Sell
The addition of Clowney is certainly an upgrade over Olivier Vernon.
He should be able to make a legitimate impact while Garrett continues drawing double teams.
Sadly, the two of them hitting 25 sacks together doesn't seem like a reachable goal.
Clowney has played one full 16-game season during his entire professional career.
There is a good chance that he does miss time at some point during next season.
Garrett has missed time as well, but his incredible play makes up for the lost time.
The two of them getting around 18-21 sacks seems possible, but getting over 25 combined sounds out of reach.