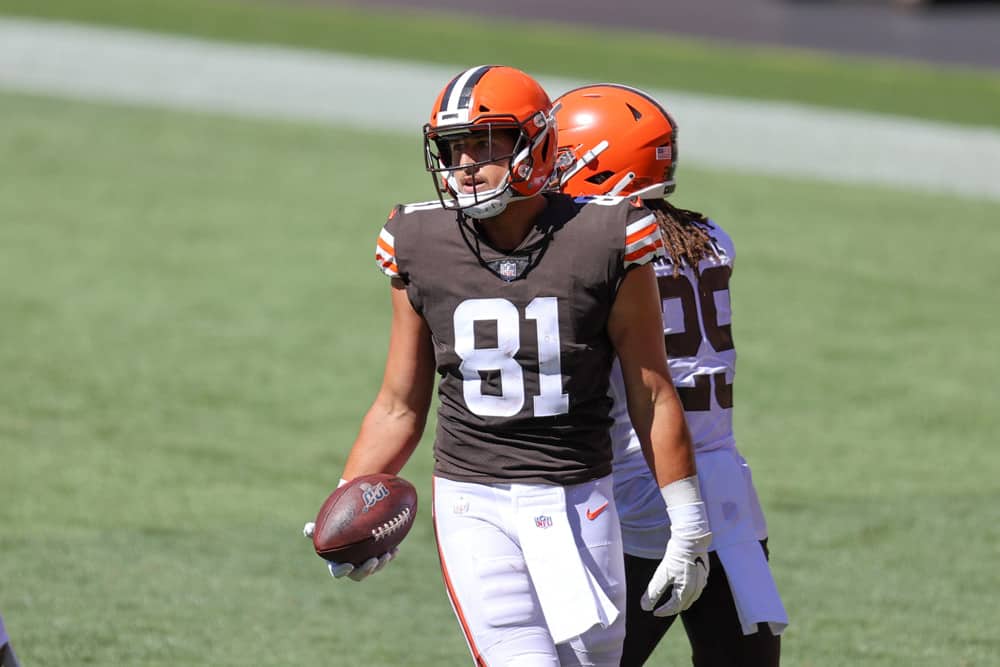 Cleveland Browns tight end Austin Hooper recently shared some of the fan reactions he got when he chose to sign with the Browns in 2020.
Recall that the Browns made a huge splash signing Austin Hooper in 2020.
He was sought after by many teams including the Seattle Seahawks, San Francisco 49ers, Green Bay Packers, and Buffalo Bills but ultimately chose Cleveland.
Hooper recently appeared with BrownsbyBrad on the BrownsWave Podcast and talked about what fans and others thought about his decision.
"They (NFL Fans) were like have fun going up to Cleveland and winning 2 games a season." – #Browns Austin Hooper on some fans reacting to him signing with Cleveland last offseason.

— Brad Stainbrook (@BrownsByBrad) April 5, 2021
"Have fun going up to Cleveland and winning two games a season." Hooper said he was told.
Hooper joked on the podcast about how those comments aged well.
He never had second thoughts about joining the Browns; Hooper picked the best place to do "something special."
The Brownswave Podcast sat down with #Browns TE Austin Hooper today to talk all about his college days at Stanford, his time in Atlanta, a time where he thought he was being traded to New England and his first year in Cleveland. Full episode out later this week. pic.twitter.com/GVVjYSoZII

— Brad Stainbrook (@BrownsByBrad) April 5, 2021
Austin Hooper's 2020
Hooper was a logical signing for Coach Kevin Stefanski's Browns.
Stefanski's trademark is using multiple tight end schemes, and Hooper is a big target.
Here's a quote from #Browns coach Kevin Stefanski about tight end Austin Hooper, who passed a physical and signed a four-year, $42 million contract today after agreeing to the deal Monday. The team announced the move tonight. pic.twitter.com/gL4wpipt8e

— Nate Ulrich (@ByNateUlrich) March 20, 2020
He got a big money contract, and some may argue that his production was not as much as expected.
To be fair, he did have an emergency appendectomy that sidelined him and also suffered a neck injury.
Hooper came up big in the playoffs and built chemistry with Baker Mayfield as the season went on.
His catch of the season, to effectively keep the season alive, was in the Kansas City Chiefs divisional playoff game.
AUSTIN HOOPER OH MY 😳 @AustinHooper18 @Browns

📺 #CLEvsKC on CBS pic.twitter.com/7K1rlZXOfz

— The Checkdown (@thecheckdown) January 17, 2021
Expect Big Things From Hooper in 2021
Hooper and Mayfield have the chemistry now so the sky's the limit.
The Browns also have plenty of uncertainty with the receiving corps including Odell Beckham Jr.'s return to the field from the ACL injury and David Njoku's attitude about his future with the Browns.
Austin Hooper also does plenty of non-statistical things on the field that help his team, most notably blocking.
With 2021 approaching, you can bet that Coach Stefanski is already thinking of bigger, better, and more creative ways to utilize Austin Hooper in the Cleveland Browns offense.