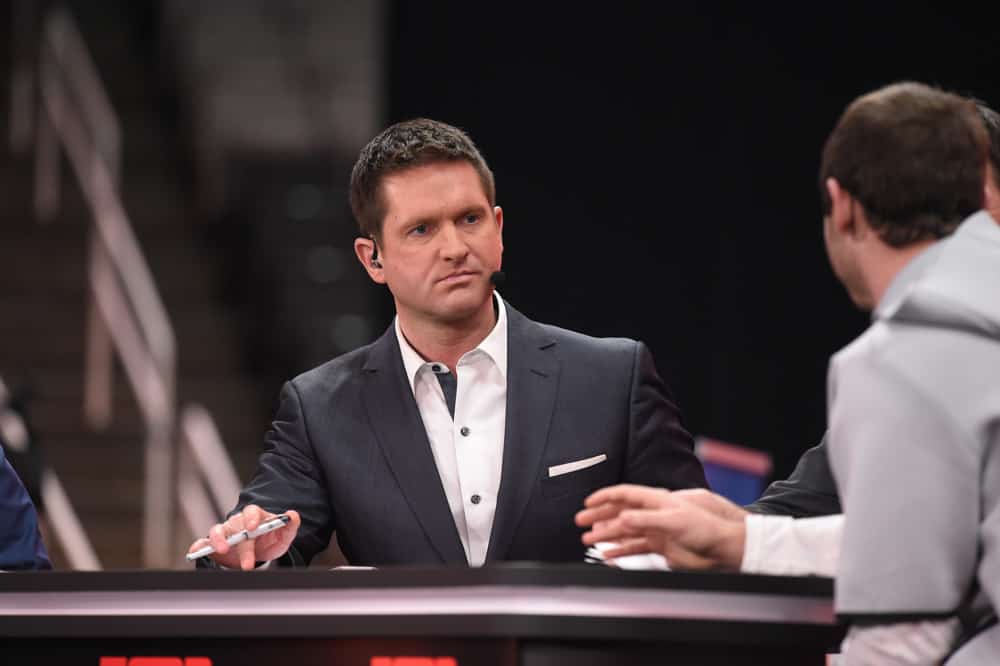 As the month of April rolls along, so do talks surrounding the NFL Draft.
The 2021 draft, slated to start at the end of the month on the 29th in Cleveland, will be crucial for many franchises around the league.
Some teams are looking to start a rebuild, while others, like the Cleveland Browns, search for pieces to help them compete for a Super Bowl.
For Cleveland, a high-level defensive end to pair with Myles Garrett continues to be talked about as one of those pieces.
The frustrations with Olivier Vernon's inconsistencies have left fans tireless in their desire for another pass rusher.
ESPN's Todd McShay seems to think Cleveland can solve that issue with the 26th overall pick.
McShay now has the Browns taking Gregory Rousseau, a DE out of Miami (FL).
In his latest mock draft, Todd McShay has the #Browns taking Gregory Rosseau, DE from Miami (FL) at 26

Grade the pick ⬇️ pic.twitter.com/aN0EdNSwu2

— MoreForYouCleveland (@MoreForYou_CLE) April 1, 2021
Change of Heart
Just a few weeks ago, McShay felt the Browns should use their first-round pick to draft Tulsa LB Zaven Collins.
Perhaps Todd feels that even after Andrew Berry signed Takkarist McKinley, an upgrade at the edge spot would still be necessary.
Enter Gregory Rousseau. McShay agrees with the thinking of Browns fans, citing the need for another legitimate edge presence.
"I just feel like putting another edge rusher on the opposite side would benefit Cleveland", McShay said over a Zoom call per clevelandbrowns.com. "The offense seems to be set, and I think the defense is where they need to continue to upgrade. I think that would be a really good spot for Cleveland in the first round to take an edge rusher."
Looking at Rousseau
First and foremost, this writer isn't in disagreement with McShay's pick.
As a quick horn-toot moment (of sorts), a mock draft from February actually had the Browns taking Rousseau with their first-round pick.
The 6'7", 265-pound end out of Miami turned a lot of heads after his 2019 season.
He sat out in 2020, but his 2019 campaign may be enough to carry him to becoming a first-round selection.
His 20 tackles for loss and 15.5 sacks both led the ACC.
Those were seventh and second across the entire NCAA respectively.
You might be wondering who in the world had more than 15.5 sacks that season.
That would be Ohio State's Chase Young.
Rousseau also has given some thought to rushing opposing passers alongside Garrett in the future.
Miami DE Gregory Rousseau says on pro day Zoom it would be "amazing" to play with #Browns All-Pro Myles Garrett. Called him "freak" athlete.

— Scott Petrak ct (@ScottPetrak) March 29, 2021
Miami held their Pro Day on March 29th, where Rousseau was not the only Hurricane defensive end in action.
Jaelen Phillips, Rousseau's edge partner in Miami, had a much better showing at Pro Day.
Official 40-yard results from @CanesFootball from two NFL scouts' ⏱:

1st Run
Brevin Jordan – 4.69/4.71
Jaelen Phillips – 4.56/4.56 🔥
Quincy Roche – 4.68/4.66
Gregory Rousseau – 4.71/4.69

2nd Run
Jordan – 4.69/4.67
Phillips – 4.58/4.59
Roche – 4.68/4.69
Rousseau – 4.74/4.72

— Jim Nagy (@JimNagy_SB) March 29, 2021
Ryan Fitzpatrick had a 30.5" vertical coming out of Harvard.

Gregory Rousseau at 30"

— Marcus Mosher (@Marcus_Mosher) March 29, 2021
Unofficial 3-cone drill results:

Jaelan Phillips: 7.01
Quincy Roche: 7.18
Gregory Rousseau: 7.50

— Josh White (@_JoshRWhite) March 29, 2021
The ACC broadcast is blown away that Jaelan Phillips is testing better than Gregory Rousseau.

You shouldn't be.

— Marcus Mosher (@Marcus_Mosher) March 29, 2021
Should teams, including the Browns be taking a closer look at Phillips instead of Rousseau?
After seeing them each at Miami's Pro Day, the masses on social media certainly seem to think so, and they may be right.
Without any footage to look at from 2020 and a disappointing Pro Day from Rousseau, his draft stock doesn't appear to be trending in the right direction.
The buzz between Phillips and Rousseau will be interesting to keep an eye on in the coming weeks.