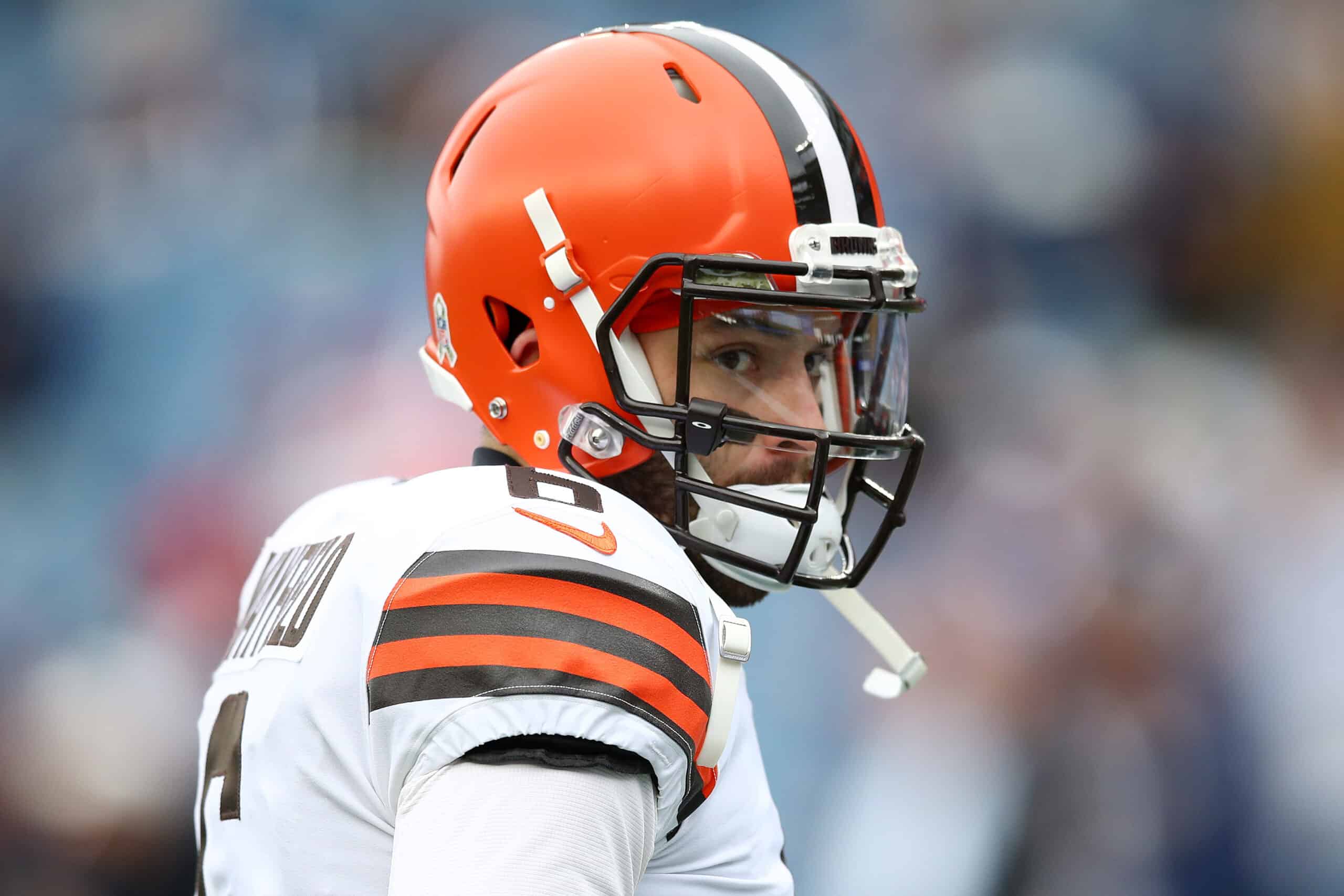 NFL football is a dangerous sport; People get hurt.
But that didn't make Baker Mayfield's admission to reporters gathered in the Cleveland Browns press room any easier to hear.
Mayfield told those around him he is,
"… probably the most beat up I've ever been. Multiple things. Not just one."
Baker Mayfield: "Pretty sore. That time of the year. One day at a time but I'll be good." Later: "Probably the most beat up I've been. Multiple things, not just one."

He was limping as he walked from the facility to the interview.

— Zac Jackson (@AkronJackson) November 17, 2021
For added effect, the embattled quarterback showed a noticeable limp to those in the Berea facilities.
Mayfield said he said he didn't know if he would practice later that day (Wednesday).
But he wasn't expecting any sympathy about his afflictions, noting, "I don't think anybody gives a damn."
And there is no indication he will not be the Browns' starting quarterback against the winless Detroit Lions.
What's Ailing Baker Mayfield? 
Everybody knows Baker Mayfield plays with a brace to protect a torn shoulder labrum and a minor fracture.
But that might not have been the injury that affected him most last week.
Baker injured his left foot in Week 9, showing some diminished mobility at times in an otherwise great game.
Some observers thought Mayfield's woes against New England were partly because he still couldn't step forward well.
This hit from Matthew Judon took Baker Mayfield out of the game with an injury. pic.twitter.com/hVJP0IMSdI

— Henry McKenna (@McKennAnalysis) November 14, 2021
There was no mention or admission to that by Mayfield or the Browns' staff.
But there is no denying the effect of his third injury, a bruised knee compliments of a Matthew Judon hit Sunday.
Mayfield said he had some difficulty walking after the game and Monday, although an MRI ruled out ligament damage.
And despite the relatively mild diagnosis of a bruise, it is the knee that seems to be most affecting Mayfield.
Should Mayfield Sit Out Week 11?  
Mayfield did not miss a start for the Browns in 2019 and 2020, something he took great pride in.
But the streak was broken when the quarterback faced a short week after exacerbating his shoulder injury.
If Kevin Stefanski would ever willingly choose to hand the ball to his backup quarterback, this is probably the game.
Detroit comes in 0-9-1 after an ugly, but hard-fought tie with the Pittsburgh Steelers.
#Browns coach Kevin Stefanski said he's confident Baker Mayfield will play Sunday despite injuries

— Nate Ulrich (@ByNateUlrich) November 17, 2021
No win is automatic in the NFL, but the Browns kick off the most difficult stretch of their schedule in Week 12.
The team needs him to be as healthy as possible, and a Week 11 rest might be just what the doctor orders.
Cleveland announced they would sit Mayfield out of practice Wednesday and call his status a "day-to-day" decision.
But if his limp doesn't improve before the weekend, Mayfield could carry the day-to-day designation into next week.