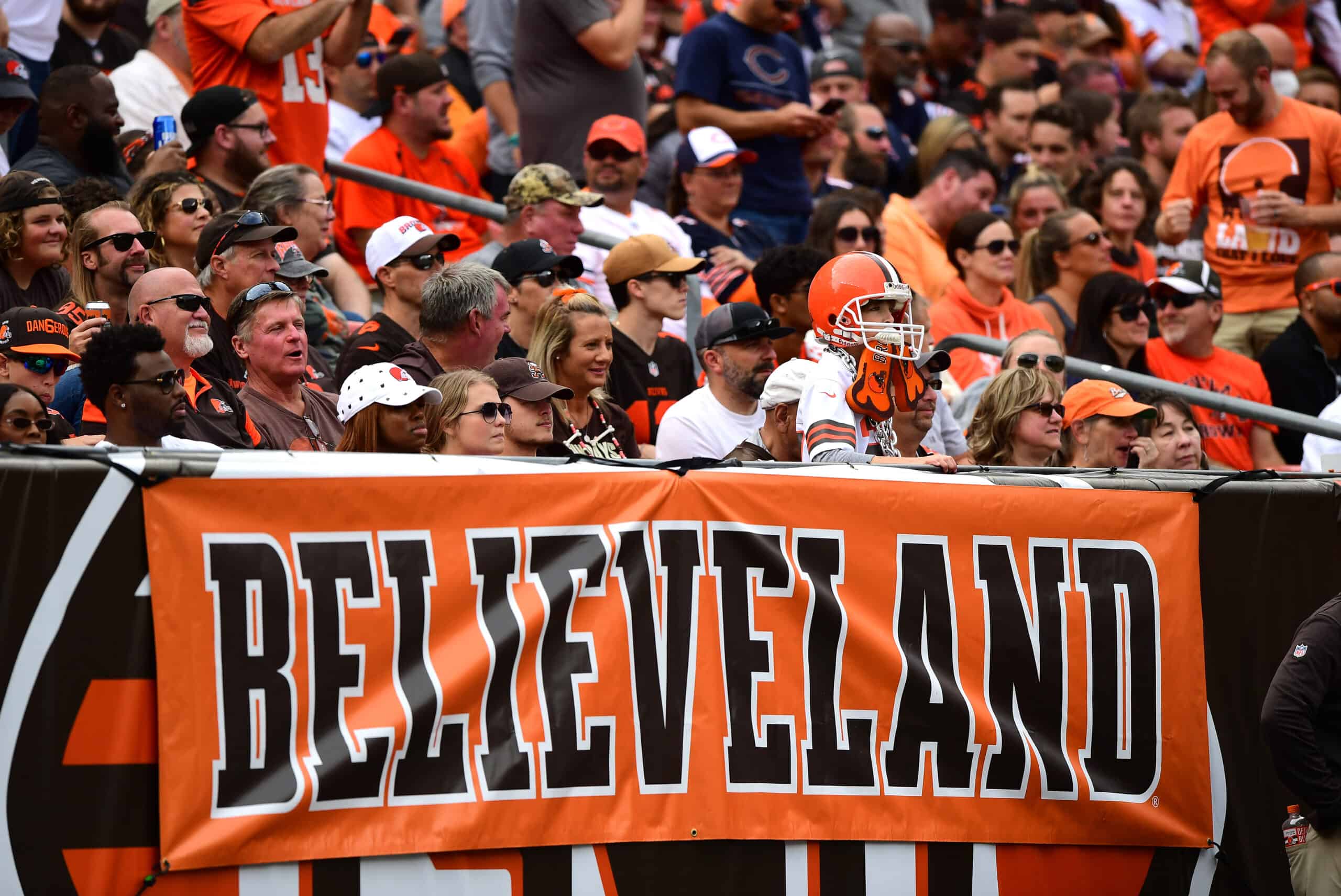 If there was ever a week to look forward to playing the Detroit Lions, it might be this one for the Cleveland Browns.
Kevin Stefanski's troops need a get-right game after last week's humiliating defeat in New England.
Detroit travels to FirstEnergy Stadium with an 0-8-1 record and is unsure of who their quarterback will be.
But there is that little matter of the 1 in their won-lost record.
#Browns D'Ernest Johnson said they aren't approaching next week's game against the Lions any differently than any other team. "In this league you never want to take anyone lightly."

— Camryn Justice (@camijustice) November 15, 2021
The Lions threw the defensive kitchen sink at Pittsburgh last week, earning an ugly 16-16 tie.
And Baltimore needed a record-setting field goal as time ran out to push back the Lions' upset bid.
Does Detroit have the AFC North's number?
Here are three keys to a Browns' victory over the Lions.
1. Wrap Up The Ball Carriers 
Joe Woods is taking a lot of heat this week after his talent-laden unit yielded 45 points to Mac Jones.
But more often than not, it looked like he had his players in a position to make plays.
They just didn't make them.
It's a safe bet at least half of the Patriots' 467 yards came after contact, as weak as that contact might have been.
The Patriots had 3 TD drives of 90+ yards against the Browns on Sunday, their most in a game under Bill Belichick. pic.twitter.com/n4tAUoWI4K

— NFL on CBS 🏈 (@NFLonCBS) November 14, 2021
Third-string rookie running back Rhamondre Stevenson led the way with 100 rushing yards.
And one might assume DeAndre Swift is salivating at the thought of running through such a Swiss cheese unit.
Cleveland has to wrap up the ball carriers more effectively than they did in New England.
Swift might be a one-man offense, but a repeat of last week's tackling efforts might make him enough.
2. Run Often Any Way They Can 
D'Ernest Johnson racked up 58 yards on the Browns' opening scoring drive.
It was the second-most ever against a Bill Belichick-coached team, and he noticed.
New England's defense sold out against the run the rest of the game, trusting their top-notch corners in man coverage.
And don't think Detroit and the rest of the league didn't take notice.
On the very first drive of the game, D'Ernest Johnson ran the ball 4 times for 58 yards (14.5 YPA). The #Browns ran the ball just 3 more times in the entire rest of the 1st half.

It's time to have an uncomfortable conversation about Kevin Stefanski's play-calling.

— Roberto Shenanigans (@Rob_Shenanigans) November 14, 2021
But good running teams should be able to run even when defenses know they are going to run.
If they can't run up the middle, they run outside, or get creative with wide receivers and play-action or draws.
Cleveland did none of that against the Patriots, serving up a vanilla offense against a gourmet defense.
Nick Chubb should be back, and there is no reason for the Browns not to dominate on the ground.
3. Browns Will Fix Their Third-Down Problems 
It would be easy to shrug off the Browns' really bad effort last week if there were many surprising stats or events.
But the truth is Bill Belichick simply exposed and magnified issues afflicting Cleveland all season.
Everybody knows Belichick takes out opponents' top offensive threats, but the Browns didn't have options ready.
Baker Mayfield has been bad against man coverage all season, so the Patriots went man all game.
#Browns The third down defense continues to plague this team. Coming into Week 10, the team allowed the 9th-highest EPA/play on third down. #ForeverNE was 3/3 on that drive.

— Cody Suek (@CodySuek) November 14, 2021
But Belichick doesn't get all the credit for the Browns' biggest defensive and offensive issue.
The defense can't stop anybody on third down, and the offense can't consistently convert third downs.
So the defense can't get themselves off the field, and when they do, the offense puts them right back out there.
Detroit has issues, and their issues should solve the Browns' third-down issues, and assure a solid home team victory.