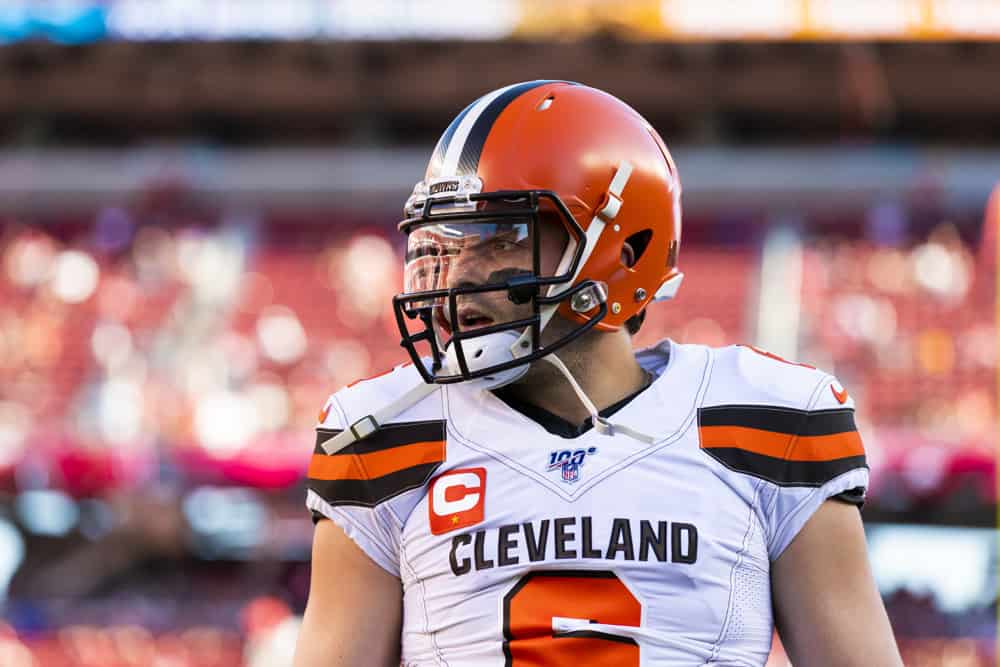 One of Baker Mayfield's biggest critics has always been Fox Sports' Colin Cowherd of the show "The Herd."
The two have a long history of taking jabs at each other back and forth.
In the Browns' playoff clinching win over the Steelers, Mayfield ran a play called "Maserati" in response to Cowherd saying he thought No.1 picks should resemble a Maserati and not a Mazda.
Cleveland named their playoff-clinching play after Colin Cowherd's shot at Baker Mayfield.

That play was called "Maserati."

"When you're a No. 1 pick, I want you to be a Maserati — not a Mazda." — Cowherd in 2018#OUDNA | #Brownshttps://t.co/eFDul9ZITe

— Sooner Gridiron (@soonergridiron) January 5, 2021
Cowherd responded on the Herd by saying:
"The news today just tickles my little soul, one of the final plays of the games by the Browns was called Maserati. He called it because when he got drafted I said that he was more 'Mazda' than 'Maserati,'" Cowherd explained.

"They had a little play with Baker running around, you know they always tell you that they don't listen. I think I am back supporting Baker Mayfield. The fact that he does that, that is great. I love it, I love that he did it, and I love that it became public. I love that Baker Mayfield called a play Maserati because I called him a Mazda. We don't do stuff like that much on the show for that to happen but once it does, we are going to acknowledge that we love it."
Mayfield's Press Conference
Last week, Mayfield appeared in a press conference and was wearing his hat backwards.
Cowherd mentioned that it was bad for Mayfield and it just says "playoff loss."
Baker Mayfield wore his hat backwards. Bad news for the Browns' QB:

"That just says playoff loss, doesn't it?" — @ColinCowherd pic.twitter.com/0OglfxmkF4

— Herd w/Colin Cowherd (@TheHerd) January 8, 2021
Well, the Browns upset the Steelers on Sunday night in large part because of Mayfield's performance.
Mayfield and many of his teammates responded to the doubters, and it appears Mayfield responded to Cowherd's hat claim as well.
Take a look at what Mayfield did before answering questions from the media.
#Browns Baker Mayfield with a phenomenal troll job on Colin Cowherd, turning his hat backward after his playoff WIN. pic.twitter.com/jKHwvfc3xW

— Camryn Justice (@camijustice) January 11, 2021
The Browns play the Chiefs at 3:05 PM Sunday.